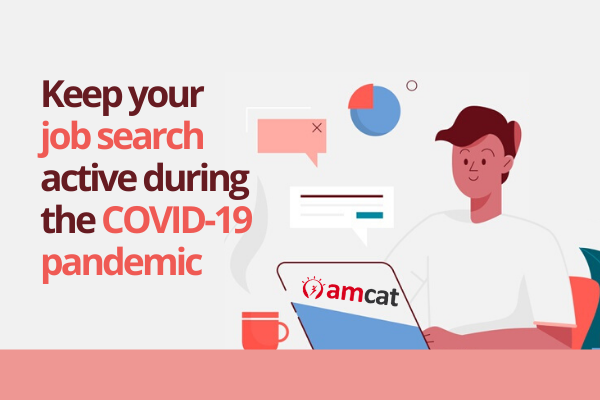 The COVID-19 pandemic has forced the world in learning to operate in this new normal. Companies all over the world are putting all the precautionary measures in place to keep their businesses and employees safe.
In fact, companies are still recruiting candidates based on their skills and job readiness with the help of AMCAT. Based on your AMCAT score, you will be shortlisted for AMCAT exclusive job openings on the job portal.
Moreover, hiring managers are conducting virtual interviews to conduct hiring rounds. So, putting your job search on hold due to the COVID-19 pandemic is no more an option.
Use this COVID-19 pandemic driven lockdown to your advantage by strengthening your candidature, while staying at home. To help you reach for your dream job, we have curated a list for you to have a successful job search during these uncertain times.
Shortlist Job Profiles
The first thing you need to do is study the job market and find out the job profiles that are in-demand. Sound knowledge of the hiring market will help you shortlist the job openings that you are interested in.
Don't apply to all the job openings that you see on the job portals, this reduces the quality of your job application. Focus on the quality rather than quantity.
Certification Courses
Once you have shortlisted the job profiles that you are interested in, you should start working on your skillsets. And, one of the best ways to improve your skillsets is by completing relevant certification courses.
Doing certification courses during COVID-19 will strengthen your candidature by giving the validation of your skills and increasing your credibility.
During the COVID-19 pandemic, there are plenty of free certification courses available for you during the lockdown. So, start your learning from the safety of your home. For instance, if you book the AMCAT exam, you will get free access to one of the AMCAT certification courses of your choice.
Update Your Job Resume
To apply to job openings, you need to start working on your job resume as soon as possible. An ideal resume should be customised and job profiles targeted. You can take the keywords from the job description and use them in your resume.
In addition to that, don't forget to attach a personalise cover letter with your job resume. Having a cover letter will make you stand out from other resumes without a cover letter.
Virtual Job Interview
Due to the COVID-19 pandemic, face-to-face interviews are replaced by virtual interviews with the help of conferencing tools like Skype, Zoom and Google Meet. So, once you have applied to a handful of jobs, you should start gearing up for this new mode of interviewing.
Conducting a seamless virtual interview will show the recruiter that you are capable of working from home, which is a skill you should have. So, start preparing for the virtual interview to avoid creating any technical glitch.
Be Positive
During your job search, there will be times when you might get rejected or didn't hear from the recruiter. However, don't lose hope, have faith in yourself and in your skills.
So, even if the current scenario is full of uncertainty but you need to stay positive, learn from your mistakes and continue working towards a successful career.
These are job search during COVID-19 that will help you start your search for your dream job. So, look at it as a learning phase and utilize this time to the fullest. Gain expertise in your area of interest and don't give up.