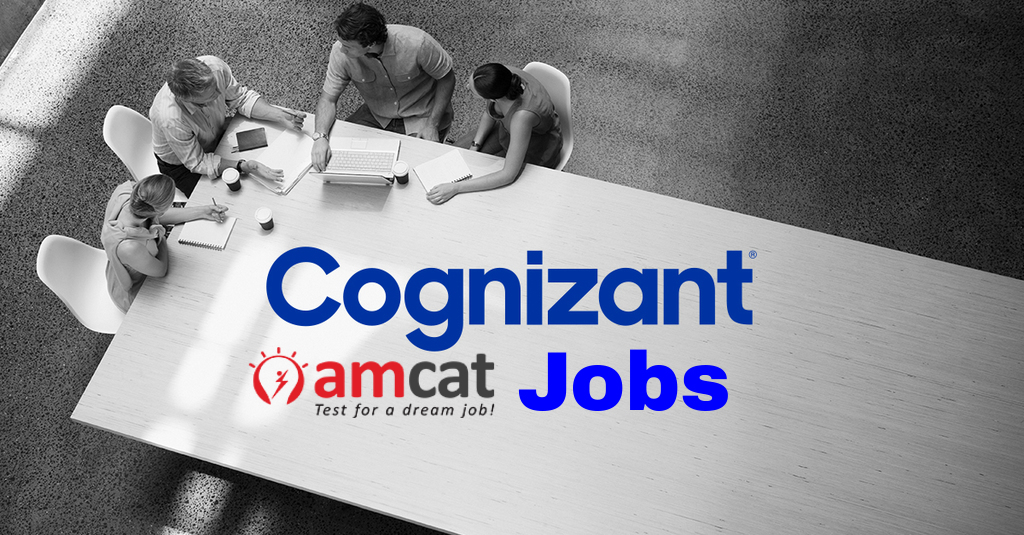 Being one of the biggest MNCs around, a job in Cognizant holds a lot of charm. As such, Cognizant is famous for giving freshers a chance and helping them up in their career.
However, though the company is ever expanding and looking to increase its corporate family, getting a job in Cognizant is no easy task and requires a lot of hard work and attention.
The hiring process at Cognizant mainly consists of three important rounds –
An online aptitude test,
A technical round of job interview and
An HR interview round.
Let's take a look at all these interview rounds and find out the way to crack them all efficiently.
Preparing for the online aptitude test
Cognizant largely looks at the AMCAT exam to hire the right candidates. The AMCAT exam tests students on the basis of their skills set, how well they know the subject, and test their aptitude.
As such, to clear the first process of getting a job in Cognizant, you need to ensure that you are completely prepared for the AMCAT exam. Though AMCAT preparation might sound tough, with all the attention to the details and a thorough understanding of the core subject, you might actually enjoy the process.
The best tool to help you on your AMCAT preparation would be PrepAMCAT. PrepAMCAT is fashioned after the AMCAT test and can help you understand what kind of questions to expect from the test and check your preparation for it.
The study material and guide provided along with your PrepAMCAT result can further assist you in preparing better for the AMCAT exam and in turn nailing the Cognizant aptitude test process.
Excelling at the interview process
Getting through the aptitude round with flying colors is fine but you need to prove yourself through the technical interview and then the HR interview. For the technical interview, your preparation for the AMCAT test will help you.
However, for the HR interview, you should have a look at the common interview questions with answers and try to understand what interviewers look for in a candidate.
It is important to note that whether it be a technical interview or HR interview, you should know how to answer the questions in such a way that it strengthens your candidature.
Knowing the answer is not always enough, how you give that answer counts for a lot more. If you are confident, have a great body language and exude positivity, then the interviewer will see you as a strong candidate.
To perfect your non-verbal cues and ace how to conduct yourself during a job interview, you can check out Mock-AI.
Mock-Ai is one of those brilliant interview platforms that conducts interviews in a simulated environment and tests you on the basis of your real-time response. With Mock-Ai you are not just introduced to the common interview questions but you also get a detailed analysis of your non-verbal cues.
Also, the feedback report provided at the end can be a perfect guide to help you ace further interviews while the detailed test result can help you understand your strengths and weaknesses.
Additionally;
When you are introduced to an opportunity of a job in Cognizant through your campus, then you don't necessarily need to pay a lot of attention to your job resume (though even then your resume should be up-to-date and brilliant). However, when trying to get a job in Cognizant through off-campus placements, your job resume is of utmost importance.
When you apply for any job, it is your job resume that becomes the first line of communication.
Now, how that communication goes and what impression it leaves on the recruiter (whether favorable or otherwise) depends completely on your resume.
So, it is advisable to pay special attention to your job resume when applying for not just a job in Cognizant but any job for that matter.
Some key points to keep in mind when crafting your job resume is –
– It should not contain unnecessary details that do nothing to add to your candidature

– Information should be quantified and put in bullet points wherever necessary and possible

– There is no room for grammatical errors in a job resume

– It should be easy to read and comprehend
For more information and resume writing tips, you can check out "10 exclusive tips on writing a great job resume"
If you are not very sure of how to proceed with your job resume, then you can always check out Resume Buddy and look to take your resume game a notch higher.
Point to note: While you can opt for PrepAMCAT, Mock-Ai, and Resume Buddy separately, you can also try and get the benefits of all three, in one place and at one go with AMCAT Premium. Register for AMCAT Premium today!
Also, you can apply for the latest Programmer Analyst Trainee job in Cognizant, here!