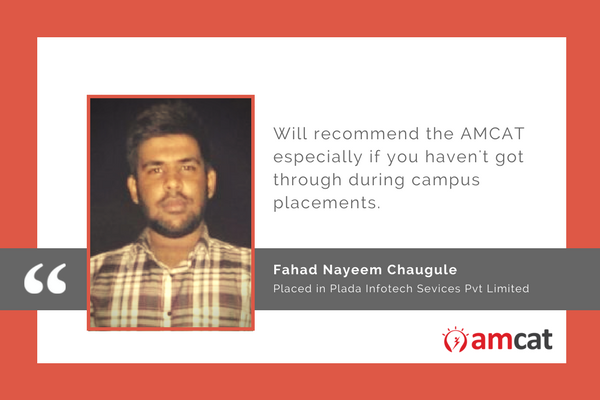 Confused over how the AMCAT would help you get a job, let alone, a good job, in a reputed company? The AMCAT testimonial which we are sharing today may dispel your doubts over the skill assessment exam and how it can bridge you with your dream fresher job.
Meet Fahad, a BE graduate from Mahavir Educational Trusts Shah Anchor Kutchi Engineering College in Mumbai. A 2017 graduate, Fahad decided to opt for the AMCAT, to cut down on the effort for finding a job in a good company. Did it help him? Scroll down to find out!
Why I Gave The AMCAT:
Fahad had opted for the AMCAT in his final semester. We asked him why and he said:
"It's not easy to find a job for a fresher. It also requires a lot of effort to look around and explore more good companies. That's when I opted for AMCAT."
With due AMCAT preparation, he went ahead and gave the skill assessment. And had an 'awesome test experience'.
Getting a job through AMCAT:
The next step? Getting a job interview for a good position. And excelling in it – again with due interview preparation. It's also a question we receive repeatedly – Do you get Interview calls after the AMCAT? Or What to Do If there are no interview calls after the AMCAT.
So, Fahad, what happened in your case?
"I received many calls on a frequent basis. Within a month after giving the AMCAT, I received my first interview call."
And what was the interview process that you faced?
"I went through all the interview questions which they conventionally asked, before I went in for the big interview. I also studied about their company. And that's why it went so smoothly."
In the end, he said he would recommend the AMCAT, especially at the off-campus placements stage.
"I will recommend it to all those who did not get selected in campus placements. Don't worry – just prepare well for the Amcat and you will end up working for a good company."
And what are the things you should keep in mind?
"Prepare for your aptitude test. For the Interview, project a bold personality and remain focused."
Thanks, Fahad. We hope your AMCAT Testimonial helps others who are thinking about giving the skill assessment, to come to a decision about it.
If you're thinking about scheduling an AMCAT for yourself, do so by clicking on the link above. You can raise your queries to our support team or leave them in the comments section below.