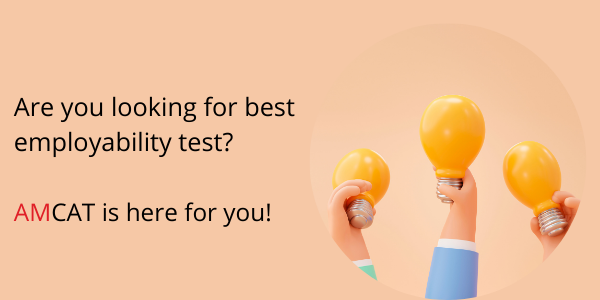 It is quite difficult to succeed in today's competitive market, and you must impress the recruiter with skills other than your academic achievement. Something additional to usual skills is required to showcase to a recruiter how polished one's skills are and their willingness to handle challenges in the corporate sector. This is where the AMCAT exam comes in – it's an employability test that evaluates a candidate's abilities.
AMCAT is an employment test that brings job seekers and recruiters together. With AMCAT, one can quickly identify their talents and abilities, demonstrating to the recruiter how capable they are in comparison to other candidates. Additionally, one can use their AMCAT score to apply for exclusive AMCAT website positions and find the right job for them. One can take the AMCAT exam from the comfort of your own home. All one will need is a computer with an active internet connection.
AMCAT in it's own has certain USPs reading which you would definitely want to take AMCAT and be ready for interview and job. AMCAT subscription gives you annual access to all the benefits that come with taking the AMCAT. Mentioned below are some of the advantages.
In this exam, candidates are assessed on their core competencies, which include Reasoning Skills, Quantitative Aptitude, English, and Technical Skills, in the AMCAT exam. The technical module is different for each candidate and is determined by the course they choose.
AMCAT is an adaptive test, which means it adapts to the responses you provide. To put it another way, if you give a wrong answer, the questions will become easier but with fewer marks. On the other side, the more questions you answer properly, the higher your score will be, and questions will become more difficult at each level.
Your AMCAT scores and certificates are valid for one year. During this period, you are eligible to apply for an unlimited number of jobs on myamcat.com.
AMCAT Certificates are accepted by over 2000 companies, and these certificates are a must to do since AMCAT's certificates rank 3rd on LinkedIn.
AMCAT provides a detailed feedback report that focuses on a candidate's strengths, and weaknesses with the help of which they can prepare themselves.
AMCAT also helps in saving an organization's time, by helping them to shorten their interview process since the candidates are accessed on the basis of ELQ in AMCAT assessment & already filtered results are shared with the organizations.
The best thing is, that AMCAT also recommends jobs that are suitable for you.
After one year, you must renew your AMCAT subscription to continue receiving the benefits. Using the link given, you can extend the validity of your AMCAT subscription for an additional year or two.
As a result, practical answers are required in these situations. The AMCAT exam is the one-stop solution. This assessment tool has effortlessly become a common point for skilled candidates and significant job opportunities.