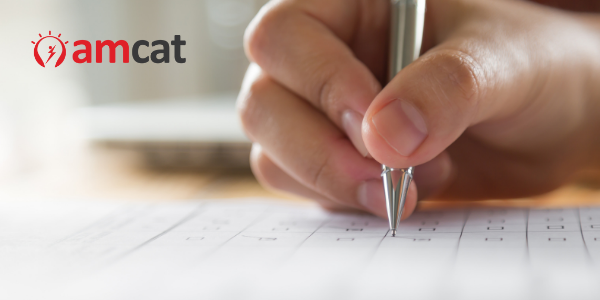 In today's competitive world it is very difficult to score well, and you need more than your academic score to make an impression on the recruiter. One needs something extra apart from the regular skills to tell the recruiter how polished their skills are their readiness to face challenges in the corporate world. This is where AMCAT exam makes its entry – it is an employability exam which assesses a candidate on their expertise.
But, in order to get selective job opportunities, one needs to get good AMCAT score in all the modules. But for that one needs to prepare well for the exam.
What is AMCAT Exam?
AMCAT exam evaluates candidates on the basis of their core competencies that includes Reasoning Skills, Quantitative Aptitude, English, and Technical Skills. The technical module varies for every candidate and depends on the course they opt for.
AMCAT is an adaptive test, which means it adapts itself according to the answers you give. Let us explain this to you in simple terms, if you give wrong answer that means questions will get easy but with less marks. On the other hand, the more you will answer questions correctly, the score increases, and questions become difficult at every level.
Eligibility For The Exam
Someone who has a graduate, or a postgraduate degree is very much eligible for the test. While students who are in the final year of their college are also eligible for the AMCAT exam and can grab the job opportunities which are in the bag.
AMCAT helps you quantify your abilities, so having a high score in both the compulsory and optional modules will help you gain an edge over the other candidates.
What is the syllabus of AMCAT exam?
Before starting your preparation for the exam, make sure that you know the syllabus of all the modules. If you know the syllabus the same will help a candidate to understand and work on the areas where they are weak. Do not forget to go through the syllabus before choosing the domain-related modules as it will help you make the right choice and to score well in the exam without any problem.
To get the best IT and non-IT job opportunities, one needs to prepare well for the AMCAT exam to get a good AMCAT score. Start preparing for the exam as soon as possible to get sufficient amount of time to brush up your basics and improve your loopholes.