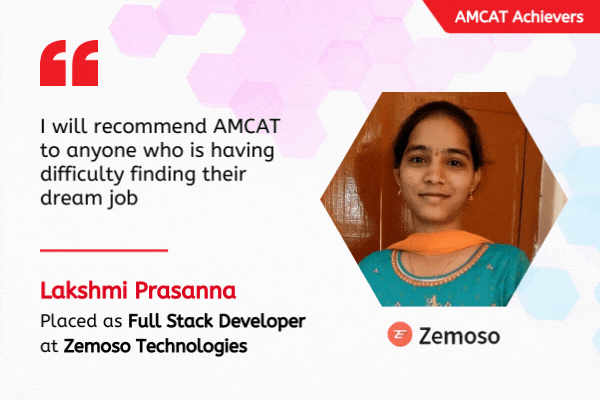 The AMCAT exam makes it appear that obtaining a job is easy. AMCAT's adaptive test methodology is used by a variety of businesses, large and small. Do you want to know why the AMCAT exam is so popular? To find out the answers to these questions, read Lakshmi's success story.
Lakshmi learned about AMCAT from her seniors She mentioned that taking the AMCAT exam might make one's professional life easier, particularly if one is a recent graduate looking for work and is unsure of which sector or field to pursue.
Do you want to learn more about her experience? Then keep reading to learn more about it.
What made you choose AMCAT over other options?
"AMCAT is a platform which gives more opportunities and that too based on our skills. I heard about it from my seniors, so I chose AMCAT."
Did you encounter any obstacles while hunting for a job? Please tell us about it in detail.
"No, I did not face any difficulty all went good," said Lakshmi.
Tell us about the job you acquired through AMCAT, as well as other employment offers, and interview calls you received through it.
"I got selected in Zemoso Technologies. I went through two technical interviews, and finally they communicated that I have been selected, told Lakshmi"
In what ways did the AMCAT feedback report assist you in evaluating your performance?
"Looking in my AMCAT report I understood that I need more practice on coding part and need to focus on core subject concepts which later helped me in interviews."
Would you tell others about AMCAT?
"Yes, I'll for sure recommend AMCAT to others."
Why do you think AMCAT is a good pick?
"AMCAT offers various different companies which means that we can still try for another if we fail to get in one, concluded Lakshmi."
If you have any queries, feel free to get in touch with us.
We Wish You All The Best!