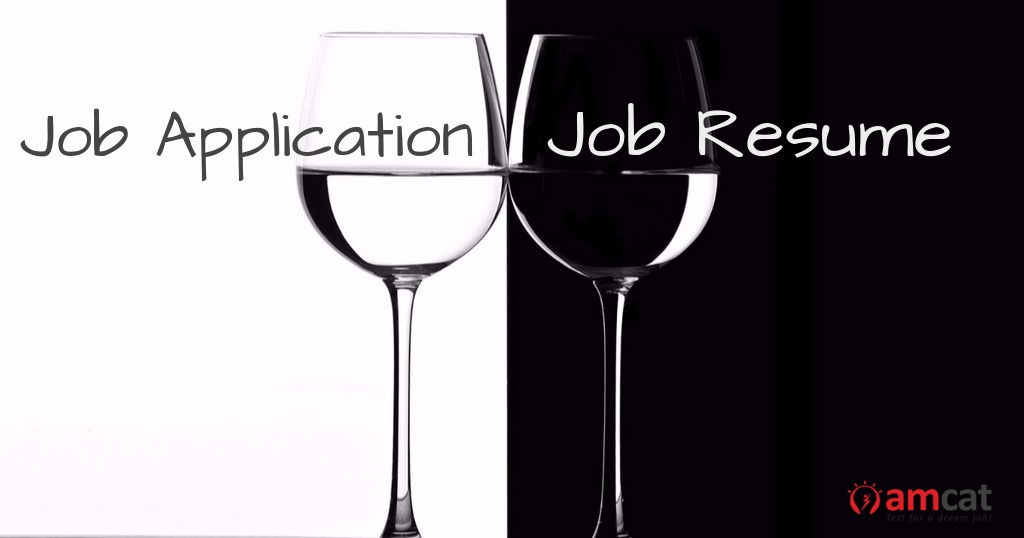 For fresher candidates who are new to the job scenario, it can be pretty difficult to figure out some things out there. At that stage, confusion(s) regarding the job search process is boundless. It includes figuring out the differences between a job application and resume.
Some have the idea that both are the same while others believe that only one of them is sufficient to apply for a job. But in reality, both play their own roles and have to be submitted separately to the prospective employer or recruiter.
To understand it better, let's chalk out the 7 key differences between a job application and a resume:
The Purpose
Job application – The purpose of a job application is to gain insight about the candidate in terms of eligibility, personal information, and other more concrete facts and figures which the resume might not contain. There is also no personalization.
Resume – A resume, on the other hand, can be creative as per the candidate's skills. Everyone gets to be unique with the resume templates and content to build the best first impression for self.
Therefore, one of the main differences between a job application and a resume is in its way of showcasing information meeting their respective purposes.
Legal Formalities
Job Application – A job application can get into legal stuff. Mostly, the information is gained in order to ensure that the candidate has no criminal history and is legal to work within the region. Most importantly, a job application is signed and is applicable for legal judgment.
If you lie in the job application, it would be more than an innocent mistake to get the job. The company is allowed to take legal action against the candidate if there is any false involvement or declaration.
Resume – There are no legal implications. Even though it is repeatedly recommended to stay away from providing false information in the resume, it doesn't create any legal issue if done so. Unless you are particularly asked to sign your resume, you are safe legally.
Level Basis
Job application – The job application format is mostly set out by the company. It contains important information regarding your career and other choices and might be used by the company to judge the candidates on a level basis as all information is easy to compare this way.
The first shortlisting can be based on the job application when the number of applicants is massive. This step is rare though.
Resume – Resume is difficult to compare on same lines. There are different things mentioned differently and it is entirely on part of the recruiter on how they want to judge your resumes.
This is one of the key differences between a job application and resume which most tend to ignore.
The Layout
Job Application – One of the key differences between a job application and resume is also the layout.
The company decides the layout of the job application. It is more of a form to be filled up. You can't change or alter the required questions. It's a standard format to be filled by everyone interested in competing for the job offer.
Resume – The resume is a concise summary of your academics, skills, qualifications, and work experience. You can experiment with resume templates as companies do not generally demand a specific template. You might be asked to limit it to a couple of pages.
Importance  
Job Application – A job application is an information leaflet and almost everyone, applying for the job, have the same things to fill in; except for the personal information part. It barely counts as a medium to judge any candidate. It is just a formality to ensure legal accuracy.
Resume – Resume on the other hand weighs a lot and can make or break your chances of getting the job. The resume templates you choose, the content you write, the way you present your qualifications and skills matter a lot.
In fact, one important thing to remember as one of the differences between a job application and resume is that, it is on the sole basis of a perfect resume that you are called for a job interview.
Therefore, you should always build your resume carefully including all essential things in an impeccable manner. You can also take professional help to get the job done.
Check out Resume Buddy and how it can help you build the resume which becomes your stairway to your desired job.
Necessity
Job Application – A job application isn't compulsory to submit in all scenarios. In fact, nowadays when there are so many reliable search engines, companies no more need to collect job applications separately.
The candidates register with their personal information and it does the job until the candidate is hired and the information is verified.
Resume – Resume is integral to the job search process. Whether you apply directly or through search engines, you need to submit a resume. However, some job engines make it easy for you by uploading it once and giving you the option of attaching it by default to all job applications.
In Its Entirety
Talking about the differences between a job application and resume, let's have a look at the other meaning of the words too. Sometimes, the job application is considered to be everything in its entirety.
Job Application – You application form, resume, cover letter, and any other documents demanded by the company altogether are referred to as job application sometimes.
Resume – If we go along this definition, a resume is just a part of the job application process. Though it goes without saying that it forms one of the most important segments which can help you bag the job, it remains a component of the former.
Conclusion
There are certain differences between a job application and resume which you need to understand not only for general trivia but also to avoid blunders while applying for jobs. Make sure you submit the exact document(s) asked for or it gives a very poor reflection of your candidature. However, keeping in mind the above points should be sufficient to help with the differentiation.