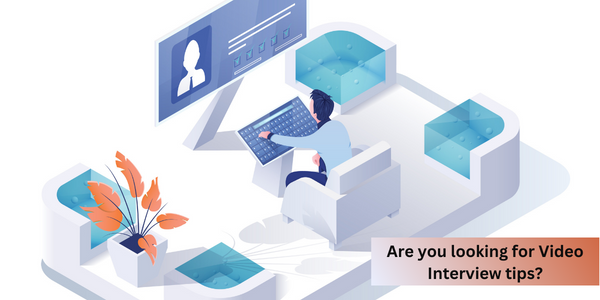 The use of video interviews in the recruitment process has become very common post the pandemic. The use of virtual interviews pre-pandemic was mostly limited to situations where the potential employer and interviewee were not in the same geographical region.
The biggest advantage of video interviews is that it saves travelling time as the interview can be conducted at any place having a good network. A major disadvantage of video interviews is the possibility of network interruptions which hampers candidates' focus.
Video interviews are increasingly being used in the hiring process, so it's critical to know how to do them effectively. To clear a video interview round, take a look at some useful tips below:
Here are 10 Tips on how to ace your Video Interview
Prepare Effectively as You Would do for an In-Person Interview – Irrespective of the fact the interview is in person or virtual, the interviewer is always going to ask certain common interview questions about the candidate's work experience, educational background, or hobbies. An interviewee should prepare for all common interview questions that can be possibly asked. Research should be done as well on the hiring employer using the company Website or LinkedIn.
Understand How to Navigate the Tool – Do not wait for the last moment to test the video interview tool. Take out time a few days before the interview to set up a profile on the tool (Zoom, Skype, Teams, Google Meet, etc.) so that your name appears correctly during the interview. Learn how to navigate basics like muting/unmuting the call or turning on/off video. We suggest you do a quick demo call with your friends or family to make sure you are quick in navigating the application.
Pick a Suitable Spot – If you are taking calls from your home, pick a spot where you expect minimal disturbance from any family member. The spot should have good lighting and no distracting items at your back for the interviewer. Keep the laptop at a suitable height so that you do not have to bend your head down or up during the interview. Always keep your mobile phone away so that you are not distracted by calls or messages. Also, check that all sorts of notifications are turned off in the device from which you will attend the interview.
Keep Your Device Fully Charged – The computing device from which you plan to give the interview should be fully charged. It can look unprofessional for you to take a break during the interview to get your device charger. Also, test and keep your headset ready before the interview.
Dress Professionally – A common mistake people do during a video interview is to dress casually. Even though you may be at home in your comfortable chair, you should nonetheless dress professionally for a virtual interview. Wear solid colors as it looks more professional and avoid wearing flashy color clothes. Men should keep their beards and hair neat and combed. Women should do light makeup only and avoid wearing excessive jewelry that draws the attention of the interviewer away from the candidate.
Join The Call on Time – Never be late in joining the call. Joining before time gives you the advantage to test your audio and video. The interviewer might join the call a few minutes prior and that gives you a bonus time to pass pleasantries. Being punctual makes the interviewer believe that you are serious about the job and creates a good first impression on the interviewee.
Make Eye Contact – Directly look at the webcam during the interview to make eye contact with the interviewer. Never get distracted to look at your image on the screen or at any family member passing by the room.
Watch Your Body Language – The importance of effective body language cannot be undermined in a virtual interview. Even though you are not present in front of the interviewer face to face, the interviewer can still observe and judge you on your facial expressions and hand movements. To create a positive impression on the hiring manager, sit straight on a chair and keep both your feet on the ground. Do not lean on either side of the chair or use too much of your hands while talking. Maintain a smile throughout the interview and show interest in what the manager is speaking. Maintain a posture of calmness throughout the period and keep nodding your head when the hiring manager is speaking to show that you are an effective listener.  Speak clearly and confidently.
Don't Read Out from Notes – Hiring managers can easily make out that you are trying to read out answers from a notebook. Notes can be used only in case of any emergency and without making it very obvious that you are looking down and reading something.
Use a Virtual Background – Keep a virtual background in the backup that you may have to apply if someone comes into your room or if the light in the room does not look proper. The background should not be funky. It is advisable to use a single-coloured background. There is also an option to blur your background. Always remember that in any case, your face should be clearly visible to the interviewer.
Apart from all these points, there are some other things as well that one must remember when preparing for a video interview and to speed up their job search such as: keeping a glass of water always ready by your side, be ready to switch to mobile data to connect in case the Wi-Fi stops working during the interview and keep the meeting login information ready before the call.
Once you are through with the interview, always remember to follow up with the human resource or hiring manager about your candidature and send a thank you note via e-mail to the hiring manager for taking out time to interview you. Also, if there were multiple interviewers, send a thank you e-mail to all of them separately.
Do not stress over how you will perform in a video interview. Read carefully and comprehend the above tips and you are definitely going to do well and get that job.
FAQs
Q1. What should I say in the video interview?
Ans. We know that you want to provide a strong first impression during a video interview, just like you would during an in-person one.
This might include:
Describe yourself to me.
Give me an overview of your resume.
What attracted you to this job, and why?
You wish to work here, why?
Q2. What are the top 5 tips for acing a job interview?
Ans. Advice for cracking a job interview.
Show up on time.
Understand the name, pronunciation, and spelling of the interviewer.
Prepare a few inquiries of your own in advance.
Keep a small notepad and a durable pen with you.
Give the interviewer a smile as you say hello.
Q3. How do you greet someone in a video interview?
Ans. Identify the person you are addressing by their name. People enjoy hearing their own names because it sounds kind and nice. However, keep in mind that you should only use the interviewer's first name. Don't forget to smile and look the interviewer in the eye!
Q4. How do you begin a video interview with a self-introduction?
Ans. Remember to recap the main points you wanted to highlight in your introduction:
Who am I? (Include your name, hometown, and any other relevant information.)
My educational history (where have you worked, your best job achievements, and work experience related to the role.)
My training and professional experience.