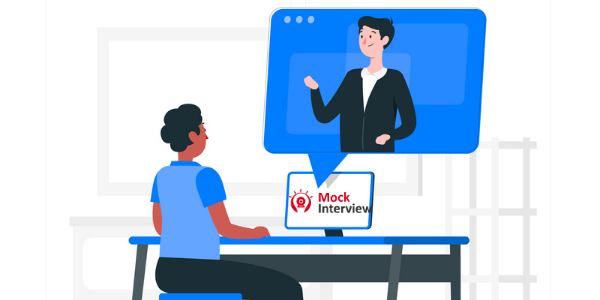 A video interview is an interview conducted via video, rather than over the phone or in person. There are a few ways using which this can be done, but all of them have their own challenges.
There are two forms of video interview: one is a face-to-face interview in real-time via a video call, another one is a pre-recorded interview where each candidate will be given the same set of questions with the same amount of time to respond. The candidate's answers are recorded and watched back later.
The thought of an interview might appear frightening to most of us, but interview organized preparation is not as hard as it seems to be. All that one needs to do is stay and be proactive.
To keep up with the fast-changing world, these days organizations are taking the assistance of artificial intelligence. What if we tell you that your next interview is going to be with an AI-based bot? This means that now, AI has also stepped into the recruiting space and is taking interviews to hire talent. We have Mock-AI for you, which will help you be prepared and will keep you all set for the online interview. Let us explain to you more about this AMCAT product.
Let's start with, what is Mock-AI?
Since we all very well know that human review of an interview is often biased and critical. Hence, the need for software arose which can effectively conduct, moderate, and evaluate your interview skill set. So, that's when AMCAT mock AI came into existence.
It is a portal that creates a real-life interview experience with commonly asked questions. This tool records a video of all the answers provided by you, at the time of the interview, which is then used by Mock-AI to provide valuable feedback regarding your strengths and weaknesses. It also provides tips to improve your interviews skills.
Why should you take AMCAT's Mock-AI?
One must take AMCAT's Mock-AI to evaluate their interview skills and to polish those skills.
With Mock-AI one can get more realistic interview experience of how the interview will be like, that too sitting at home.
Mock-AI evaluates a person's eligibility for desired job roles.
This platform uses the latest expert systems and Artificial Intelligence technology and evaluates you for your body posture, facial expression, and voice modulations.
They provide feedback around your facial expressions, posture, and your answers to the questions.                                                                                                         
How to get accessed after taking Mock AI?
AMCAT Mock-AI gives you an Employability Report, on the basis of which you can prepare yourself for the actual interview.
AMCAT Mock AI helps you fight and overcome any second thoughts you have before the interview. Does it sound too good to be true?