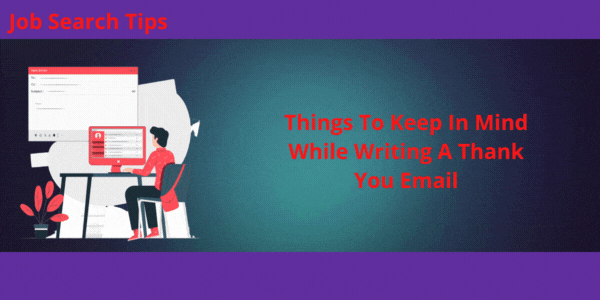 Let's start with the when and why a thank you email is usually written?
The key purpose of writing a professional thank you email is to show some gratitude and respect to the recruiter for their time and efforts. Ideally, a thank you email should be sent out after the interview and before the decision-making process.
Always keep in mind the relevant factors to be considered at the time of writing an official thank you email. Always remember the below points, while writing a thank you email:
Always remember, "timing is core!"
Knowing when to send a thank you email after the interview is of utmost importance. You must be thinking, what is the best time to send across a professional thank you email? Let us help you with that, the best time period is between 3 hours to 24 hours after the interview. Also, sending a thank you email before this time frame can make you look desperate, and if you send it after 24 hours might showcase that you are not that interested in the job.
Always thank the interviewer!
Always keep in mind that any professional thank you email must be short and crisp with clear message. Do, not miss this opportunity, and thank the interviewer for their time and participation in the process. Do not make a mistake of sending one email and marking everyone in it, instead send separate thank you emails if in case multiple people took your interview. This adds a personal touch to the entire process.
Register for AMCAT | India's Leading Fresher's Assessment And Job Site (myamcat.com)
Write to the point subject line
Another technique to express your gratitude to your recruiter is by creating unique subject line for the thank you email. These subject lines are not very difficult to write. Try to add a personal touch, by using recipient's name in the subject line. It gives the email a personal touch and indicates that it is written specifically for them.
Make sure to choose a professional opening statement
It is always good to play safe, specially when you are unsure whether to greet in a formal or informal manner. Hence, using "Dear" in such cases is the safest word to use to address the person. Do not forget to add a professional title like "Dr." if required.
Always add a signature
Keep in mind to close the thank you email in the same way, like you would do with any other formal email. You must try and include your contact details in the signature such as phone number, email address, link to your professional network so that the recruiter can get in touch with you when required.
Success in your career and in life depends on the expertise to write thank you emails that are honest and full of gratitude. A thank you email is relevant in various situations in professional as well as personal life!