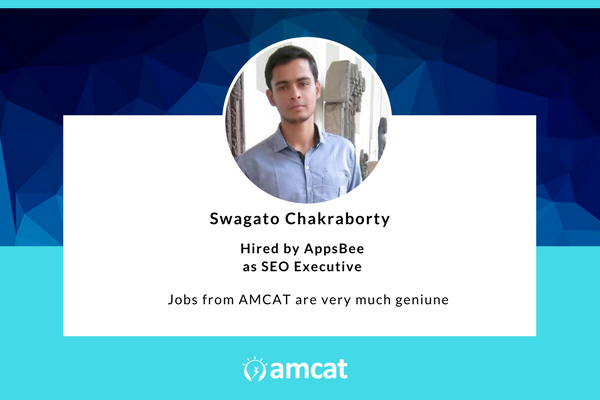 Often, we come across students who seek non-technical opportunities and ask – Is AMCAT for me? And our AMCAT testimonial for the day is an example that highlights just that! This is the story of Swagato Chakraborty.
Non-Engineer AMCAT Testimonial:
Swagato, a BA Hons student from Bhatia, West Bengal was looking for non-technical jobs where he would get an opportunity to grow. And to do so, he decided to opt for the AMCAT. This is how the skill assessment helped him.
"I was searching for jobs on online portals like Naukri, but found out that most of them were either fake or related to customer care. Then, a friend told me about the AMCAT."
He looked into it and was convinced by his research to go for the skill assessment.
We asked him about his AMCAT performance. He said, "I was good in aptitude so, I managed to score well in the AMCAT. I would say that the test level was between moderate to high. But I tried my best. For a first-timer, I would call my experience a good one. Maybe, if I take the AMCAT once more, I will score better."
The skill assessment score did help him secure two job interview calls.
"I got my first call letter 4-5 days after the exam result. In total, I received 5-6 interview calls so far. I have attended two of these interviews, one in PeryCap and another in AppsBee and got selected for both."
Next, we quizzed him a little on his interview experience.
"My first interview was in AppsBee for the post of an SEO executive. For this, I studied about SEO technology and the use of that for a company like AppsBee. For another interview which was in PeryCap, the post was Equity analyst. For that, I just studied about the company and its history."
We asked him, whether he would recommend the assessment or even fill up an AMCAT Testimonial. He agreed.
"Yes, I will recommend it. The jobs from AMCAT are very much genuine and one can get these jobs according to their own criteria."
He also recommended the following as for a good AMCAT preparation.
" Just study basic maths, especially probability parts. The English module and Logical reasoning parts are easy. Otherwise, one can download sample questions from AMCAT website and practise them."
Congratulations, Swagato for making it through to your desired career path with the AMCAT. We hope your AMCAT Testimonial serves as an inspiration to others to come and take the test.