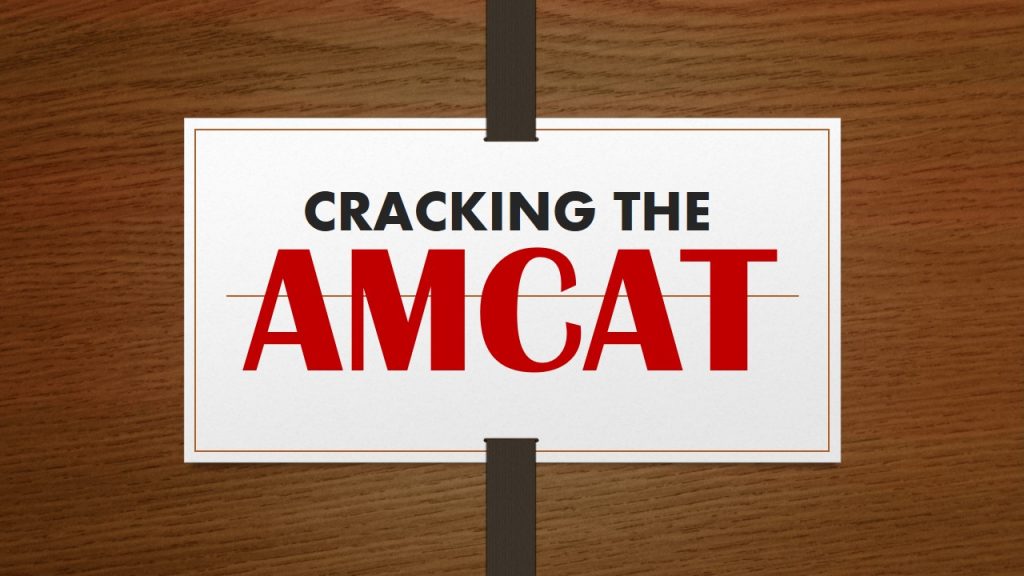 Have you scheduled an AMCAT test yet? Or thinking of giving one? One of the most common FAQs that we receive from candidates and AMCAT aspirants alike is how to prepare for the AMCAT exam, what is the syllabus like and how to deal with individual sections.
Based on all of those questions, we have decided to lend a helping hand – with a series of detailed steps on how to deal with each section of the AMCAT exam. We deal with each section, how to prepare for it, solving a sample question paper and pointing appropriate resources that can help you be in better control for your exam.
On popular demand, we begin our February series of 'Cracking the AMCAT Exam' with a look the logical reasoning portion.
AMCAT Logical Reasoning Section
The AMCAT Logical Reasoning Test Section is compulsory section – there are three of those: English Language, Logical Reasoning and Quantitative Section. Each AMCAT test takes a measure of a candidate on these counts, apart from their knowledge in the domain concerned.
What is a logical reasoning test?
A psychometric skill assessment, the logic reasoning test measures mental ability and rationale. It is a test to see how a candidate arrives at a conclusion based on given statements and mathematical procedures. They are also judged on how they identify the strength or weakness of a particular argument.
The logical reasoning test is often part of any skill assessment that corporate employers provide to candidates.
How to prepare for a logical reasoning test?
The logical reasoning section of the AMCAT test, which scores a candidate on their ability to interpret things. The test has the following sections:
Deductive Reasoning
Coding deductive logic
Data Sufficiency, Directional Sense,Logical Word Sequence
Objective Reasoning
Selection decision tables
Puzzles
Inductive reasoning
Coding pattern and Number series pattern recognition
Analogy and Classification pattern recognition
Abductive Reasoning
Logical word sequence
Data sufficiency
Best Fresher Job Roles for High Scores in Logical Reasoning
The best possible Fresher job roles for those who score between 60 to 80% (and above) in the logical reasoning section are:
Content Development, Business Consulting, HR/Admin, iTeS/BPO, Marketing, Engineering, Sales and Customer Management, IT, Hotel Management, Life Sciences, etc.
Solving a sample question paper for Logical Reasoning:
Here are a few common questions in these three areas, alongside their solutions:
Inductive reasoning:
Questions related to inductive reasoning are all about pattern recognition and prediction – meaning, match the series and calculate ahead in terms of numbers, patterns and other sequences.
Do you think you can solve this question?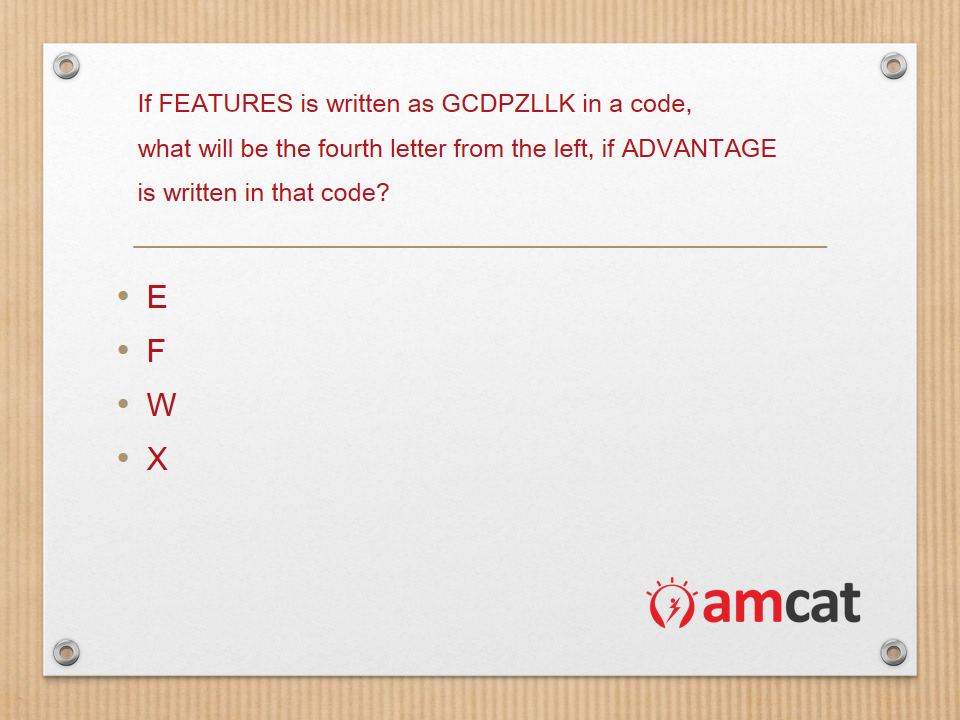 Here's how you can solve it:
F: G is immediately to the right of F. There is no letter between them.
E: C is to the left of E and there is one letter between E and C, which is D.
A: D is to the right of A and there are two letters between A and D, which are B and C.
T: P is to the left of T and there are three letters between T and P, which are Q, R and S.
U: Z is to the right of U and there are four letters between U and Z, which are V, W, X and Y.
R: L is to the left of R and there are five letters between R and L, which are M, N, O, P and Q.
E: L is to the right of E and there are six letters between E and L, which are F, G, H, I, J and K.
S: K is to the left of S and there are seven letters between S and K, which are L, M, N, O, P, Q and R.
Now, the fourth letter from the left of the word ADVANTAGE is A.
Using the same pattern mentioned above, there will be three letters between the corresponding letter of the code and 'A'. And the letter should lie to the left of A. So, the letter is 'W'.
Let's try again: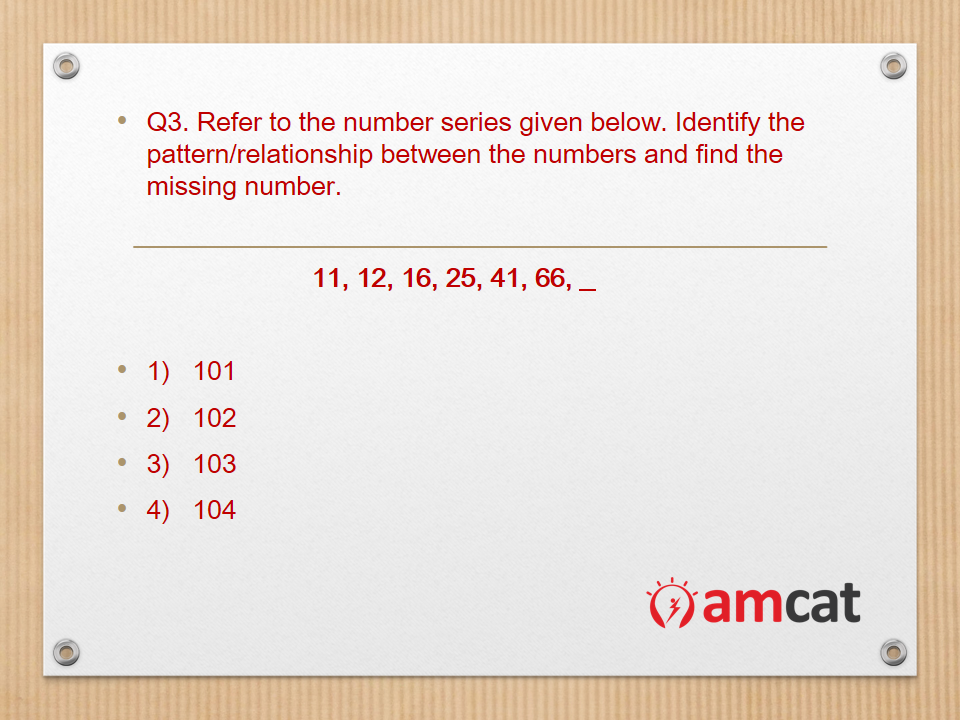 The pattern that is generated here is as follows:
12-11 = 1 = 12
16 – 12 = 4 = 22
25-16 = 9 = 32
41 – 25 = 16 = 42
66 – 41 = 25 = 52
Following this pattern, let the next number in the series be 'x':
x – 66 = 62
x – 66 = 36
x = 36 + 66
x = 102
Keen on more? Stay tuned for our PART 2, where we talk about sample questions in Deductive Reasoning and Abductive Reasoning. In the meantime, you can continue to prepare yourself with the AMCAT Sample Papers.
Like? Hate? Love – Leave your sentiments in the comments section below.