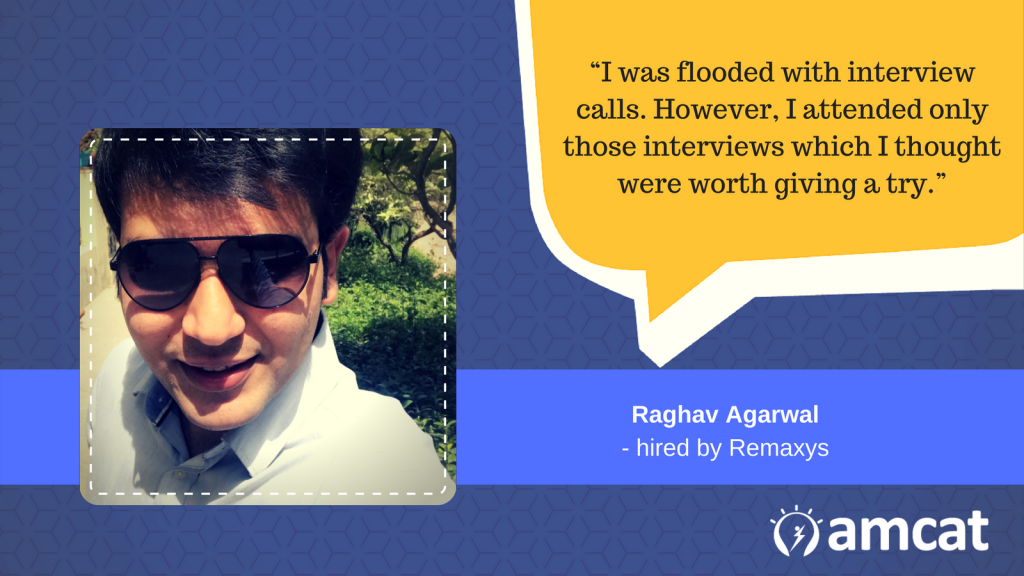 People often ask us how important it is to give the AMCAT Test to land their dream job. For those looking for IT jobs, fresher jobs or even for experienced candidates, AMCAT can be a boon that can kick start their career with élan.
If you don't believe us then take it from Raghav Agarwal, who gave the AMCAT Test and got a job in his chosen field at Remaxys Pvt. Ltd.
Say hello to Raghav Agarwal
Raghav Agarwal, a 2016 graduate from Jaypee Institute of Information Technology loves to play with codes and has exceptional problem solving skills. He always wanted to be a part of the core development team, and with the AMCAT Test, he found the perfect opportunity.
Choosing the AMCAT Test
"The AMCAT Test is a hope to give a new start to your life after college", says Raghav
So, he prepared for the AMCAT Test, enjoyed the whole experience thoroughly and did well. And before he knew it, he started getting calls and numerous job opportunities opened up for him. Armed with the knowledge of his strengths and weaknesses, Raghav started working anew on his skills and grabbed a job of his liking.
How many interview calls did you receive?
"I was flooded with interview calls. However, I attended only those interviews which I thought were worth giving a try."
After a smooth interview, Raghav found his place at Remaxys Infotech Pvt. Ltd as a Java Developer.
Would you recommend the AMCAT to others?
"Yes, of course", quips in Raghav who believes that the AMCAT Test is important to enter the job market and grab good job opportunities.
Any tips for job seekers?
Raghav says that it is important to master your core skills and increase your thinking capabilities. Having seen the highs and lows of a tiring job searching session, he believes that you need to be clear in mind and go for only those job opportunities, which you think are worth it. "Instead of trying to grab everything, be precise and work on your skill sets."
Raghav Agarwal is a story of success, which can inspire you to look beyond your city or college and start a new life after college with the AMCAT Test. If you want to read more AMCAT success stories, then you can look up our testimonials section. If you are thinking of giving the AMCAT Test then you can schedule one here at the click of a button.