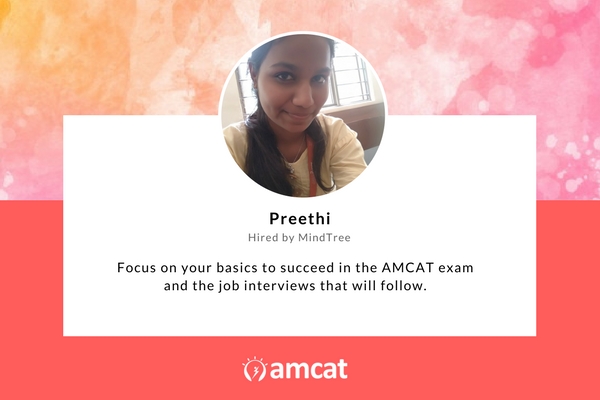 How good is the AMCAT exam? Does it really work? We are asked these questions again and again. And, the only answer to these queries are the success stories of our AMCAT achievers. These are the people who put their faith in the AMCAT test and made the most of the opportunities provided to them. Today, we are back with another such success story.
Preethi, a final year CS student from MVJ College of Engineering, found her calling in MindTree with the AMCAT test. Let's hear her story in her own words.
Why did you opt for the AMCAT test?
Preethi realised very early on that if she needed to make the most of off-campus placements, she needed something extra. And, that is when she decided to opt for the AMCAT test.
"As a fresher, I couldn't get a lot of opportunities to participate in campus placements. That is why I decided to opt for the AMCAT test."
When did you get your first interview call?
"I got my first job interview call 3 weeks after giving the AMCAT exam."
While many students expect a prompt result, Preethi's wait did her a world of good. It helped her get the kind of job she wanted and gave her an opportunity to work on her core skills.
Her interview with MindTree reflected that preparation as she cleared all rounds with flying colour. For her interview, she focused more on the programming basics.
Would you recommend the AMCAT to others?
"Yes, obviously," comes the prompt reply.
"I would recommend others to take the AMCAT test as it is a good platform to showcase your skills."
Any tips that can help other job seekers in getting a good job?
Preethi is has a handful of tips to give, the first of which is to focus on the basics of each subject. She also says that you need to actively work on your communication skills to perform well at the job interviews.
She says, that you need to pay special attention to the final HR round of job interview as this where the interviewee asks questions about your abilities and tries to gauge who you are as a person. She believes that the key to acing this round is to be confident and have a nice body language.
Those sure are some handy tips Preethi!
Are you inspired by Preethi's success story and are eager to write a great success story of your own? Then schedule the AMCAT test today, and get going on the path of success.
You might also like:
What Can Freshers Expect From The HR Round Of Job Interview
5 Job Resume Mistakes You Must Avoid If You Want Your Dream Job
"AMCAT Helped Me Prepare For Job Interviews"- Says AMCAT Achiever