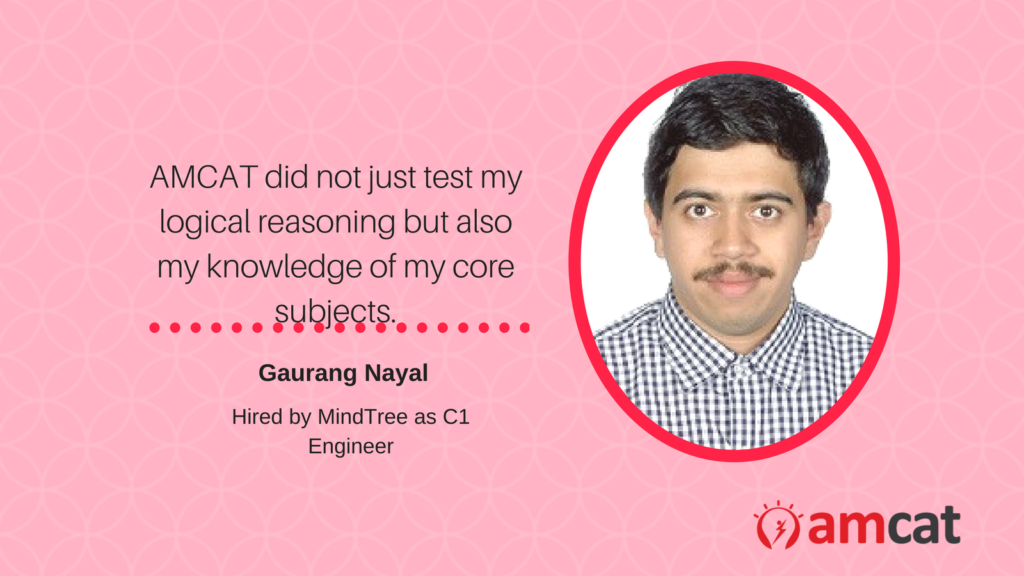 Every year thousands of students give the AMCAT test. But how successful are they? This is the question we are asked pretty often. And, to answer those questions today we are here with another success story. Our AMCAT achiever of the day is Gaurang Nayak who bagged a job with MindTree.
Gaurang, a student of K.S School of Engineering and Management opened up why he opened up why he took the AMCAT test and how it prepared him to do better in job interviews.
Why did you opt for the AMCAT test?
"I took AMCAT because I was sure about finding more opportunities here than what I could find by myself."
Gaurang also added what he found best about AMCAT, and it was the because AMCAT helped him prepare for job interviews and the job description mentioned on the AMCAT website added to the overall preparation.
How was the AMCAT test experience?
"The AMCAT was a good experience", said Narang. "It did not just test me on my logical reasoning but also tested my knowledge of my core subjects. It also analysed my character through the character based questions asked during the exam."
Gaurang believes that everyone should take the AMCAT test as it gives one the opportunity to "contact almost every famous company and also work with startups if it interests them."
How soon did you receive an interview call and how was the whole process?
"I got my first interview call 15 days after the AMCAT results were declared"
"And the interview process was pretty smooth."Gaurang Nayak is firmly of the opinion that the fact that AMCAT does an overall assessment helped him not just bag his first interview call so soon after the test but also excel at it.
Any tips to help the other job seekers?
"You must go through the company profile i.e. you must know what the company is all about. Don't be tensed while attending the interviews. Be confident about your answers and also go through the previously asked questions or commonly asked interview questions. Also, Quora answers can be really helpful."
WOW!
We are so impressed by the way Gaurang has handled the whole test and job interview process and how he already has a job in kitty even before completing his graduation.
So, are you ready to pull off a Gaurang and write your own success story? Yes? Then schedule your AMCAT test today!