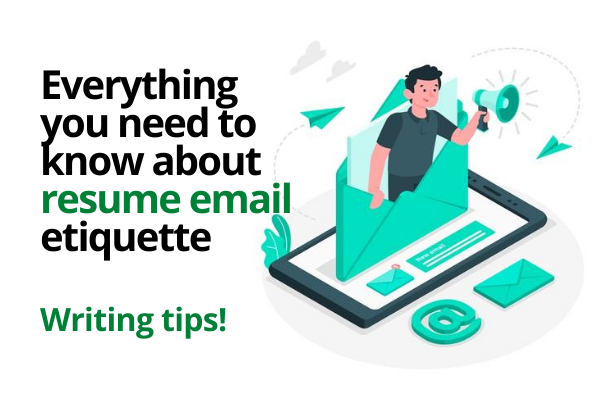 Nowadays, recruiters accept job resumes through online job applications. In fact, some postings may include a job requirement to submit your resume via email. If this is the case, then what is the best way to email your job resume to make sure that the recruiter reads it?
The key to success is to read the job posting carefully and follow any instructions the hiring manager gives you on emailing your job resume. Moreover, if the job description asks you to email a resume, then the recruiter may also include information such as name, subject line formatting, questions they want you to answer and email address you should send your resume to.
Make sure you follow these instructions as not following them might risk having your job application overlooked.  In addition to that, employers may ask you to follow the instructions to test whether you will read and follow the instructions properly or not.
However, if there are no instructions mentioned in the job post, then keep your email professional, error-free and easy to find with the following steps.
Attaching Job Resume
In order to mail your job resume, you first need to save your resume as a Word document (.doc or .docx) or PDF (.pdf) file format. These are the top 2 desired formats by potential employers.
Once you have saved your resume in one of these two formats, then you should name the file that you are going to attach. Make sure the name is clear and concise. Try to avoid generic name like "Resume".
Sometimes, the recruiter might ask you to copy and paste the contents of your resume into the email. To do that, copy the content of your resume file and simply paste it into the body of the email.
Subject Line
If there are no formatting instructions in the job description, then write a concise subject line that will let the recruiter know exactly what the email is about. A few examples of subject lines:
Resume – Software (Job Title) – Deepak
Resume: Ayushi Pundier for Content Writer
Ajay Resume: SEO Specialist 
Cover Letter
When it comes to cover letter, you can either post it directly in the email or attach it as a second file with your job resume.
If you don't want to send a full cover letter, then include a brief message summarizing your interest in the job, note that your resume is attached, mention when you will follow up and finally close with your name and contact details.
Moreover, if the recruiter's name is included in the job post, then address them by name in your email. Here is an example for you.
Hi Vaibhav,
I came across the job posting for Software Engineer opening on LinkedIn—it seems like a perfect job opportunity! I've attached my resume and cover letter here for your reference, and I would love to be considered for the position.
Please do let me know if there is any additional information I can send to you. I'll follow up if I don't hear back within a week.
Looking forward to hearing from you.
Thanks so much for your time.
Best,
Deepak
98********
In addition to that, keep your note professional with a high-level overview of why you are the right candidate for the job role.
Professional Email Id
Your email address is one of the first things that your recruiter will see when your email comes through. Having an unprofessional email address, such as "Sexy******@abc.com" or "player***@xyz.com", might put you at disadvantage in the selection process.
Use a professional email address made up of your first and last name, such as deepaksharma@abc.com. If your full name is taken, then try to combine your name, initials and birth date like deepaksharma24@abc.com.
Proper Signature
Close your email with a professional signature for the hiring manager to reference your full name and contact details. It can be simple, like:
Your Sincerely/ Best Regards
First Name Last Name
Phone number
You can also include a link to your personal website, LinkedIn or Blog page.
Conclusion
Now, these are some of the things that you should take into when writing your job resume email. In addition to that, check your resume, cover letter and email content for any grammatical or formatting errors. Send yourself a test email to ensure that everything is working properly, download the attachments from your test email and check that it is the correct file before sending it to the recruiter.
Moreover, follow any instructions given in the job description to give your job resume the best chance to reach the recruiter. If nothing specific isn't mentioned, then keep your message clear, correct and informative from the email address to the signature.