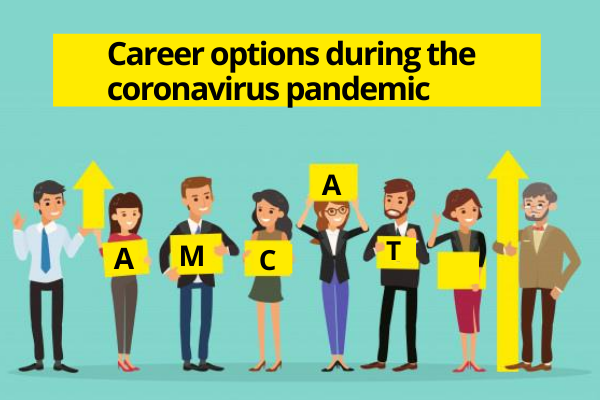 The coronavirus pandemic has put everything on standstill and looking for jobs during this trying time is both challenging and frustrating. However, that doesn't mean that there aren't enough opportunities in the job market for you to find a stable and reliable work that you can do from home. Take a look at our AMCATeers for example, more 100 AMCAT exam takers were placed in companies like Compass, EY and Zoho, so you can say that there is still hope.
There are plenty of opportunities available in both IT and non-IT sector. All you need to do is stand out from the rest of the applicants and show the recruiter how skilled and job-ready you are. And, one of the best ways to do that is by getting a solid score in the AMCAT exam.
With a solid AMCAT score, you can apply to exclusive, tailormade job opportunities on the AMCAT job portal and give your career the right direction. So, these are some of the top job profiles that you can apply through the AMCAT exam with a solid score.
IT Job Opportunities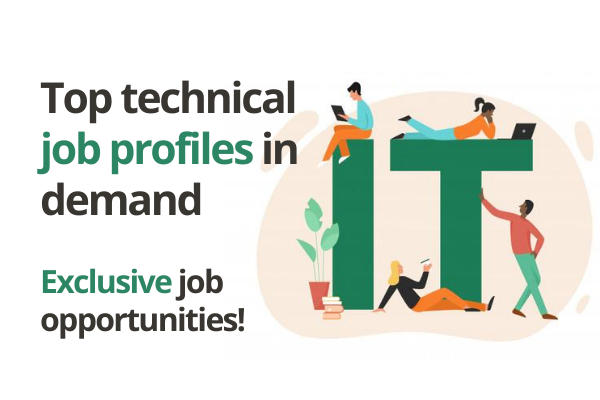 With the right skillset and a solid score in the AMCAT exam, you can successfully kickstart your career as one of these IT profiles. You can visit the AMCAT job portal, find the job which is relevant to your profile and directly apply to exclusive tech job openings.
Cybersecurity Analyst
Job Description: As a Cybersecurity Analyst, you need to assess, plan and enact security measure to protect the organisations from security attacks on its networks and systems. One of the major aspects of this job profile involves simulating attacks to identify loopholes and testing out new software to find areas where they need to improve.
Why is this job profile in demand?: Thanks to remote working, many companies are trying to improve the security of their cloud data.
The nature of tech security is most likely to change amid the COVID-19 outbreak. Before the global pandemic, it was restricted to just antivirus and anti-malware software solutions.
Skillset: To succeed in this field of career, you must continually update your knowledge of the latest data-protection news, legislations and techniques. In addition to that, you need to have strong analytical skills to study computer systems, assess any potential risks and consider possible solutions.
Research Engineer
Job Description:  Research Engineer gather information, data and sample to test them and find out the best methods and materials for applications. The responsibilities and tasks are very diverse, for instance, as a Research Engineer, you will carry out studies, experiments, and analysis on technical systems or components.
Why is this job profile in demand?: The world is constantly changing and to keep up with it, companies need engineers to conduct cutting edge research, create prototypes and design testing procedures to identify problem and solution.
Skillset: If you are targeting this job profile, then you need to have great computer skills, communication skills and analytical frame of mind. Moreover, you must delve into new fields and come up with innovative solutions.
Cloud Engineer
Job Description: Cloud Enginers work in tandem with other engineers to identify and implement the most optimal cloud-based solution for the organisation. As a Cloud Engineer, you also need to manage the cloud environment as per the company's guidelines.
Why is this job profile in demand?: Companies are operating on public/hybrid deployment. They are using tools like Microsoft Azure and Google Cloud to upload data to analyse and interpret it to make impactful decisions. That is the reason why many businesses are heavily investing in IT and cloud resources to safeguard their resources.
Skillset: If you have the skills to drive technical architecture and analyse data, then IT jobs in the cloud programming domain is your true calling. Moreover, having a working knowledge of SQL and NoSQL will further increase your chances of getting this job profile.
Artificial Intelligence Engineer
Job Description: An AI Engineer have many responsibilities such as coordinating between Data Scientists and Business Analysts, converting machine learning models into APIs so that other applications can access them.
Why is this job profile in demand?: Artificial Intelligence is going to become an essential part of your job search because companies are taking the help of AI-powered hiring tools to recruit candidates amid the pandemic.  That is the main cause of why, the demand for Artificial Intelligence Engineer has increased and will continue to rise in the future.
Skillset: To make a mark as an AI engineer, you need to have a strong command over machine learning and computer languages. You must be able to search through a large amount of data, possess a deep understanding of algorithms and high proficiency in  Java, Software Development, C++ and Python.
Business Analysts
Job Description: A Business Analyst conduct a detailed market and product analyses, outlining problems, growth opportunities and solutions for the business. In addition, as a Business Analyst, you need to define business requirements and report them back to stakeholders.
Why is this job profile in demand?: Companies are vigorously using digital channels to increasingly become more mainstream, especially Fashion, IT, and retail. This means that the demand for digital profiles is increasing, which is resulting in greater demand for Business Analysts.
Skillset: Some of the top Business Analyst skills are competent verbal communications, ability to understand delegated objectives, successfully running meetings with Stakeholder and documenting and writing reports.
In addition, you should also have high proficiency in Python, R, Tableau and Java to develop technical solutions to business problems, analyse company's sales efforts and interpreting data.
Non-IT Job Opportunities
There has been a common misconception that the AMCAT exam only caters to Engineer students, which is not true. In fact, there are a lot of non-IT job profiles that you can target and apply for.
You can check out the AMCAT job portal to apply to some of the top exclusive opportunities. So, don't leave any stone unturned when preparing for the AMCAT exam and start applying to these exclusive job opportunities.
Marketing Executive
Job Description: The role of a Marketing executive includes creative, analytical, commercial and administrative responsibilities. As an executive, you are likely to work closely with other team members in domains such as advertising, production, sales and distribution.
Why is this job profile in demand?: Companies are looking to expand their customer base and for that, they need to gain the attention of their target audience. Moreover, the pandemic has created new opportunities for companies to create a positive brand image. This will help them generate new leads while keeping the current customers engaged.
Skillset: If you are someone who has a knack for understanding the demand of the target audience, creative thought process and has the ability to make an effective marketing plan, then it is the right job for you. Moreover, having great verbal and written communication skills will improve your chances of bagging this job profile.
Content Writer
Job Description: As a Content Writer, your responsibilities include researching industry-related topics, writing clear and correct marketing content and preparing engaging content using content management systems.
Why is this job profile in demand?: As more and more people stay at home, the consumption of content both online and offline has rapidly increased. This has led to an increase in the demand of content writers.
Skillset: To thrive in this field of work, you should have excellent command over the language and the ability to connect with the target audience.
Moreover, you need to be able to understand the tone of the sentences, tenses and syntax. So, before you start your road towards becoming a content writer, just make sure you have a tight grasp over the language.
In addition to that, having a basic knowledge of SEO and SME can give you an edge over the other candidates. There are plenty of content marketing certifications available online for you to successfully kickstart your career in this domain.
Talent Acquisition Executive
Job Description: The responsibility of an HR executive includes directing and overseeing hiring, training, and processing leaves while administering and monitoring benefit programs.
Why is this job profile in demand?: During the pandemic, companies are actively looking for hard-working and deserving candidates for various job roles. And to find such candidates, the company needs HR executives/Talent Acquisition Executive to shortlist and recruit the right candidates. In fact, it is one of the topmost in-demand job profiles and is expected to stay in demand in the near future.
Skillset: Other than a relevant bachelor's degree, to succeed in this field of work, you need to be analytical, problem solver, honest, ethical and dependable.
SEO Specialist
Job Description: SEO (Search Engine Optimization) is crucial to enable your website to rank high in the search engine results pages of major search engines. As an SEO Specialist, you need to analyse, review and implement changes to the companies' website/blogs to make it more optimized for search engines like Google.
Why is this job profile in demand?: Google regularly updates its search algorithm. So to keep up with these changes while maintaining the company's digital presence, the demand for SEO Experts/ SEO Specialists have increased.
Skillset: For this job opportunity, you must be a problem solver and decision-maker, with the skills to develop engaging content while keeping up with ever-changing google guidelines related to page ranking. Having SEO relevant certifications can also improve your chances of bagging this job profile and give necessary validation to your skills.
Sales Executive
Job Description: As a Sales executive, your responsibility is to identify new business prospects, converting them into leads and selling goods and services. Moreover, you also need to create relationships with new clients and maintain existing ones.
Why is this job profile in demand?: Companies always need Sales Executives/ Business Development Executives to sell goods and services by researching and analyzing sales options. Due to the coronavirus pandemic, organisations are looking for talented sales executives to identify product improvements or new products by remaining current on industry trends, market activities and social circumstances.
Skillset: To work as a sales executive, you should have an understanding of sales and marketing processes, excellent communication skills and the ability to negotiate with clients. Moreover, you must be able to find out business leads and trending services.
Conclusion
These are top IT and non-IT job opportunities that are in demand during the coronavirus pandemic. Hiring managers are on a lookout for candidates with the right skillset, so don't stop your job search because of the global pandemic.
In fact, you should actively participate in off-campus placement drives, regularly update on LinkedIn and apply to exclusive job opportunities on the portal with your scores in the AMCAT exam.
Moreover, before sending off your job resume, make sure you do a market survey to find out more of the job profile you are interest in and skills you need to qualify for it.
Take all these tips into consideration when looking for your dream job.
All the best!