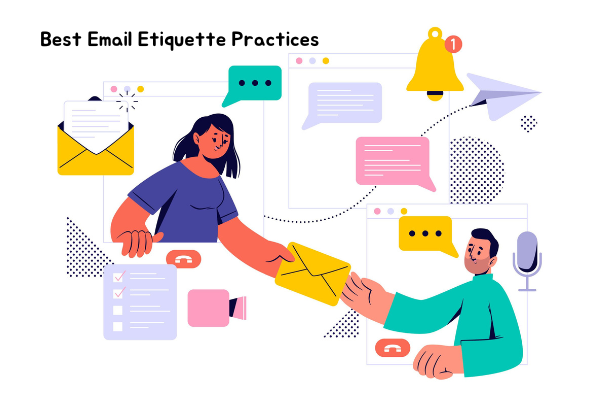 Using best practices for email etiquette, regardless of where you are in your career at the present moment, allows you to communicate clearly and make a positive impression on potential employers, business connections, and customers. In this post, we'll talk about why email etiquette plays an important role in the workplace, as well as 7 best practices.
Don't respond to a business email when emotional
Take a breather, clear your head, seek advice, or sleep on it. You'll come back refreshed and balanced, and then you are ready to compose a professional email free of emotions.
Proofread your emails
When sending professional communication, proper spelling and punctuation are crucial, therefore always proofread your work before submitting it. Check the spelling of the recipient's name and email address as well. Always cross-check since autocorrect has a habit of changing names.
Register for AMCAT | India's Leading Fresher's Assessment And Job Site (myamcat.com)
Keep emails concise
It's always considered ideal to start an email with the main point and then explain why you're sending the same in the first place while writing a copy of your email. It is advisable to start an email with the main point and then explain why you're sending the email in the first place while creating a copy of your email.
Ensure subject lines are short and specific
Do not forget that your email should be titled in such a way that the receiver understands what the message is about. Short, one-line responses were often considered impolite and abrupt, but they are now considered acceptable. People may respond in this manner because they are short on time and need to get the point through fast.
Short email responses are considered fine for co-workers, but we recommend avoiding using one-liners when writing an email to someone in a higher position.
Always check email tone
One must maintain a courteous and friendly tone while writing a professional email. Always remember to include factual rather than emotional information. When drafting an email, never write all text in uppercase because it is considered as shouting and comes across as harsh behavior. Lastly, in a formal email, avoid using nicknames in the salutation.
Don't send emails over the weekend
One must always remember to respect other people's time as well as the desire to disconnect from work on weekends. Sending out emails late on Friday evenings or on weekends is not a good idea and should be avoided.
Use "reply all" correctly
You must know the advantage of using "Reply all" is that you can send a message to everyone at once to let them know that an issue has been resolved. When in doubt, choose "Reply" to avoid sending needless emails to a group of people.