Forbes India recently released the Forbes India 30 under 30 list for the third time.
Though the list has several categories we concentrate on Technology, Ecommerce, Design and Healthcare.
Youngest person to mark his presence is the list is Harsh Songra (19), who was afflicted by a neurological disorder at the age of 11, and used his condition as the inspiration for an app that allows parents to track the growth of their child in the early years.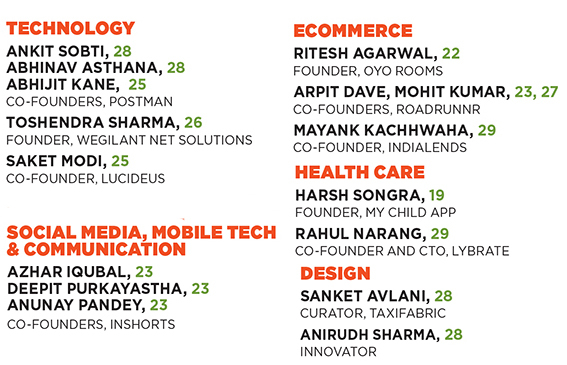 Other personalities who made it to the list were Ritesh Agarwal (22), the founder of OYO and is the only one to be featured in the earlier list by Forbes as well. Arpit Dave (23) and Mohit Kumar (27), founders of RoadRunnr and innovator Anirudh Sharma (26) were the other contenders in this category. Kudos to all of them for making into the list!
Now condensing back to our topic – what can you learn from these people? Here are few things that are common to all these successful people.
Ladder of Success
When you read the stories of these successful entrepreneurs you will find one thing in common – All of them did not crawl up the ladder of success all alone. Yes! Success is not a one man show. It's always the team that wins. So respect your teammates and try to learn from your subordinates in the best possible way.
Do you need a degree?
While plenty of the 30 under 30 hold Bachelor's degrees or post-grad qualifications, you might be surprised to learn around a quarter of all nominees didn't actually attend university! Well we are not suggesting that earning a degree is a bad idea, but think twice before you start pursuing a course. Everybody will tell you from where these successful chaps dropped out but nobody will tell you how many courses they did after that. The reason is they had the courage to introspect and drop the wrong path altogether to walk the fresh road, not taken conventionally.
Setting "Smart" Goals
Your goals must not be vague like….I want to make plenty of money this year. It must be specific enough. For example: Start with saying I want to make Rs. 3 crores this year. Your goals must be measureable, actionable, time bound and most importantly realistic to achieve. 🙂
Do what makes you, YOU and love what you do        
Rewind to your childhood days! Think of the things that you loved doing. It is also observed that the college serves as a great place to nurture these budding entrepreneurs. One of the many reasons that so many business ideas come from college students is because young people are in an environment surrounded by other young and creative people. Being around like-minded peers in an educational environment is the ultimate example of creativity stirring more creativity.
Ending the article with what Sean Parker – The first president of the social networking website Facebook has to say about his power of imagination:
"I suffer from the delusion that every product of my imagination is not only possible, but always on the cusp of becoming real." – Sean Parker
Share the article with your friends!
Image source: Forbes India