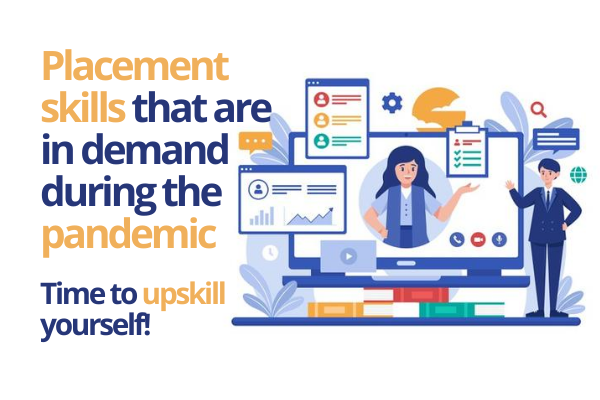 The global pandemic continues to have a catastrophic effect on the economies, globally. Every day there is news of massive layoffs and salary cuts. However, even during these trying times, companies are taking the help of AI-powered recruitment tools to hire potential candidates. This gives the 2020 graduates a chance to start their career amid the pandemic by gearing up for off-campus and on-campus jobs.
Sectors like pharmaceuticals, consumer goods, supply chain service providers, e-commerce and IT are looking to hire an additional workforce to meet the increased demand due to the COVID-19 crisis. However, to grab these job opportunities, you need to show the recruiter that you have the right skills and abilities to efficiently play this role.
That is why you should start upskilling yourself by developing new in-demand skills while honing your current skillset. In fact, companies like Oracle, AMCAT and TCS are giving their certifications for free. So, now you don't have any excuse to not start working on your skills.
To help you put your best foot forward, we have created this list of in-demand soft skills and hard skills that you can start learning at home and apply for off-campus and on-campus jobs.
Soft Skills In Demand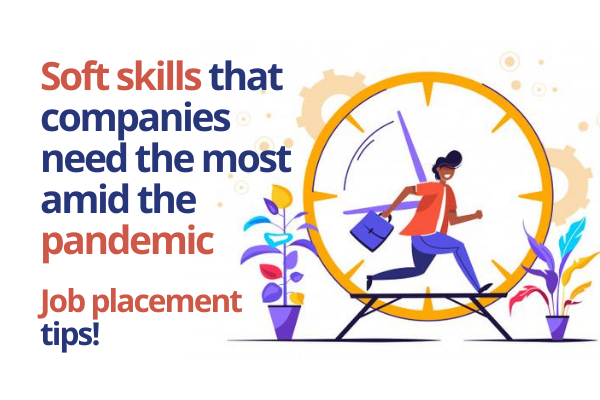 As the world continues to adjust to this new normal, different ways of connecting and working with colleagues have brought soft skills at the forefront. So, use this time to develop your soft skills and kickstart your search for off-campus and on-campus jobs.
Communication Skills
The ability to communicate effectively to connect, share and collaborate with others makes it one of the most important soft skills. And, in order to have a successful job search during the global pandemic, you should develop this skill while staying at home.
Communication skills refer to the ability to efficiently convey your thoughts to others in both written and verbal format. And, the best way to demonstrate your skills in front of the recruiter is by attaching a well-written and error-free job resume and cover letter.
Moreover, to stand out from the rest of the applicants, while showcasing your communication skills, you can send a video resume. This will further strengthen your candidature and increase your chances of getting off-campus and on-campus jobs.
Adaptability and Flexibility
The COVID-19 pandemic has drastically changed the way companies used to operate and work. And, in order to keep up with this continuously changing work environment, you need to be flexible and ready to adapt to your surroundings.
That is the reason why hiring managers are looking for candidates who can positively respond to changes. To get closer to off-campus and on-campus jobs, you should be able to show the recruiter that you can adapt to new changes and take on board ideas and concepts without difficulty.
Try to complete a few relevant certification courses before sending off your application for off-campus and on-campus jobs. Having certifications on your candidature will show the recruiter that with your updated knowledge you can easily adapt to this new normal.
Creativity
In order to generate revenue, companies are coming up with creative ways to keep the customers engaged. Companies like Amazon, Flipkart, Swiggy and supply chain service providers are already using the contactless delivery mode to keep their sales going without jeopardizing the safety of their employees and customers.
That is why candidates who are creative and can come up with new and innovative ways to market products amid the pandemic are in demand. This makes human creativity as essential skills that you must possess to have a successful career.
Make a professional yet creative job resume and cover letter to showcase your creative mindset to the recruiter. You can also mention the link of your blogs, portfolio or website to give the hiring manager a glimpse of your skills.
Leadership
To successfully weather this pandemic, companies are looking for people with the skills to keep others positive and motivated. Having strong leadership skills will increase your chances of getting off-campus and on-campus jobs.
In order to become a good leader, you need to keep an open mind and accept different points of view. Moreover, having the ability to organise people to reach a shared goal is an asset to any company.
The two places you can mention your leadership skills are under your skill section and the achievements section. In the skill section, you can mention your leadership skills and in your achievement list, you can include awards or honours that reflect your leadership.
Teamwork Skills
Thanks to the coronavirus pandemic, teamwork skills have become essential to your job search, especially when digitally working with clients, colleagues and managers. Companies put a huge emphasis on good teamwork skills to create a healthy, high functioning and enjoyable workplace.
In order to complete your tasks and projects in an empathetic, efficient and responsible manner, you need to have team spirit. Moreover, having teamwork skills will help you build rapport with others which will lead to deeper working relationships, new connections and new opportunities.
The best way to demonstrate your teamwork spirit is by mentioning sports in your job resume and job application. Under the hobbies section of your job resume, make sure you mention sports that you like to play. In addition to that, if you win awards in any sports, then make sure you mention that as well.
Hard Skills In Demand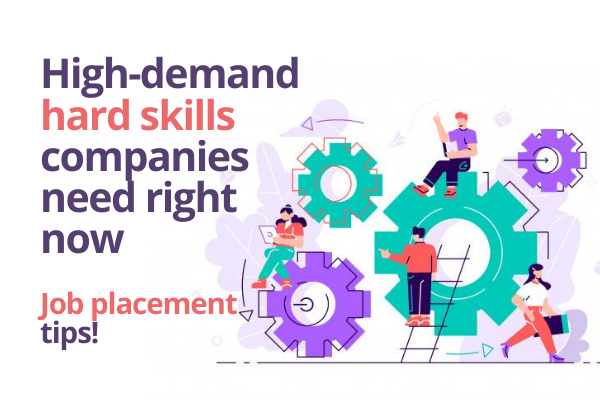 The global pandemic has put the digital transformation on the fast track and to keep up with changes that are happening in the corporate world, you need to start acquiring technical or hard skills.
In order to efficiently and effectively work from home, you need to be comfortable with basic tech tools. To increase your chances of getting the job offers, you need to show the recruiter that you can work from home without much guidance. For that, you need to conduct a seamless virtual interview experience without any technical glitch from your end.
To make your job search easier than ever before, we have curated a list of hard skills that are in demand right now.
Video Producing
During the pandemic driven lockdown, more and more people started subscribing to streaming services like Netflix, Hotstar and Amazon Prime. This has led to an increase in the consumption of web content and web series.
To keep up with the growing demand, OTT platforms are looking for video producers and content creators. And, not just that, companies are also looking for video creators to produce social media content and advertisements.
The best way to demonstrate your video creating skills is by attaching links to your work in your job resume. You can replace the conventional paper resume with a video resume and make your first impression count.
Computer Languages
Expertise in computer languages as SQL, Java and HTML can take your job search up by a huge margin, especially if you are looking for in-demand job profiles like Data Analyst or Business Analyst.
Moreover, coding languages such as R, Python, C and C++ are also in huge demand. During the coronavirus pandemic, there has been an increase in data collection and analysis. And, companies require candidates who are skilled in one of these languages.
One of the best ways to show the recruiter how skilled you are in these computer languages is by opting for coding languages in the AMCAT exam and getting a good score. In addition, you can also complete online certification courses and learn these skills while staying at home.
Designing Software
Thanks to the coronavirus pandemic, the demand for graphic designers/artists have skyrocketed. Hiring managers are looking for candidates with a creative and innovative bend of mind to design graphics for use in digital media products like magazines, labels, advertisements and signage.
These are plenty of short-term courses available online for you to channel your inner artist. And, the best part is that the entry is open to all graduates. So, if you have the skills to put your imagination on paper, then nothing can stop you.
During the lockdown, try to work on your portfolio to show the employer how skilled you are. You can also take up freelancing or internships to gain experience. Moreover, obtain a good knowledge of design software like InDesign or Illustrator. Having a working knowledge of photo-editing software such as Photoshop can give you an edge over the other candidates.
Sales
Even during the global pandemic, companies need someone who has the skills to sell goods and services. Sales in one of the most competitive industries in the world, having the right skills will help you make the right mark on the recruiter.
So, if you want to kickstart your sales career, then develop the ability to understand the need of customers and how to turn it into a sale. Moreover, try to gain expertise in new sales technologies.
There are many free productive applications and software available online for you to get hands-on experience of CRM or a sales enablement tool. So, use this lockdown to improve your selling skills by taking up short-term and relevant courses.
SEO
As employees continue to work from home, more and more people are consuming content online. In order to increase the quality and quantity of traffic to your website or blog through organic search engine results, companies are looking for SEO specialists or SEO experts.
The demand in the digital marketing sector continues to increase and having relevant skills will help you secure both off-campus and on-campus jobs.
Having a working knowledge of SEO can boost your chances of a job in the field of content marketing. When applying for opportunities, make sure you highlight it under the skill section. If you have the time, then you can also complete a certification course to give credibility to your skills.
Conclusion
Due to the coronavirus pandemic, the job market is constantly changing. Both hard skills and soft skills are equally important to bag off-campus and on-campus jobs. So, no matter what field you choose, having certain skills can increase your likelihood of success.
In fact, determining which skills are most in-demand can be helpful for you to select the right career path. We hope after reviewing these modern skills, it will be easier for you to choose the right path.
All the best!