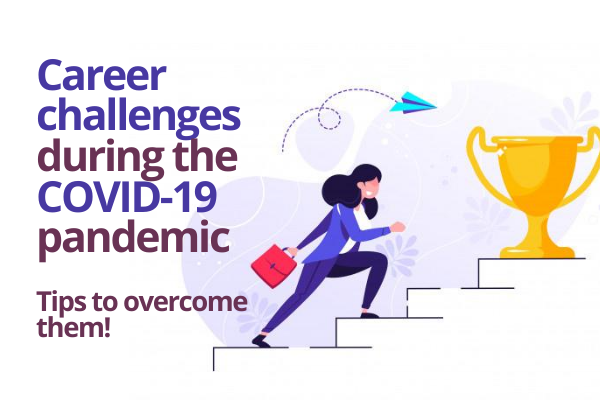 The coronavirus pandemic has taken over almost every part of our lives, especially job seekers. The COVID-19 crisis has hit the world economy, putting many professionals out of jobs and business. 
However, on the brighter side, industries like E-commerce, Pharmaceuticals, Consumer goods and IT are taking the help of AI-powered recruitment tools to shortlist potential candidates. All you need to do is develop new skills and hone the existing ones.
So, to help you overcome job search challenges, we have curated a list of tips that will help you get closer to your dream job.
Stay Motivated 
It is hard to stay positive during these uncertain and unknown times. However, to keep your job search on, you need to stop picking up negativity from the news and people around you.
To stay on track, try to limit your exposure to negative news or people, especially if it triggers your fears and anxieties. Moreover, try to prioritize your self-care and take the time to study the job market and profiles that are in demand.
A high and positive spirit will make it easier for you to overcome the job search obstacles and get closer to your dream job during the pandemic.
Connect With Recruiters
LinkedIn is the most important social networking site for the recruiters and job-seekers, especially during the pandemic. To better understand the impact of COVID-19 on the hiring process, you can connect with recruiters and ask them relevant questions.
Moreover, regularly updating your LinkedIn profile, being comprehensive about current skills and highlighting your recent experience can take hours off of your job search.
Develop New Skills
Due to the coronavirus pandemic, new skills have emerged in the job market. And, this is the best time to develop new skills and put them in your job resume.
Try to complete some relevant certification courses from accredited sources and give your candidature an edge over the other candidates. There are plenty of free certification courses available online for you to kickstart your learning.
Changes In Job Resume
The hiring managers use job resumes throughout the virtual hiring process to learn more about you and whether you are the right fit for the job or not. Through your resume formats/template, you should reflect your uniqueness.
It is very important to highlight your skills and abilities in your job resume, especially during the pandemic when the number of applications has manifold. So, make sure you efficiently summarize your skills, accomplishments and achievements in your job resume.
Adjusting To Virtual Interaction
To keep the recruitment process going the recruiters are now switching over to the virtual mode of interviews. A traditional interview consists of a face-to-face conversation between you and the recruiter who assess whether or not you are the ideal candidate for the job role.
However, given the present circumstances, the recruiters are now using a new way to conduct job interviews, commonly known as a video interview to shortlist potential candidates and staying connected.
Now, these are some of the ways for you to overcome the hurdles and run towards the job of your dream. Moreover, don't forget to continue working on yourself and your skills to keep your job search on track.