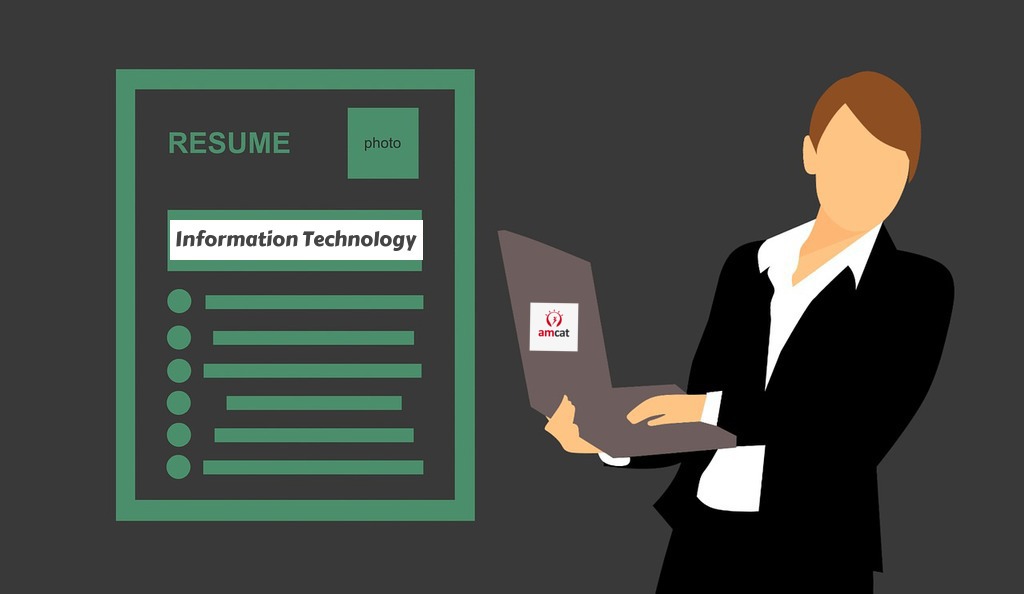 A resume for IT graduates is not very different from a resume for any fresher job. However, IT jobs require more information about aspects related to technology and skills.
If you are looking for getting fresher IT jobs then follow this guide we have put up for you, which has some easy resume building tips –
Pick a format that enables easy scanning of information
This is the most critical aspect of creating a resume for IT graduates. IT jobs have the highest competition in India, and hundreds of freshers apply to every job, this leaves the recruiter with very little time to go through your resume.
Generally, a recruiter spends 6-10 seconds to analyze if they should give it more thought. You can choose a resume format from Resume Buddy that has proper sections and paragraphs and is ideal for any fresher looking for IT jobs.
Special Offer: Get AMCAT at just Rs.949/-. Use Code BLOG2019 at payment page. Hurry! code valid till 31st March 2019 only. Register Now.
Use commonly understood industry jargon
Yes, IT is all about technical terms and jargon, but you should understand that the first level of hiring is generally done by an HR who might not have the understanding that a technical manager has. This is why a resume for IT graduates needs to be free of unnecessary terms and jargon.
Mention the software or technology that is required for the job, don't write something more advanced or use niche technical terms, the first person sorting the resumes may not understand!
Customize resumes for each job profile
As an IT graduate you might be open to starting a career in any field of technology, and if that is the case, then you should also have a proper resume for each job profile.
A resume for IT graduates should focus on the technology and skills they are experts at, but the expertise required for an App developer is different from that needed for a Front End Developer, Tester, Coder, or DevOps. Make sure you create a unique resume for each profile, highlight the skills and work done for each skill.
Use keywords to highlight skills and experience
Keywords are highly critical in a resume for IT graduates. They help in pushing your resume in hiring software and also useful during manual checking of resume.
You can use a tool like Resume Buddy with this task; it has over 250+ phrases and keywords that will make your resume attractive and look professional. You should go through the job description properly to ensure all the keywords from that are in your resume.
Give links to portfolio and include project experience
One of the best things to do while looking for IT jobs is to create an online portfolio of your work. GitHub is a great place to start, and you can put up all your projects and work on it and share it easily with prospective recruiters. You can provide this link as a hyperlink on your resume and if you are submitting a print copy then provide your username on the portfolio or provide a bitly link.
Don't copy paste the entire HTML link. This online portfolio will be the highlight of a resume for IT graduates and will set you apart from other graduates.
Don't lie about skills you do not have
Our resume building tips on this list are mostly about adding things on a resume for IT graduates. But this important one is about ensuring you don't add dishonest things on your resume!
IT jobs are highly specialized, and you cannot lie and get the job, because without the skills you cannot perform the job! Do not include anything that you cannot do, you will be asked about it in the interview, and even if you cross the interview stage, you will suffer once you start working.
Apart from these specific pointers for a resume for IT graduates, every resume should be proof-read, should include facts and accomplishments and should be just limited to one page.
Once you follow all these pointers, you will have a great resume for IT graduates in your hands!
Special Offer: Get AMCAT at just Rs.949/-. Use Code BLOG2019 at payment page. Hurry! code valid till 31st March 2019 only. Register Now.