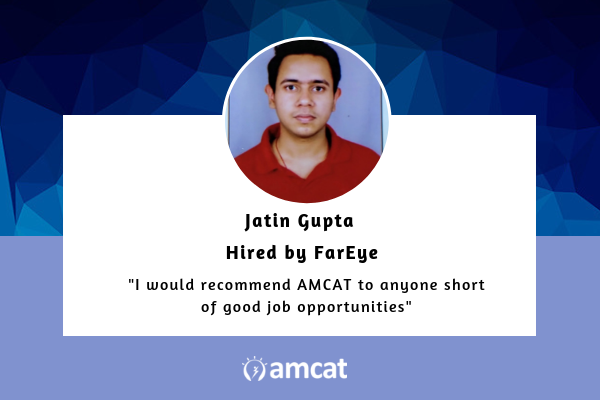 We recently came across a question on Quora where someone asked how good is the AMCAT exam and has anyone ever gotten a job through it? While we were thrilled people were asking and trying to learn more about us, we decided to answer the questions by bringing out live examples of people who have actually made their mark through the AMCAT exam.
And, today, taking the baton of AMCAT high is our AMCAT achiever of the week, Jatin Gupta who got selected as a Software Developer with FarEye.
Special Offer: Get AMCAT at just Rs.949/-. Use Code BLOG2019 at payment page. Hurry! code valid till 31st March 2019 only. Register Now.
What made you opt for the AMCAT exam?
"As a student from a not-so-reputed college, it was difficult for me to get good job opportunities through campus placements. However, AMCAT provided me with many opportunities to apply for jobs that I was interested in."
All-in-all, the AMCAT exam opened up a lot of job opportunities for Jatin and gave him a chance to start his success journey. And, he enjoyed the whole AMCAT experience so much, that he had all good things to say about the test, including, "I had a pretty good experience giving the AMCAT test as it covered all the domains that were specific to my stream. It ensured an overall assessment."
Moving further, we asked Jatin if he would be likely to recommend the AMCAT exam to others, and let's see how he responded to that –
Would you recommend AMCAT to others? If yes, why?
"Yes, I would recommend AMCAT to anyone who is feeling short of good job opportunities."
"AMCAT helps an individual get recognised by different companies."
Wow, thank you so much, Jatin!
Of course, Jatin saw the opportunity that the AMCAT exam provided and grabbed it with both hands. The result being – he tasted immediate success as he got selected for a job of his choice.
How was your interview and how did you prepare for it?
"The interview was scheduled timely and everything went seemingly well. I had not prepared anything explicitly for the interview"
However, what worked greatly in Jatin's favour was that he was focused on improving his current skills and worked largely on the topics of Data Structure as he was preparing for a job as a Software Developer.
AMCAT paved the way for Jatin Gupta to prove his expertise and he did not hesitate as he sought success. He was very clear of the kind of jobs he wanted, the shortcomings he faced due to not having a big college brand to back him up and the important role that a great skill certification like AMCAT could play in his career.
If you too, like Jatin, are determined to succeed and craft your own success story, the schedule your AMCAT exam right away!
In case of any doubts or queries, feel free to reach out to us by dropping your thoughts in the comments section below.
Special Offer: Get AMCAT at just Rs.949/-. Use Code BLOG2019 at payment page. Hurry! code valid till 31st March 2019 only. Register Now.