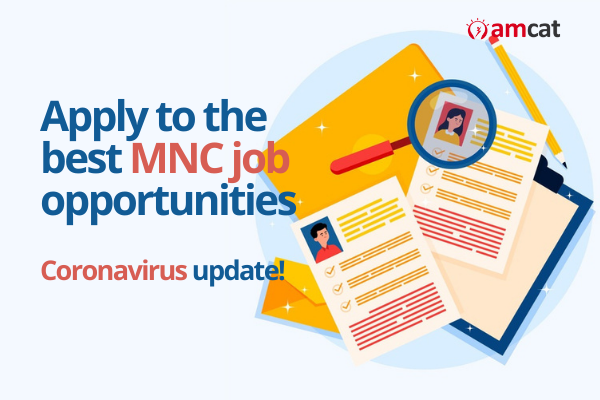 Starting your career in a multinational corporation can give your candidature a boost. Even during these trying times, there are plenty of MNC jobs available for you to apply. You can find both tech and non-tech opportunities in various domains on AMCAT job portal and LinkedIn.
If you want to apply to exclusive job opportunities, then you can always opt for the AMCAT exam and get a good AMCAT score to showcase your skillset. During the lockdown, more than hundred 2020 batch candidates got placed in companies like Compass, EY, Zoho, ESI Group and KNORE as Software Developer, Research Engineer, Technical Sales Engineer and more.
So, there are a lot of opportunities for you if you have the right skills and expertise. However, just applying for opening on various job portals won't get you far in your job search. You need to do more about how to prepare for MNC jobs.
Take the advantage of the pandemic 
Due to the coronavirus lockdown, you must have a little more downtime than usual. Rather than wasting your time, you should use it to update your resume or work on your LinkedIn profile.
Moreover, while you are at it, clean up your social media pages of the content that you don't want a potential recruiter to see. If it is too much work for you, then you can always lock your profile or make it private.
This is also the right time to gather references for your application. You can also ask your classmates, friends, colleagues and professors to endorse your skills on LinkedIn. If possible, you should also ask them to write references on your LinkedIn profile.
Do research on companies that you want to apply. Get familiar with their work, priorities, work culture, ethics and style. You can also interact with the company's hiring manager by sending a professional and personalised message on LinkedIn. As most of the people are working home, recruiters are more likely to respond to direct reach.
Only focus on industries that are hiring
The coronavirus pandemic hasn't hit some industries as hard as others. Customer service, software developer, digital marketing executives, health care workers, accountants, for example, are still in great demand.
In terms of sectors, E-commerce, FMCG, Digital Marketing Agency, Supply chain operators are also seeing an uptick in a number of positions.
Before you start working on your job application and resume, search the internet for companies in these sectors and look for relevant open opportunities. This will help you adequately design your resume and help it stand out from the rest.
If you are running short of time, then you can opt for Resume Buddy to create the PERFECT resume for your application. Not just that, it will give you a list of questions that the interviewer might ask you based on your resume. So, make sure you give your 100% in creating a high-quality job application with an impeccable resume.
Landing a virtual job interview
Coronavirus distancing guidelines should not slow you down during the interview process. A well-executed video interview gives you an excellent opportunity to showcase your relevant skills and expertise.
However, it is crucial that before the interview, you practise your responses to anticipated interview questions. You should simultaneously think about the questions that you have for the interviewer.
Most of the current MNC jobs are remote, so you should be prepared to discuss your best remote work practises. The best way to do that is by conducting a seamless virtual interview round from your end and put emphasis on your ability to work from home.
Other than that, make sure you open by asking how they are doing during these trying times. Dress appropriately and find a quiet area to conduct the interview round.
Make sure you follow up on your application
Due to the pandemic, the recruiter might be swamped with tasks other than hiring. So, make sure you send a thank you mail to the interviewer and the hiring manager, right after the interview. Show them how grateful you are for the opportunity, reiterate your abilities and why you are the ideal candidate for the job.
Normally, you should follow up with the recruiter once every week. You don't want to follow up after an interview more than twice a week.
Moreover, if they have specifically cited a pause or delay in the hiring process, then you should check in every two weeks to show the recruiter that you are still interested in the role.
Step out of the box
In order to apply to the best MNC jobs, you need to constantly adapt and seek out opportunities to thrive because business isn't the same as it used to be. You should consider learning new skills and hone your current abilities.
Enrolling in an online certificate or degree program is a great way for you to continue your learning. You should also consider temporary jobs or internships to build your profile until you get a full-time job in your dream company.
Conclusion
In order to apply for MNC jobs, you need to make sure that you have all the necessary technical skills. Moreover, you should know how to set up conferencing to stay both professionally and socially connected.
The key underlying aspect of finding MNC jobs is identifying the current market needs and matching your hidden skill set with them.