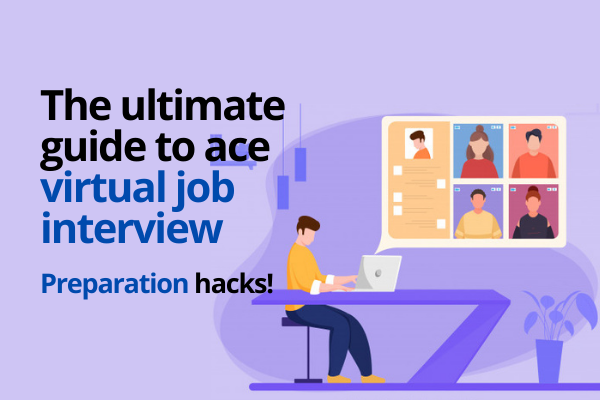 As the companies try to settle in this 'new' normal, hiring managers are working to continue the recruitment process by conducting virtual interviews. With the help of AI-powered hiring tools, companies are shortlisting candidates based on their ability to should responsibilities, while working remotely.
There isn't much difference between virtual interviews and face-to-face interviews. Prepare for the video interview as you would for the traditional job interview. However, the questions asked by the interviewer will be slightly different than regular interview questions.
So, to take your job interview preparation up by a huge margin, then you should start giving mocks while staying at home. Give mocks and practise answering some of these virtual job interview questions.
Question 1: Tell us a bit about yourself
This interview question might sound simple but is always problematic to many interviewees. Majority of candidates fail to answer this common interview question correctly by giving irrelevant personal details.
So, if you don't want your answer to flop, then only mention key abilities and accomplishments that display you as the best person for the job. Start with your achievements and positively connect your skills and abilities. Moreover, make sure your answer is relevant for the position you are being interviewed for.
Question 2: Where did you get to know about the position?
This next interview question is very intriguing and tricky. This question presents you with the opportunity to show the interviewer how passionately you have been working for your job search.
In your answer, do share openly your sources whether by an inside contact, newsletter, job sites or LinkedIn. You don't need to hesitate to show your excitement and commitment as it will only improve your chances of moving to the next round.
Question 3: Why are you looking for a job change?
For an experienced candidate, this might be the toughest job interview question. Every time you are on a virtual interview, this question will always come your way. In order to answer this interview question, you need to sober up and answer it in a positive manner without making any negative references about your current or previous employee.
Use your creativity and try to come up with practical answers like, you want to gain more experience, explore the different industry or the position in question fits better with your future goals. Other than that, you can also mention your interest in taking up new career challenges and work opportunities.
Question 4: What do you know about this company?
This interview question is much more about the company's vision or to test your understanding of that vision. It is to access how passionate and caring you can be about the company. And, to correctly answer this question you need to search for the company well in advance.
Present your understanding of the company's mission and what is your take on it. In your answer, you can use some of the high pitch keywords from the company's website.
Question 5: Why do you think you are the ideal candidate?
This intimidating interview question gives you the stage to sell your skills and expertise in line with the job description. It requires you to be confident, fluent and ingeniously creative. Show the interviewer that you are the right fit for the job.
When answering this question, don't make the mistake of beating around the bush, confidently showcase how you fit their goals perfectly and has the ability to shoulder responsibilities associated with the job role. In fact, show them that you are the only qualified candidate for the role.
Question 6: What are your salary expectations?
Search through sites like Glassdoor to be aware of the range of salaries as per your professional experience and education. Do your search before the virtual interviews, so that you don't end up quoting too low or too high based on your thinking.
Moreover, it is always recommended to quote a slightly higher salary to show the interviewer your willingness to negotiate. If you don't have a set number in mind, then give a range that you are comfortable working for.
Question 7: What did you do during the COVID-19 lockdown?
This pandemic targeted question will help the recruiter understand how passionate you are towards your career. So, make sure you slip-in the names of some of the courses that you undertook doing the lockdown.
You can also mention life skills that you learnt during the pandemic driven lockdown to show the recruiter that you are always working on your development.
Question 8: Can you commute to the office?
Some companies have opened up their office with safety measures in place. So, given your job profile, you might have to commute to your workplace regularly. Don't try to sugar coat your situation and let the recruiter know whether you are comfortable with it or not.
Moreover, you can ask the recruiter to let you work from home until the outside situation gets better. However, don't lie as you will wasting your time as well as the recruiters.
Question 9: Do you have the tools to work from home?
In order to effectively work from home, you need to have some equipment like Laptop/Desktop with working internet and a quiet place. So, when the recruiter asks you about whether you are comfortable working remotely, then make sure you let the recruiter know.
Moreover, the way you conduct virtual interviews says a lot about your ability to work from home. So, make sure you conduct a seamless interview experience without any glitch from your end.
Question 10: What are your greatest professional strengths and weaknesses?
In your answer to this interview question, make sure you share real, practical and relevant strengths. Go through the job description of the target position in question and remember to be as specific as you can be.
When it comes to talk about your weaknesses, be very careful not to mention anything that might disqualify you. Always try to show the interviewer that you are striving to perfect your weakness and constantly working upon yourself.
Conclusion
Use this curated list of top recruiters interview questions to ace virtual interviews without stepping out your home. Continue giving as many mocks as you can, this will help you identify your weaker sections and hone your interviewing skills.