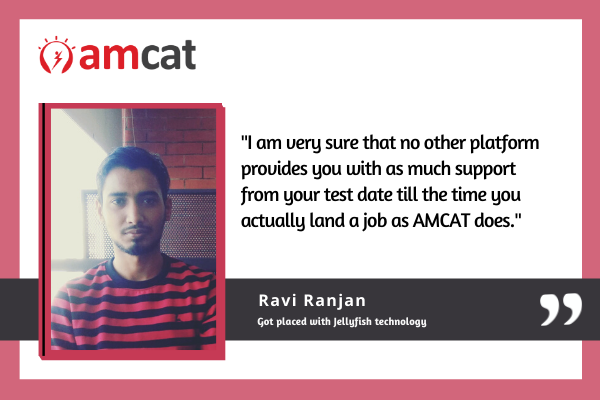 Getting a good job, especially during the COVID-19 pandemic might seem like a big task. After all, the competition is at an all-time high and opportunities are limited. However, even when the odds were not really in his favor, Ravi Ranjan made his mark with the help of the AMCAT exam and found a good job.
How he did it, and what lessons his success story contains; find out all about it in this blog –
Why did you opt for the AMCAT exam?
"I opted for AMCAT for better employment opportunities."
Ravi wasn't disappointed either as he got a lot of interview offers through AMCAT. He further adds that
"AMCAT itself made sure that every candidate got fairly equal and tons of opportunities, making sure that people did not miss out on any potential opportunity."
AMCAT sends emailers to candidates regarding the latest job opportunities, particularly based on their profile.
Tell us about the job you got through the AMCAT exam
"I got a job in a startup called Jellyfish technology Pvt Ltd. AMCAT helped me at each and every step of the process; right from the test venue to interview process to the telephonic conversation with the company's CEO. All the process happened quite smoothly and I wasn't left any room to panic at any point of time."
AMCAT exam is committed to ensuring that candidates don't face any bumps during their job search and the process goes on without any hiccups.
Did the AMCAT feedback report help you in any way?
"The AMCAT feedback report was very detailed. Each and every aspect of my performance on the test was discussed elaborately. A lot of helpful insights were given and from there, it was easy to draw a clear line between my area of strength and areas where I had to put in more effort."
"In one life, I would say that the AMCAT feedback report was very helpful."
Would you recommend AMCAT to others? If yes, why?
"Yes, I will recommend AMCAT to others."
"AMCAT provides you with the best out of best opportunities according to your score. It has already proven its mettle as many renowned companies use the AMCAT platform to conduct their recruitment exam."
"I am very sure that no other platform provides you with as much support from your test date till the time you actually land a job as AMCAT does."
Thank you, Ravi.
AMCAT exam has helped a lot of candidates find their dream job, even during these tough times. However, to get a good job through AMCAT, remember to score well not just in the optional modules but the compulsory modules too.
All the best!