The first job can bring about a tornado of mixed feelings within you. While at one point, you pat your back and finally sigh with relief that you finally made it. On the other hand, you are engulfed with heightened nervousness pondering long hours about how to present yourself in a completely new environment.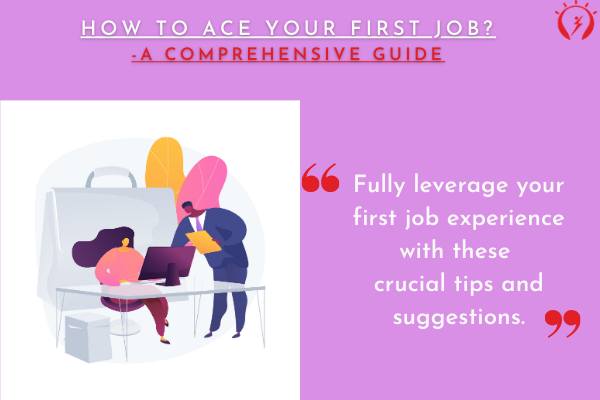 First job, or for that matter any new job brings about fresh situations and challenges which makes one overthink how to tackle it. Though, freshers mistake into thinking that all that matters is impressing the boss or the colleagues. However, the reality may not be the same. Rather, it is completely the opposite of flattery and seeking validations. Therefore, here is a comprehensive guide for the freshers to make the most out of their first job. Scroll down to know more.
Timeline Mantra to Ace the First Job
A professional undergoes so multiple transitions at various timelines during their first year at the job. Now, it can be categorized below:-
1st Week
The first week is the time of orientation. Herein, you'll get the brief about your role thoroughly.

It majorly involves the completion of all the essential formalities and more.
Apart from this,

 you get acquainted with your team members and colleagues.
Pro Tip- Do not try too hard to fit  into the new environment.  Just remain authentic and see how things unfold for you.
1st Month to 6 Months
The next one month to six months is a defining period for your personal growth.
Herein, you are exposed to various processes in full swing.
Thus, this period acts as a launchpad to instill the readiness to handle the job role with ease.
Take this period as your development time.
Now, track your monthly development by maintaining a personal tracker. Also, keep up your learning. Don't compromise on execution. Thus, monitor your application flow to set the right momentum so that you get accustomed to processes easily.
Pro Tip. Build your assessment goals. See how you have performed from day one compared to the performance after six months. Demarcate your strengths and weaknesses for the next phase of your job. 
1st Year
Bravo! You have completed 365 days working in that role! By this time, you are more or less comfortable with the system. This must be backed with personal learning too. How? See, your job is an ongoing journey. You upgrade yourself one step after the other by honing new skills. Gaining expertise at something is not just about learning. However, above that, it involves rigorous action.
Thus, create a vision of your own that defines where you would like to see yourself in a year. Don't fall into the trap of working robotically. Give yourself time to assess and improvise on your strategies. Otherwise, you will find yourself in a highly mechanical and mundane situation which you would not be able to enjoy thoroughly. This will not only impact your work but your work too. Therefore:-
Learn from an online course,
Get skill certifications,
Network with more people by participating in leadership webinars and contests,
Go for interactive platforms where you can speak your thoughts and engage with differences of opinions. This will open your mind in various ways. It will also build your communication skills quite effortlessly.
Things to remember to form a lasting impression
1. Observe. Don't Conclude
" You can listen to what people say. But, you will be far more effective if you listen to what people do."

-Seth Godin
The above quote is a perfect elucidation of what observing looks like.
Don't lose the "student" within you as you enter the new career phase. Instead of overthinking and clinging to the "inner-war", observe your seniors. Why? You may wonder.
See your seniors are experienced professionals. They are naturally better than you in terms of professionalism, work management and more. Henceforth, by staying in the observer mode, you can simulate the operation in your mind just the way it is. By concluding, you will damage your perception.
See, while working in a formal setup, you would want to grasp the business functioning instead of cluttering it with your confusions and conclusions. How would you do that? It will only happen when you understand the fundamentals of the organizations' services. That is why, as the foremost step, observe the work, study the work environment and gradually accustom yourself to the company's pace with your pace.
2. Ask Questions
Questions are creative act of intelligence.
– Francis Kingdom Ward
No, you will not look dumb if you have doubts. It is rather natural as you are entering a completely alien place. Also, it shows your eagerness instead. Therefore, don't hesitate in asking.
Once you are in a clear head, you would eventually bring out the best for the company.
3. Seek Feedbacks
"We all need people who will give us feedback. That's how we improve."- Bill Gates
Now, how do you know where your performance is going? See, you need to establish a very transparent communication flow with the reporting manager. Also, you need to understand that they will not 'spoon-feed' you at every next step. After all, they have their work and other follow-ups. Though you will receive proper training, yet you cannot expect to depend on anyone.
So how do you crack this? Seek feedback. Despite usually, regular meetings are conducted. However, if you need any suggestion from them at any point in time, then don't hang back. Also, ask about how your work is going so far.
If you get any negative critique. Instead of worrying about it, don't pause. Rather, have an open interaction with the respective person. See how you can improve upon that. Thus in this way, you'd be able to improvise not only for the company but for yourself too.
4. Define Your Personal Goals
How would you know where you have reached if you turn a blind eye to your development? Yes, this is where comes the importance of a personal tracker. You may maintain the data on a word file, excel sheet etcetera. See, how you upgraded from day 1 to Day 30, Day 60 or Day 365. You can recollect every detail which enabled you to build up to that level as you would look back.
Make Your First Job Count- Keep Your Learning On
Your first job is a transition period from learning mode to execution mode. Thus, it is imperative to make it count by sailing through in an impactful way. Always remember, your growth is eventually the company's growth.
"Think like an entrepreneur and act like an intrapreneur."
Your experience doesn't define your attitude. Treat this job as an individual endeavour. Henceforth, brainstorm about the potential growth strategies which can contribute to the growth of the organization.
All the best
Get in touch!