"If a window of opportunity appears, don't pull it down the shade."– Tom Peters rightly said.
Many times such chances knock our door and yet we hardly realise it. In most cases, chances are we visualise the end goal of losing out on it and fearing that it will eventually waste precious time. However, we fail to understand that an end goal is just an aspect of participation. Aspirants learn a lot more in the process. The latter one is hardly talked about.
Therefore, as the AMCAT Ambition culmination is nearing, here is a final call for all the aspirant. Learn about the length and brad of the contest. Henceforth, waste no time taking that first step towards a successful professional life.
Click Here to apply for AMCAT Ambition 2021.
What is the last date to apply for AMCAT Ambition?
The final date to apply for the contest is April 15, 2021. Candidates are supposed to register themselves and book the desired AMCAT slot before the deadline.
Who can apply for AMCAT Ambition?
There are no rigid eligibility criteria to apply for the competition. Students with a minimum bachelors degree/ professional diploma can apply for the contest.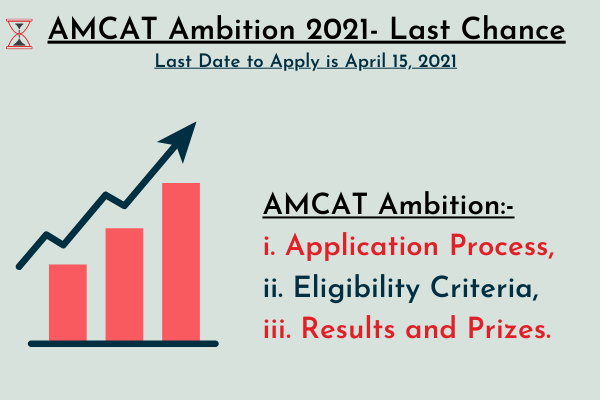 Professional at entry-level, intermediate level and experienced level are welcomed to participate in the contest
How to apply for AMCAT Ambition?
You can apply for the contest in the following simple steps:-
1. Visit the official website.
2. Choose the AMCAT Ambition" option.
3. Now click on "Apply".
4. Enter your details as specified.
5. Afterwards, you will be guided to the payment gateway.
6. Henceforth, the final communication will contact you through the registered Email ID
Click Here to apply for AMCAT Ambition 2021.
AMCAT Ambition Contest Results and Prizes
Now, based on the final result, candidates will get honoured with exciting rewards. These are described as follows:-
1. The First Prize- The winners receive a Samsung Tablet word
Rs 15,000/-
2. The Second Prize- These entries will receive an exciting AMAZON Voucher.
3. Those who bag the third position will receive a free Resume buddy subscription for 90 days (3 months)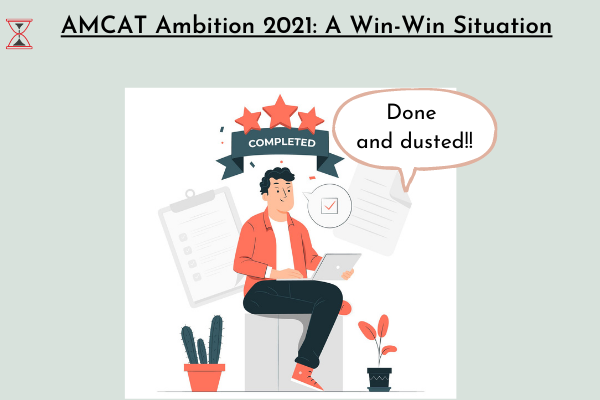 What if one doesn't win any of the prizes in the AMCAT Ambition contest?
Let's go back to the starting again. Your success doesn't happen overnight. Instead, it happens when you take your chances by seizing every opportunity that comes your way. Why? As you take your chances, you eventually break the inertia, holding you in the comfort zone. Hence, no matter how much you procrastinate about the result, you will invariably earn rich experience too. You'll get a chance to:-
i. Network,
ii. Boost confidence towards your goals,
iii. As you'll take the AMCAT test in the process. Hence, you may also end up getting a call from a potential recruiter.
iv. Upgradation of your profile by highlighting your participation in the contest.
Last but not the least, never underestimate the impact of participation on you. It has been reported that people who actively try new things are better risk-takers and have better emotional stamina. Instead of holding on to things, they make it happen for themselves. Thus, for sure, you won't be at the same stage as you are right now, after partaking in the AMCAT Ambition Contest.
Click Here to apply for AMCAT Ambition 2021.
All the best
Get in touch!