How skilled you are is directly related to how well you can sustain in your professional life. Job skills, therefore, play an integral role in shaping your career. Now the question arises that there is an ocean of skillsets these days.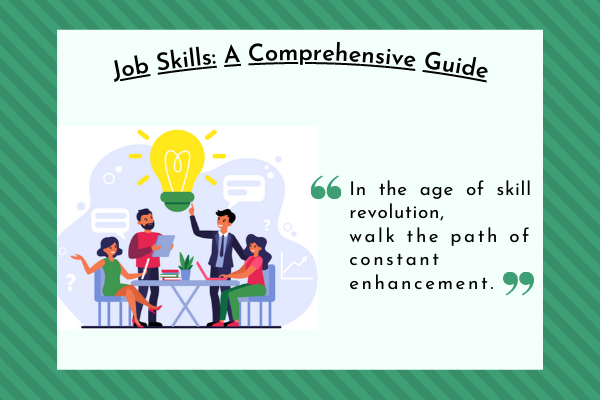 Ironically, a large chunk of graduates is aware only of 1% of it. They presume that gaining mastery over one hard skill can get their job done. However, on entering professional spaces, they realize that there is a lot more to learn.
On the other hand, many professionals with intermediate level or experienced level proficiency in the field also find themselves stuck and face difficulty in honing new job skills to keep up with the pace of time.
Therefore, here is an elaborated guide for anyone falling in the above categories. From understanding the integral aspects of job skills to the discussion over various methods and support you can incorporate towards your career development.
Dive in by scrolling down.
What are job skills?
Job skills are related to one's ability to do work with utmost ease and heightened productivity. An enterprise is an organized unison of different prowesses aligned together. It not just involves technical competence but relationship building as well. Above all, it boils down to how well an idea is communicated and executed.
Key job skills for freshers 
While it is applicable for experienced professional too. However, fresher candidates often lose sight of the plethora of skills that build up the job market. Hence, they remain stuck with a constricted vision.
1. Hards Skills
Now, hard skills are core abilities that involve technical/hands-on expertise in that field. Generally, it demands prior training/vocation in that domain. Here is a list of hard skills:-
i. Coding,
ii. Language proficiency,
iii. Writing,
iv. Marketing,
v. Project Management, etcetera.
2. Soft Skills
Marcel M. Robles rightly said, " Soft skills have more to do with who we are than what we are."
Now, the work is done with the close association of various professionals coming together to ensure the success of a project. Do you think it is a linear pursuit? Absolutely no. Every person has a different thought process altogether. Therefore, to ensure the smooth functioning of a team, one needs to imbibe the required soft skills which enable them to work with each other effortlessly.
Thus, conducting yourself with the least friction is also a skill. This is where soft skills come into the picture. Here is a brief list of the same:-
i. Communication,
ii. Decision making,
iii. Being easy with a difference of opinion,
iv. Integrity,
v. Emotional Quotient, etcetera.
Take your skill assessment now!
Book your AMCAT skill assessment now. Click Here
Key job skills for resume
Now, as the foremost step, skills are to be presented on the application before you get hired for that job. In simple words, you need to describe them while writing your resume.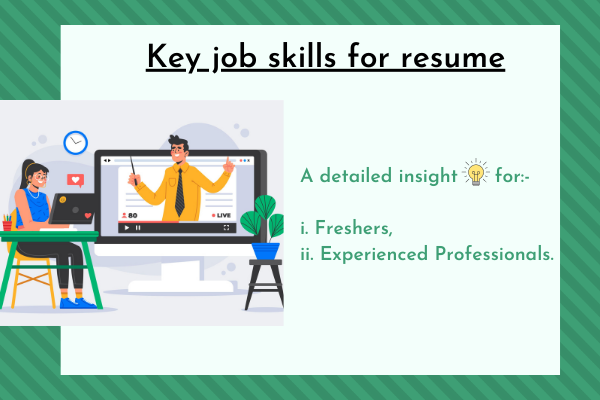 Your job application carries a critical section called key skills. Do you know that this segment makes or breaks your selection chances?
The recruiters hook their eyes on one's prowess irrespective of your educational background. It doesn't imply that the latter one doesn't hold any significance. However, if your competence outshines your academics, then you still have a chance to make it to your dream job.
Therefore, don't underestimate this section. Here is how people from different professional experience can incorporate over their resume:-
1. Freshers
Since you don't have any prior experience. You can also back it up with your educational degree along with internships, projects and social media work. You can also provide a link to your blog wherein you pen down your thoughts on your interests (only if you have one).
Here is how you describe over a resume:-
i. Write in bullet points,
ii. Avoid elaboration of the skills,
iii. Back it up with proof if there,
iv. Stick by the "less is more" mantra. Always remember, recruiters, do not have enough time to go through every application. Therefore, it is important to be relevant and to the point to maintain visibility.
Let's understand with an example of a graphic designer application:-
Key Skills-
excellent photo editing skills,

In-depth knowledge of XYZ software,

Build a growing community of ABC social media channel.
Did you see how effortlessly all the three points synchronized with the purpose? Hence, this is how you may approach the key skills section while building that important resume.
Want assistance in writing that crucial resume for your dream job?
Befriend AMCAT Resume buddy for professional assistance. Click Here
2. Experienced Candidates
Experienced candidates hold a good opportunity to showcase their expertise in the desired field. By employing their work experience to their advantage, they interest the recruiter to take the application to the next level. However, it can play against as well if not presented well. Let's see how it can be done.
Let's understand with an example of an experienced graphic designer application:-
i. Write brief descriptions,
ii. Highlight the results of your work,
iii. Add your personal experience of growth strategy over social media, any community-building, etcetera.
iv. If done any degradation (through an online/offline course), then add detail about that. For example, you can add software name, any marketing strategy learnt, etcetera.
v. Brands handled,
vi. Company's growth through your contribution
Key Skills-
Designing Project Name,

50% growth of the company through holistic designing,

Added high EQ designs to establish a connection with the audience,

Handled high-ended brands in India and Internationally as well,

Softwares Know- ABC, etcetera
Word of Caution
Kindly note. It is imperative to put across the information with utmost honesty. It should be backed by some proof such as your social media handle, your personal endeavour or a certification.
You may make it to the job interview through exaggerated information about your skills. However, only your knowledge will save you in the interview round. It might have unwelcomed repercussions too if found inauthentic. Therefore, maintain transparency from the very beginning.
Book your AMCAT skill assessment now. Click Here
How to learn crucial job skills?
Now, the question is how to hone expertise in the area of interest. today, there are tonnes of resources for you to learn. Backing your work with a portfolio that displays all your work is a great idea to go ahead with.
You can learn through online or offline classes. There are so many applications and communities which are specially dedicated to training people to gain mastery of their interest.
Gain skill certificates for your mastery
By taking a certificate test you can not only showcase your knowledge about the field but also increases your credibility. For instance, AMCAT offers various specialization-based tests.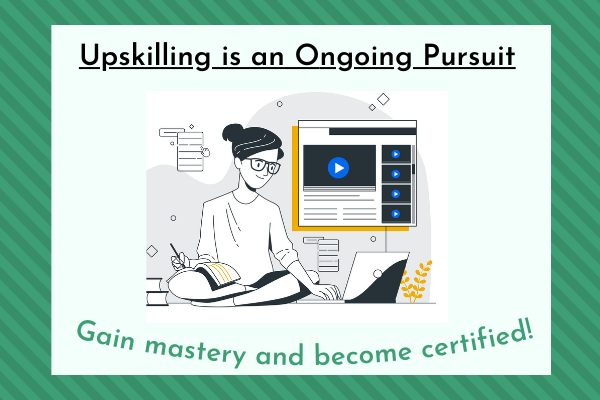 Test-takers are acknowledged with a certificate after completing the assessment based on the performance.
Book your AMCAT skill assessment now. Click Here
Conclusion
This guide was an attempt to expose you to the importance of job skills in a professional scenario. The more able you are, the better job you would get. Also, we tried to understand various facets of the same. Learning to demarcate how to present key skills in a resume is again a crucial point. Apart from that never stop enhancing yourself no matter whatsoever professional experience you behold. As with the changing times, the demand changes too. So keep up with that pace
All the best
Get in touch!