Hobbies and interests on a resume hold a latent significance in showcasing your personality. These are integral ingredients that add an edge to your application.
It is the little details that are vital. Little things make big things happen.

– John Wooden
This sections' importance may not be upfront. However, its absence is felt when missed in the resume. Thus, it becomes very important to take care of every little aspect of your job application.
Also, you would never realize how a seemingly small effort can create a long-lasting impression in the recruiters' mind.
Therefore, here is a comprehensive insight into presenting your hobbies and interests on a resume.
Importance of hobbies and interests on a resume?
Certain aspects should be taken care of while explaining your hobbies and interests on your resume. Unimportant it may seem, but it actually turns out to become the deciding factor of your interview.
You never know how an interviewer may pick one of your hobbies and opens a lengthy discussion based on that. Therefore, writing your hobbies and interests on a resume plays a pivotal role in shaping your job selection process.
It might not be asked during an interview too. However, just one glance at your quirky interests may draw the recruiter to your personality.
Partner AMCAT Resume buddy to get professional assistance in curating application for your dream job. Click Here
How to write hobbies for CV?
The interest section on a resume application is usually written towards the end. Here are few points to remember so that your application does not fall astray from the end goal.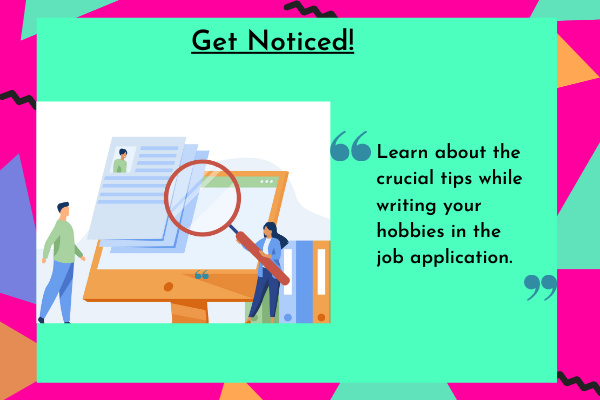 1. Maintain relevance
Always stick to adding relevant details instead of beating around the bush.
2. Hobbies: a way to showcase your personality
Highlighting your interests is a great way to display your personality.
3. Highlight Your Curiosity
The addition of leisure activities helps immensely in exhibiting your curiosity to learn.
What to include in the section of hobbies and interests on a resume?
Here are few instances which you can include while writing the hobbies and interests on a resume. However, kindly note these are just suggestions to offer you more clarity. This doesn't imply that these are mandatory points.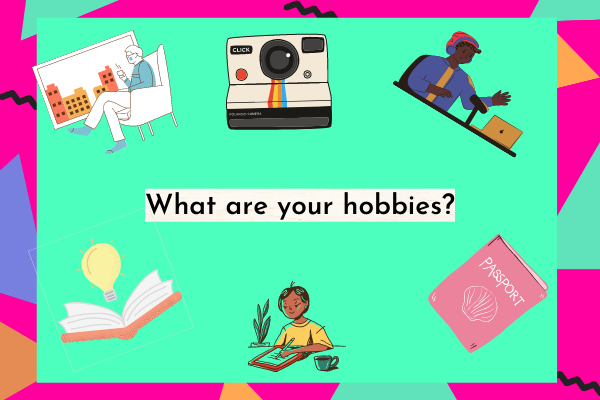 i. Travelling- 
Many people share a great interest in travelling. It is a great sign to exhibit your exploratory nature. You can add value to this hobby by adding a personal blog or a journal.
Hence, it showcases your creative side.
ii. Reading-
This hobby displays one's curiosity to know more. If you are aspiring to become a writer or any professional, reading as a hobby shows your learning attitude.
iii. Volunteering-
Volunteering is not just an act of kindness. However, it is the way of saying "yes" to life. You put yourself aside to contribute for a larger purpose. Henceforth, it shows your willingness towards official work too.
iv. Writing-
Your writing doesn't have to be professional. You can opine yourself through journals and blogs. Hence, you may add this as well as your hobby.
v. Yoga and Meditation-
These practices show how you can remain calm and dynamic at the same time.
These activities imply how well you can act with better mental, physical and emotional health. So it is a great option to add to your CV.
vi. Community building-
If you have a social media handle where you are the creator and not just an audience, it is a plus point to add in the hobbies and interest section. You can show how you are building your community through various channels such as podcasting, vlogging or blogging. That depends on what you do as a creator. It need not be shooting a mammoth number of the following but it should be about how you are showcasing your expertise there. So take your social media seriously.
vii. Teaching- 
If you have tutored at any point in time either through online or offline mode, then you can add this skill as your interest or hobby.
viii. Others-
The list of hobbies and interest is endless. Therefore, no matter whatever it may be, pen down your calling that matches your personality and work so far.
Register yourself for resume buddy: Click Here
Don't while writing hobbies and interests on a resume
1. Don't write a fake response- 
No defined protocol will make you liked more than others. Just remove this thought from your mind. Many times, aspirants mistake into thinking that a certain hobby would picture them in a particular way. However, that is not how it works. The employer will straightaway know that you're cloaking your persona. Also, even you won't be able to pull that off on a longer run.
2. Avoid exaggerated details-
Kindly understand that the recruiter has limited time to view your resume. Therefore, avoid exaggerating your hobbies by writing a prolonged paragraph. Instead, write few words and back it up with actual proof by providing social media links, a portfolio and more. Stick by the "less is more" rule.
3. Don't lose relevance in the process-
Stick by the important details only. There is no need to add irrelevant information for the resume to look fanciful.
Conclusion
So you see how important it is to take care of small details while writing your hobbies and interest on a resume. Do not underestimate that while submitting your next job application.
All the best
Get in touch