In challenging times, finding a suitable job has become a tough nut to crack. Therefore, finding appropriate assistance can become a springboard for many to kickstart their career.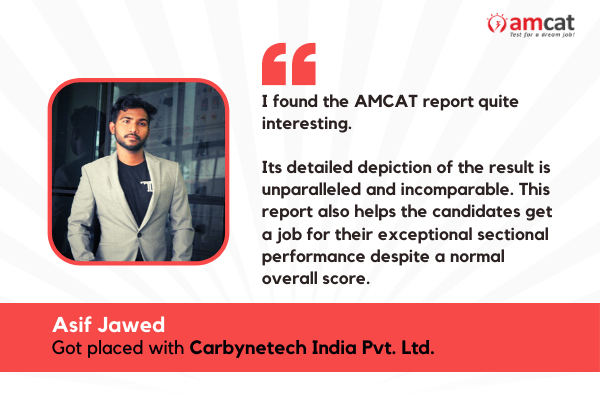 Also, listening to others' experience can help you emulate the right strategy to make it despite any difficulty. Today, even colleges are engaging in employability tests so that their students get more and better opportunities through common assessments instead of relying on multiple ones.
In this way, it saves time. It also provides students with a chance to hop on to the next option if they don't get selected for a specific job.
Therefore, presenting you with the success story of Asif Jawed. He is finding his way to his dream job through the AMCAT Examination. Let's find out what he has to say.
Why did you opt for the AMCAT exam?
Like many colleges, Asif's college too entrusted the AMCAT examination for the campus placements and the training process. He explained how his placement cell conducted the test to offer jobs with ease. Since the AMCAT provides a comprehensive report of one's performance. Thus, in this way, the transparency of the process is kept intact. Henceforth, he opted for this test through his college.
Challenges faced during the job search
Asif expressed that he didn't face any major challenge during the job search process. AMCAT provided him with a smooth interface from registration to the final selection. Though, he pointed out how the result took a long time. However, that was not an issue to a larger extent because few processes are taking longer and that is understandable due to the current situation. Apart from that, he added how few details can be taken care of during the AMCAT registration process.
The feedbacks, no matter how minor the details may be, are indispensable for us. It enables us to offer you a better experience in the future. 
So on a positive note, we moved to the next section of our conversation.
Tell us about the job you got through the AMCAT exam.
Asif got placed in the Carbynetech India Pvt. Ltd for an inside sales job role. However, he has chosen to go for other opportunities which would suit his expectations.
Since the AMCAT score is valid for a year. Therefore, he has a window of 365 days, which is sufficient to support his job search process with great ease.
We wish him the best in his dream job exploration.
How did the AMCAT feedback report help him to gauge his professional development? 
The AMCAT feedback report plays a pivotal role in maintaining the transparency of the job selection process. In this way, candidates get to know the reasons for their selection or rejection.
Asif said, "Actually it was quite a detailed report. Everyone wishes to know their strengths and weaknesses. I found it very interesting how everything is so creatively displayed. For example, it showed jobs I am eligible for, my strengths and weakness and more. In this way, it gave me a clear idea of what points I can improve upon. I found it really interesting how this report gave me a comprehensive insight into my competence. I am now much aware of the areas where I need to work along with the areas where I can upskill myself for better opportunities. "
Book your slot here: Click Here
"Would you recommend AMCAT to others?" hear from our candidate
Due to the ease of selection process, Asif offered a positive response to recommending the AMCAT exam to his peers who are looking for a job. He also added, how his college has delegated the examination to the students for the final year batch. Most of them are appearing for it and are appreciative of the process.
AMCAT strongly believes in offering the right opportunity at the right time.
No competent candidate should lose any chance of building their career. Also, no candidate should miss out on improving by looking at their report which acts as a mirror of their performance. In this way, it adopts a holistic approach to build students from their core.
Book your slot here: Click Here
Advantage of AMCAT Test
Many times, students are perplexed in deciding which job would fit them the best. Also, many like Asif are fighting various difficult circumstances in terms of health and more amid the present times.
Therefore, we are striving to offer the best suitable solutions to assist the employability of potential candidates.
1. Since the AMCAT exam score is valid for a whole year. Therefore, it offers a good amount of time for the students to filter jobs of their desired choice. In this way, aspirants can continue their job search until they land their desired job.
Apart from this, the following are other significant advantages which he listed. According to him, these are few aspects that set AMCAT apart from the rest:
2. Many times students perform exceptionally well in a particular section. However, their overall score is not up to the mark. In this case, AMCAT gives them a visible report enlisting jobs for which they are eligible. Many job profiles may not want technical skills but good communication skills. Therefore, AMCAT plays a pivotal role in connecting the recruiter with the right applicant. Also in this way, a student doesn't lose out on a potential opportunity.
3. He also pointed out how AMCAT resume Buddy helps in enhancing the job application.
Interested candidates can register for Resume Buddy here.
We are pleased to know how aspiring students are benefited from the AMCAT exam. Always remember, the key to getting a good job is your skills and performance.
We are just a medium to offer you the best assistance and connect you with the desired recruiter. 
All the best
Stay tuned with www.myamcat.com for more such experiences.