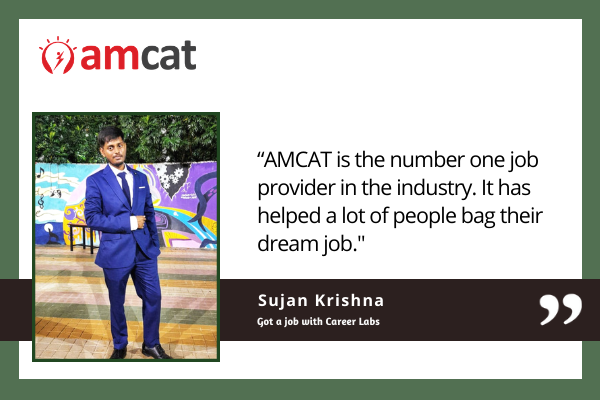 The COVID-19 pandemic has been scary for job goers and those looking for their first job. Students passing out this year are left sceptical about their future – will there be jobs despite the COVID-19 crisis? Sujan Krishna too felt the same until he came across the AMCAT exam.
Sujan who completed his engineering in 2020 from Vellore Institute of Technology wanted a job that would complement his interests. AMCAT ensured that Sujan's dream of such a job did not just remain a dream but turned into reality. And our efforts, combined with Sujan's hard work paid off manifolds. Soon enough Sujan had a job that he was proud of.
Let's find out how he made the seemingly impossible, possible with AMCAT.
What made you choose AMCAT during these trying times?
"AMCAT is the number one job provider in the industry. It has helped a lot of people bag their dream job and I knew I could trust it to help me find a good job too."
Sujan got a lot of interview opportunities through AMCAT. However, things really peaked when he got a job offer as a Business Development Associate with Career Labs. And since then, there has no looking back for him.
We are proud of you champ!
Would you recommend the AMCAT exam to others?
"Yes, most definitely", says Sujan.
"When you are talented and not getting jobs, AMCAT is the platform which gives you an opportunity to find success."
The AMCAT exam from its onset has been committed to recognizing talent and skills. That makes it a reliable platform for companies to choose their ideal candidate. And with such success stories warming our hearts, we couldn't have been prouder of our initiative.
What advice would you give to others looking for a job during this COVID-19 pandemic?
"Believe in your skills and abilities. It is very important that you don't give up during this crisis but look for a job that will complement your skills set."
He also adds, "Right now you have time to prepare for every phase of the job search, be it interviews, resumes or additional exams. Concentrate on it. AMCAT will take care of the rest like it did for me."
Thank you, Sujan!
Sujan has proven that if you are skilled, then nothing, not even a global pandemic can get in your way of success. So, take a leaf out of Sujan's book, don't get discouraged and stay sharp on your job search with the AMCAT exam.