Why every fresher must take the AMCAT Ambition Contest? How will it help them shaping their career path? How to utilize this opportunity to its full potential? Will it open up job opportunities for freshers? Let's find out.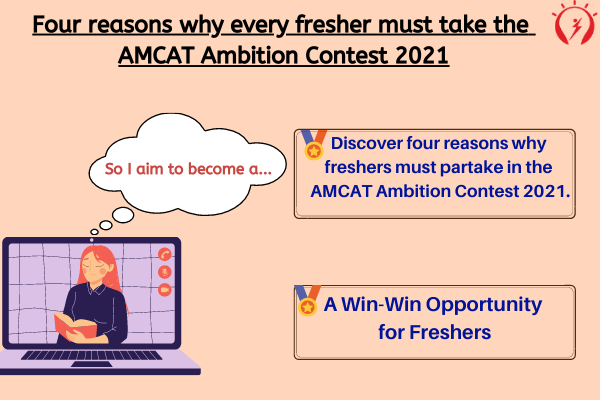 The clock is ticking and only five days are left for the AMCAT Ambition contest 2021. Thus, this online contest to win prizes is an incredible opportunity for young graduates to take their careers a notch higher.
But you may be wondering how it will happen? Especially, the freshers may all the more be perplexed as they are yet to kickstart their professional journeys.
"What you say. You in a way affirm. What you affirm becomes your reality." 
Thus, this contest is specially designed to provide you with a holistic platform wherein you can speak about your dreams and career goals. Henceforth, you will be shortlisted based on your ability and vision. Afterwards, the winners will get a chance to win a Samsung Tablet, and many surprises in store. Therefore, wasting no second, let us find out why every fresher must take the AMCAT Ambition Contest?
Click Here to apply for AMCAT Ambition 2021.
Four reasons why every fresher must take the AMCAT Ambition Contest?
Four key factors determine your success in the initial stage irrespective of the career path you may choose. Subsequently, these are the very reasons why every fresher must take the AMCAT Ambition contest 2021. Hence, it will act as a launchpad for a successful career.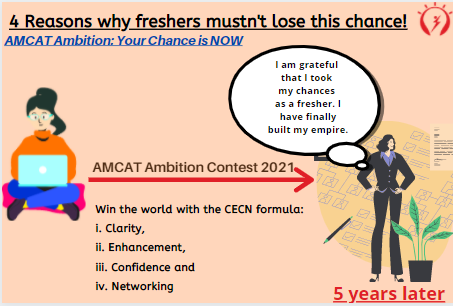 Find below the 4 reasons why every fresher must take the AMCAT Ambition contest. These are simplified into the CECN formula. Have a look below:-
1.  Deepen the "Clarity" about your vision
Do you know, the more you share your ambition with the right set of people, the more you get the clarity about your fascinations? Many times, we cook up so many stories in our heads that may have nothing to do with reality.
Thus, when you would share your AMCAT Ambition video during the contest, you would eventually know so many things about yourself in the process. Henceforth, you will develop deeper clarity about your career goals.
2. It will "Enhance" your resume
Your AMCAT Ambition Participation 2021 can be a great addition to your compelling resume. ever wondered why there is always an extracurricular section in a professional resume? It is because every recruiter appreciates your involvement in various activities during colleges. Of course, your hard skills are very important. However, your active participation shows your learning attitude. It also shows, how well you can gel around and voice your opinion amongst a crowd/professionals. After all, it takes sound communications skills to do so. Therefore, it helps the employers demarcate your potential in various inexplicable ways.
3. Display "Confidence" during your job interview
When you share your career path irrespective of contest participation, you eventually invite clarity of thoughts. This is why it will naturally help you build the desired confidence which you wish to display during a job interview.
After appearing for the AMCAT Ambition Contest, you would have enough "practise" of your vision. Answering common questions like "where do you see yourself in 5 years?" will become a cakewalk for you.
4. "Networking"- An essential opening
Today, there are multiple online portals wherein you can showcase your profile and engage with industrial leaders/like-minded people. Thus, you can share your AMCAT Ambition results, prizes and experience there. Eventually, it will help you build an attractive profile that will enable you to network with as many people as possible.
A Win-Win Opportunity for Freshers
Now that we know the four critical reason why every fresher must take the AMCAT Ambition contest.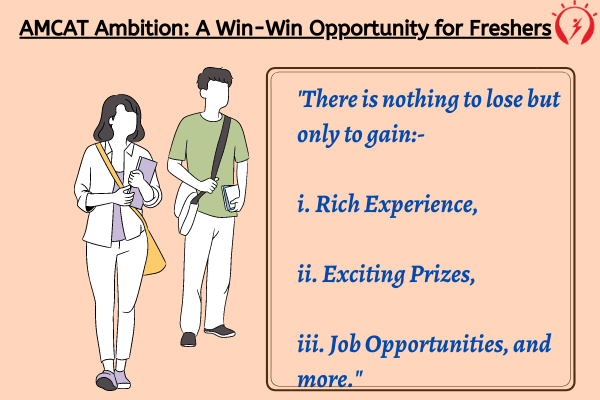 Here is another insight into it, i.e. it is a win-win situation for the applicant irrespective of the final result. You know why? Let's see:-
Participation will boost your confidence a hundred time.
 It will add years to your career journey because now, you will be choosing the path which resonates with you the most.
 You'll stand a chance to win a Samsung Tablet worth INR 15,000, Amazon vouchers, etcetera for your excellent performance.

Since you will be required to take the AMCAT examination which will eventually open up new career opportunities for you irrespective of winning. 

Thus, you can use your AMCAT score to mobilize your job search because it is valid for a whole year. 

Also, you will get clarity on how to approach your second attempt even if you feel that you couldn't make it in this AMCAT attempt.
Thus, partaking in the AMCAT Ambition contest is a golden possibility for freshers to explore themselves. Also, they are at a nascent stage of figuring out their career path. Thus, it becomes imperative to take chances whenever such opportunities strike. After all, it is a win-win situation in the end.
Thus, now that you know as, "Why every fresher must take the AMCAT Ambition Contest?", go seal your slot.
All the best!