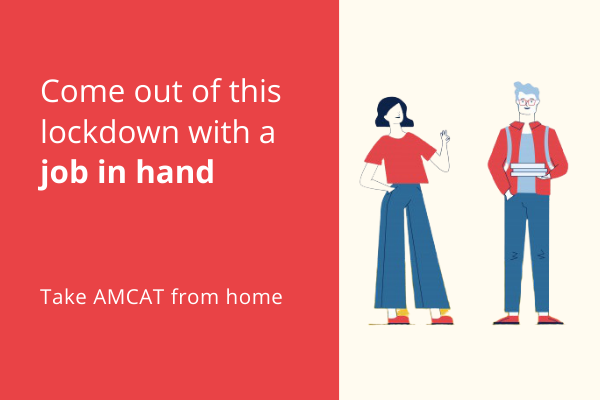 We are constantly hearing reports of how getting a job is increasingly becoming difficult during this lockdown. However, take heart because this phase doesn't have to affect you, not if we can help it. We have brought the AMCAT exam to your home, combined with FREE certifications so that we can help you climb the success ladder even through these trying times.
How we are doing that and what is the whole job search plan that we have for you, let's find out…
Take the AMCAT exam from home
The first thing you need to do is to prepare for and take the AMCAT exam from home. Even now we are connecting with new companies on an almost daily basis. That means, there will be no shortage of opportunities for you with AMCAT.
So, select your preferred date and time to give the exam. Also, ensure that you either have a laptop or a computer with a camcorder in order to give the AMCAT test from home. Once you have booked your AMCAT, we will send you an email containing your AMCAT ID, details of the test and points you should keep in mind during the test.
Amp up your skills with free certifications
To find success during this lockdown, you need something more to stand out from the crowd and tell the recruiters that they absolutely need you on the team. And for that, you will need very skills specific certifications.
With your AMCAT purchase, you will get any one certification worth Rs 500 absolutely free of cost. After you have booked your AMCAT, we will share a coupon code with you over email. You can use this code to purchase any one of the 20 skills certifications for free.
So, choose a certification which you think will help you further your job search. You can take a look at the list of certifications here.
Give virtual interviews
AMCAT has made sure that you can give interviews from the comfort of your home. So, you need to start preparing for the interviews as soon as your AMCAT score is out and you have started applying for opportunities.
A virtual interview is not very different from a regular job interview so you need to prepare well for it too. Your body language, how you dress up, the way you answer questions will matter a lot. So, prepare some common interview questions and their answers in advance.
Furthermore, practice to ensure that your body language exudes confidence (not overconfidence) and you come across as a likeable team player. You can read more about the dos and don't's of a virtual interview in this blog.
Tips
Focus on the basic of your subject and practice questions so that you can do well in both the AMCAT exam and the job interviews.
Ensure that you are using this lockdown to enhance your overall skills set.
Practice in front of the mirror to do well in the interviews. Further polish your skills with Mock-AI, the interview preparation program.