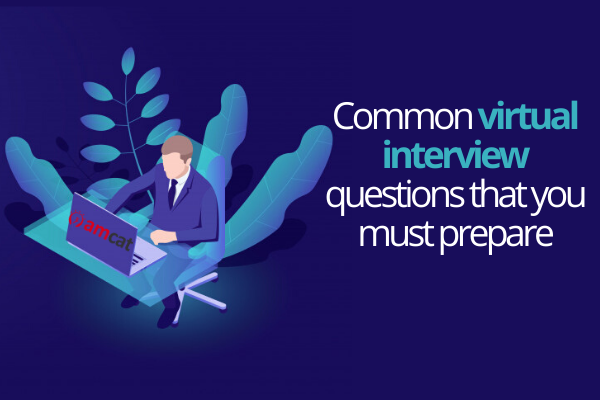 Due to COVID-19, most of the companies have shifted to the online mode of recruiting potential candidates. Companies are also using AMCAT to shortlist potential candidates. If you haven't then you can give the AMCAT exam from the safety of your home. Moreover, recruiters are taking the help of online tools like Skype, Hangout, Zoom and more to stay connected with the candidates during these trying times. One of the important steps to ace the virtual job interview is by preparing answers to some of the common job interview questions.
You can impress the recruiter with your wits, experience and charm by being well prepared and confident. Every job interview, whether it is virtual or face-to-face has set standards of interview question that the recruiter will surely ask you. And, by preparing answers to these common interview question will help you feel more relaxed and confident.
So,  here are the top 5 most asked virtual job interview questions that you must prepare beforehand.
Q1: Tell me about yourself?
This question is an excellent ice breaker and will help you relax during the virtual job interview. So, when answering this question, the one thing you need to keep in your mind is that your answer is not too long.
Moreover, only mention things relevant to the job role and shows your skills. Also, mention how this particular job will help you achieve your long term goals.
Q2: What are your strengths?
Being a staple question doesn't mean that you can handle this question lightly. The mistake that most candidates make is to either answer it too arrogantly or too humbly, you need to create a balance between both.
Every job role has its own set of skills that you need to possess. Therefore, you should highlight your strengths as your skills. When mentioning your strengths, try to accompany them with appropriate examples to show the recruiter how you have honed and developed those skills and abilities.
Q3: What are your weaknesses?
Nobody likes to talk about their flaws, especially in front of the interviewer. The way you answer this interview questions tells a lot about you to the recruiter because no one is 100% honest during a job interview.
The worst possible way to answer this interview question is by showing a lack of self-awareness and dishonesty. So, When talking about your mistakes show the recruiter that you are not perfect but are working on your weakness.
Q4: Why are you interested in this job role?
The recruiter wants to know why you are interested in this particular sector and company. The interviewer wants to know whether you have done your homework or not. This interview question will show how professional you are.
To answer this question, do in-depth research about the company. Go through their website, blog and social media pages to know more about the company. After talking about the company, you can connect it to why you are interested in this position.
Q5: Where do you see yourself in 5 years?
Through this question, you can show the recruiter how serious and goal-oriented you are towards your career. Moreover, how this position will help you achieve your goals.
When answering make sure that you mention your present skill-sets and skills that you plan to develop. Moreover, you can also mention industry-related skills that might help you in the long run.
However, if you don't know what you want to do in future then, keep your answer general and avoid being specific. Keep it interesting but broad enough that the recruiter doesn't question your candidature.
These are the top 5 virtual job interview questions that you should prepare to ace your online interview. Be careful when drafting answers to these common interview questions. Moreover, try to keep your answers short and to the point. The recruiter doesn't want to hear your biography. And most importantly, be confident, fluent and relaxed during the virtual job interview.
Best of luck!