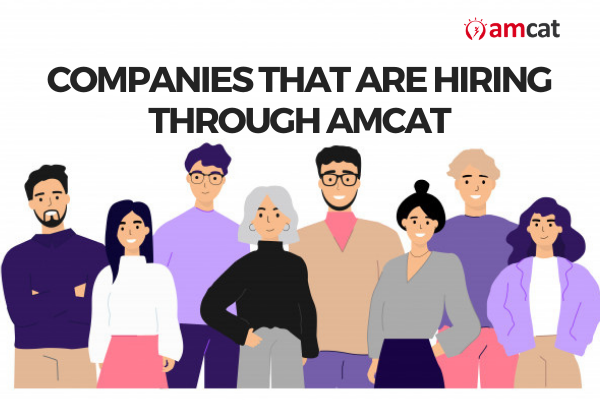 AMCAT is the best AI-powered employability exam to help recent graduates from diverse backgrounds to find their dream job. Even during the pandemic, it has been operating as an effective Launchpad for 2020 graduates. During the lockdown, AMCAT successfully placed more than 100 recent graduates in companies like Compass, EY, Zoho, ESI Group and KNOREX.
However, just scheduling the AMCAT exam is not going to help you get the best job opportunities. You need to get a solid AMCAT score to find your ideal job. In fact, holding a good AMCAT score can help you find placement opportunities in your dream company, get higher salary-package and more.
AMCAT is a widely recognised skill assessment test and many fortune companies accept AMCAT score. These companies range from consultancy, IT, Transportation and Manufacturing.
So, if you are planning to start your career in the best IT companies, then you should not leave any stone unturned to get a good AMACAT score. We have curated this list to give you a glimpse of some of the tech companies hiring through AMCAT.
Mindtree
Mindtree is a technology-driven company which provides services in e-commerce, mobile applications, digital transformation, data analytics and cloud programming. It is an Indian multinational information technology company and is part of Larson & Toubro, headquartered in Banglore
Mindtree is made up of more than 20,00 employee and consists of employees from over 80 nationalities with 32% women. Out of the total workforce. 95% are software professionals.
NTT Data
NTT DATA Corporation is a Japanese multinational system integration company. Its business areas are in national and local governments, financial and telecommunication sector.
As per the reports, Forbe Global recognises NTT DATA as one of the largest IT service company. Outside Japan, NTT DATA has offices in UK, China, Thailand, India and other countries or regions.
Tech Mahindra
Tech Mahindra is a subsidiary of Mahindra groups and is an Indian multinational company, providing IT and business process outsourcing services.
The company is worth approximately US$5.2 billion with more than 1 lakh employees across 90 countries. As of April 2020, they have close to a thousand clients.
EY
Ernst & Young is a multinational professional services network with its headquarter in London, UK. It is one of the largest professional services network in the world and is part of the infamous Big 4 accounting firms.
EY primary provides assurance, tax, consulting and advisory services to its client. With over 2,00,000 employees in more than 700 offices across 150 countries, it is one of the biggest professional service providers. Moreover, it continuously ranks as one of the 100 best companies to work for the past 21 years.
Compass
Compass Group is a Fortune 500 company is the largest contract foodservice provider in the world. It operates in more than 45 countries with over 6,00,000 employees.
It yearly serves more than 5.5 billion meals in locations like office, factories, universities, school, hospitals, major sports cultural events.
NIIT Technologies
NIIT has footprint is more than 30 countries with over 35 million learners worldwide. It is a leading talent development corporation which aims to build manpower pool for global industry requirement.
Set up in 1981, NIIT has helped the nascent IT industry to overcome its human resource challenges. Today it ranks among the world's leading training companies, thanks to its vast and comprehensive array of skill development programs.
Robert Bosch
Founded in 1886, Robert Bosch is a German multinational engineering and technology company. Its core operating areas are mobility, consumer goods, industrial technology, energy and building technology.
Bosch India has a turnover of $3 billion with 31,000 employees spread across 10 locations. Bosch has an R&D facility in Banglore and Coimbatore, which is the largest R&D facility outside its home country.
ZS Associates
ZS Associates is a consulting and professional services firm which mainly focuses on consulting, software and technology. It provides services for clients in private equity, healthcare and technology.
The firms currently employ more than 7,000 employees in 24 offices in North America, South America, Europe and Asia. Moreover, ZS deals with corporations within consumer products, telecommunications and transportation by providing Advisory, Technology and operations supports.
Deloitte
Deloitte Touche Tohmatsu is commonly known as Deloitte, is a multinational professional service network. It is one of the Big Four accounting organisations and the largest professional services network in the world by revenue and number of professional.
It provides services in audit, consulting, financial advisory, risk advisory, tax and legal with over 3,12,000 professionals. In India, Deloitte has the highest market share in auditing among the top 500 Indian companies. It also has more clients and higher revenues than the other Big Four combined.
DXC Technology
Recently founded in 2017, DXC Technology is an American multinational corporation that provides B2B IT services. With about 43,000 employees in India, the company is one of the sorts after place to work for.
Its area of business includes healthcare, insurance, travel, transportation, hospitality, consumer, retail, banking, finance, manufacturing and Media.
Conclusion
You can find exclusive job openings from these top IT companies on the AMCAT job portal. All you need to do is prepare well and aim for a good AMCAT score for companies if you want to start your career in the best tech company.
So, don't waste any more time and start working on your exam preparation tips to get an exceptional AMCAT score and showcase your skills and job-readiness.