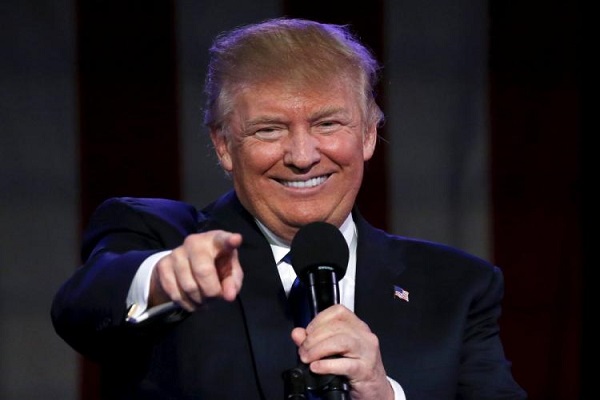 Donald Trump, the most powerful (cough!) man of the universe, the man who is on his way to make America greater than great has got a lot of love for students and job seekers. Reasons why we are picking handy resume tips from the blond beauty himself.
When making your resume, always remember that "less is more". You need to fit a hill in a mole hole. So, take care that your resume is no longer than a page and if you cannot help it, then at max 2 pages.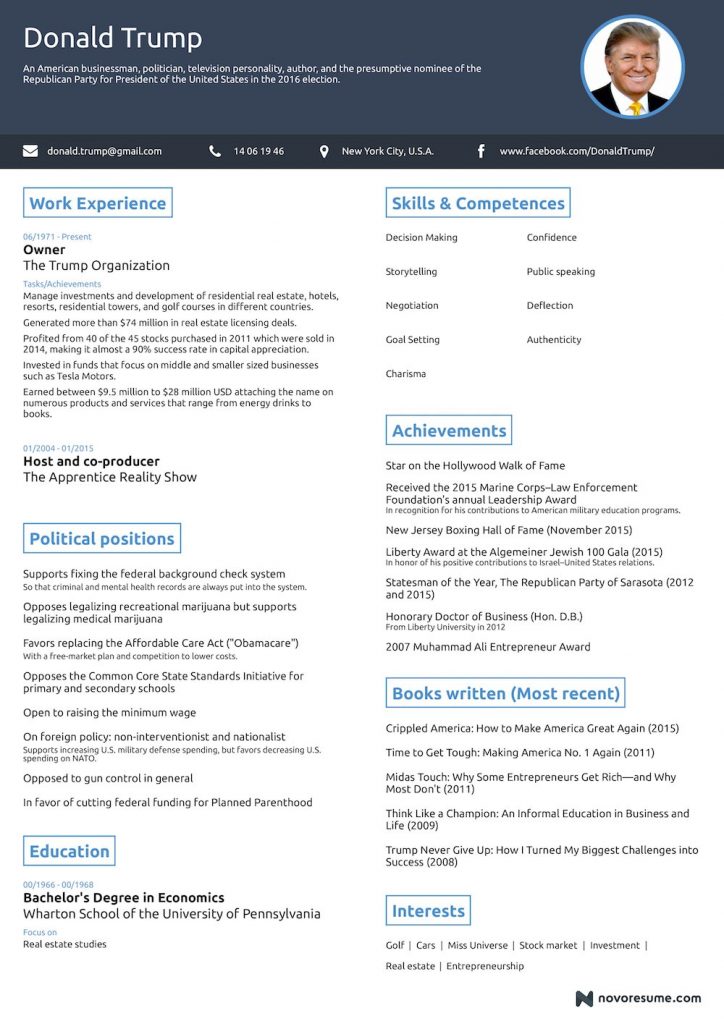 Now that you have seen the resume of Donald Trump (our sincere thanks to noveresume.com from whom we borrowed the creative), let's break it down for you.
Looks That Kill
We are kidding. Your resume doesn't have to kill anybody, but make sure it is pretty. Most resumes are bland and boring. As such only 4% of the total resumes are actually read by the employers. You won't want to be a part of the rest 96% of the crowd, would you?
Keep the resume format clear and attractive. Don't go overboard with colours, but make sure there enough of them to make your resume stand out.
Contact Details and Image
Put your contact details and name on top. You won't want the employer peering through your resume to locate your contact address.
You can also put up a picture of you along with your name and address to give your resume a higher aesthetic appeal. Having said that, don't use any picture you can find. Instead, choose your best, but most professional looking picture for the job. If you are still confused, take a hint from Mr. Trump.
Placement of Information
With your resume, you need to tell a story to the employer. A story in which he will be interested in and would want to read further. How do you do that?
Let's scroll up to Mr. Trump's resume for that. Notice how the things which matter most have been placed on top. His identity as a businessman and a successful businessman at that has been highlighted. Similarly, put the things which you think you should tell first to the employer and which will be most relevant to the job you are applying for on top.
Headings and Subheadings
Make a neat and pretty picture of your resume. Divide your skill sets and achievements under different headings instead of grouping it all together. Quantify all the information and make a clear and precise demarcation.
Employability Skills
Most importantly, focus on your employability skills. Why would someone want to hire you? Ask yourself that question. Yes, Donald Trump never had to ask himself that, not even when he made his way to the presidential seat, but you cannot afford to borrow his attitude, only the resume tips he has to handout.
Bring the employer's notice to your employability skills and ensure them (through your resume, of course) that why you are the right candidate for the job.
If Donald Trump doesn't satisfy you, then we have Vladimir Putin to give you some serious resume tips and advice.
And while you are busy perfecting your resume, find the perfect job for you which will be worth all the effort. Schedule the AMCAT test, score good and then browse through the AMCAT Jobs portal, find your perfect job and apply.