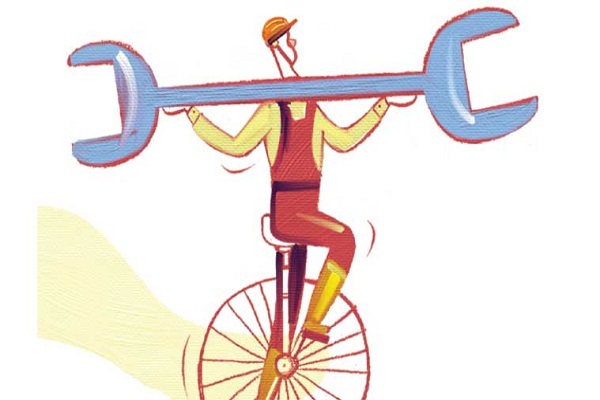 India is one of the fastest growing knowledge based economy in the world. With a huge base of human capital, you will expect a large (if not huge) base of skilled people, with above average employability skills.
However, data paints a bleak picture. With the job market rapidly growing and the industry demand being very high, there is a rare percentage of people with the required employability skills.
India vs other countries
It is being estimated that by 2025 around a million youth will enter the work force. Sadly, though this number reaches high, there are only 4.69% of Indian youth who have any formal skill training.
This stands out like a sore thumb when we look at the percentage of people undergone formal skill training from other parts of the world, which stands at 50% for developed countries.
While around 7 lakh engineers graduate annually, a mere 7% of them Are worth being employed.
Shocking, isn't it?
Rajiv Pratap Rudy from the Ministry of Skill Development and Entrepreneurship says that "the ministry has trained more than 1.17 crore aspirants in various skills since the inception of skill India."
Skill India
The whole idea of skill India revolves around making the youth employable. They are formally trained to enter the job market and be a skilled part of the workforce and meet the requirements of the sectors they choose to enter.
However, the Government of India itself admits that the initiative has not been enough. Both governments and private institutes training people and working on their employability skills have failed to reach the mark because of lack of coordination within the sectors and insufficient attention to the detail of things and their outcomes.
The current training faculty is painfully inadequate to meet the demands of the market.
Education and employability
Education generally means skilled manpower, enhancement in industrial productivity, better quality of life and increase in the availability of better and more talented people in the job industry. Despite all this and a lot of stress generally paid on education and training, there is still a shortage of skilled labour.
Institutes focus more on marks rather than the employability skills of the students.
Two years back, a guy who was the topper of his batch and was from a renowned college in Delhi, was told by the employers that he was "unemployable" and they would be surprised if he got a good job.
The government of India is looking to reverse this story with the skill India programme. A whole new committee will be soon in place to review the functioning of the initiative and provide a detailed roadmap to ensure that the skilling ecosystem moves forward smoothly.
Finding a job is definitely not as easy, and that is why you will have to start building on your employability skills from the start. Internships, skill assessment exams, and job portals can aide you in your search, but you will have to put in the primary effort.
You might also enjoy reading:
Haryana CM Launches Program to up Employability Skills
India All Set To Improve Its Employability Quotient