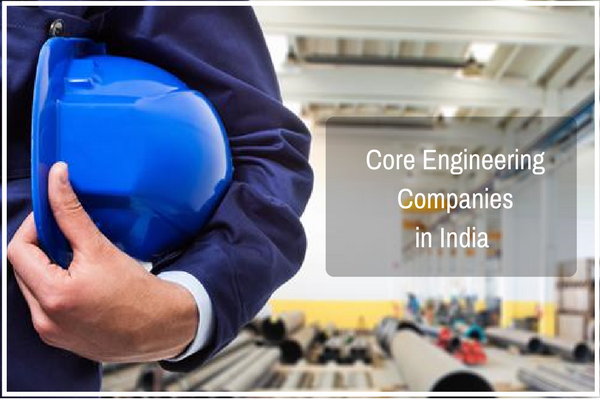 Keen on capitalising on the upcoming campus placements to heighten your chances for a graduate opportunity, ahead of your graduation? As an engineering student would tell you, the right opportunity begins with targetting a core company or a set of core companies and then planning your preparation accordingly (something we recently discussed in a piece on cracking your dream job).
Defining the right company:
Then the first step is targetting the right company. The right company is the one which offers the right opportunity and clicks in terms of pay scale, future scope of opportunities, perks, work culture, training and career graph.
Top Companies to Target:
We continue our discussion with the top 10 companies you should target for all core engineering fields. The list is not an exhaustive one – and based on IBEF* records + student perception. These companies also hire multi-disciplinary students, that is, they do not exclusively target just one branch of students.
1. Top Core Companies for Civil Engineering:
Students from civil engineering background seek core companies that can help them with significant opportunities in designing, constructing or maintaining large scale, infrastructural projects. The companies who best cover this (as per an IBEF showcase), include:
Larsen & Toubro Ltd
Tata Projects Ltd
NCC Limited
GMR
Jaypee Group
Ircon International Ltd
Punj Lloyd
Essar Group
GAMMON India
2. Top Core Companies for Electrical Engineering:
Electrical Engineering prepares students with an understanding in the application of electricity and electromagnetism – to be applied in operations around power, electronics and related fields. The core companies electrical engineering students can consider include the following:
NTPC
BHEL
Voltas
PowerGrid Corporation of India
Seimens
Suzlon
Adani
Tata Power
GVK
Honeywell
3. Top Core Companies in Mechanical Engineering:
One of the oldest core engineering disciplines, mechanical engineering involves understanding and mastery over the design, production, and operation of machinery. Students pursuing the field and seeking employment in core mechanical engineering companies can work with the following 10 companies:
Thermax
Kirloskar
Larsen & Toubro
Tata Group
Mahindra Group
Adani
NALCO
Bajaj Group
Hero MotoCorp
Engineers India Ltd
4. Top Core Companies for Electronics (Semiconductor) Engineering:
To those core engineering aspirants who are specifically looking for chances to enhance their training in semiconductors, VLSI and similar opportunities, here are some of the biggest names with offices in India, which you may aim for:
Intel
Nvidia
Qualcomm
Avago
Samsung
AMD
ARM
IBM
Cisco
GE
5. Top Core Companies for Telecom in india
Telecommunication engineers, we have you covered! Even though the market outlook for telecom jobs has been on the lower end, the demand for such opportunities has not been affected by it. Apart from students who opt for Telecom, the field also attracts students who major in computers and electrical engineering and wish to apply their knowledge to telecom pursuits.
Here are the top core Telecom companies you may target (companies from the same stable have been clubbed together):
Ericsson
BSNL + MTNL (government jobs)
Bharti Airtel + Bharati Infratel
Reliance Communications + Reliance Jio Infocomm
GTL Infrastructure Ltd
Vodafone India
Matrix Cellular
OnMobile
LAVA mobiles
Idea Cellular Ltd
6. Top Core Companies for Instrumentation Engineering
Instrumentation engineering is a play of specifics – to get exact measures in terms of variables in a manufacturing setup. And those who have their heart set on these specifics can always find a good foothold with these 10 core companies in the field:
National Instruments
ABB
Larsen & Toubro
Robert Bosch
Invensys
GE
Suzlon
ESSAR
Whirlybird
Schneider
The lists given here are not exhaustive in nature. Still, they can act as a starting point for all those core engineering aspirants who are currently laying down their placement preparation strategy.
Note: Many companies hire students to a common graduate program and then fine tune them to a particular department and role.
If you liked this piece, we would suggest the following:
Giving the AMCAT Test? Core Engineering Modules You Should Prepare For
Looking for Engineering jobs? Best Job Profiles for Engineers in 2017
Campus Placements | 6 Types of Companies That Would Visit Your Campus
Step-by-Step Guide to Preparing For Campus Placements
* The Indian Brand Equity Foundation (IBEF) is an initiative of the Ministry of Commerce and Industry, Government of India - compiling sectoral reports, outlooks and performances, year on year.