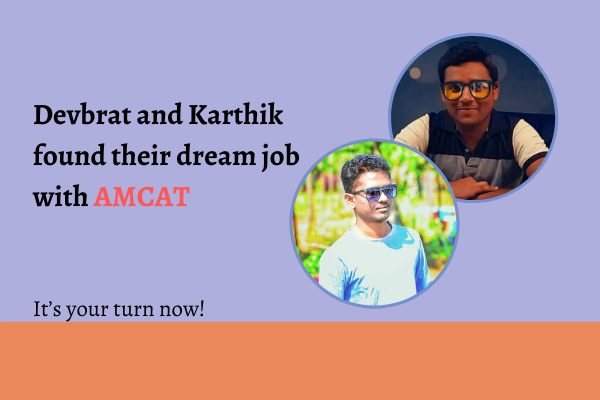 With all the memes going around, we know that the year 2020 has been hard on everyone, especially for those looking for a good job. In fact, tons of people lost their jobs this year, the whole job market went topsy-turvy and there are still a lot of changes that are happening on that front. However, the one thing that has stood the test of these times and is still making it easier for people to find their dream job is the AMCAT exam.
In the past few weeks alone AMCAT has helped 100+ candidates find their dream job. We have had opportunities ranging upto 18 LPA in July and basically a lot of companies associating with AMCAT on a near daily basis.
And how the AMCAT exam has made 2020 a year of celebration, we will find out through these two AMCATeers.
I will recommend AMCAT to everyone – Devbrat
Like any other candidate passing out in 2020, Devbrat was sceptical about his chances of finding a good job. He knew that he was talented but didn't know how to go about it and present his talent in the right manner. And, that is when he came across the AMCAT exam.
Today, Devbrat is placed with FarEye and he couldn't be happier about it. In fact, he is so impressed with how much AMCAT has done for him, that today he is firm advocator of the platform. He has been recommending AMCAT to all his friends and juniors because he believes that it is the secret to a good job.
AMCAT provides a lot of opportunities – Karthik
Karthik was thoroughly disappointed with the campus placements. He knew that he had to look beyond it if he wanted a good job. With a never-say-never attitude, Karthik decided to go for the AMCAT exam and he wasn't disappointed.
He frequently got calls via AMCAT for top IT companies. Soon, he was placed with Rave Technologies and that is when his career finally took off. The detailed feedback AMCAT report also helped Karthik find his footing by understanding his strengths and weaknesses.
Karthik is a shining example of what you can achieve if you are determined and even if all doors seem to be closed and we are proud of him.
Like these two candidates, you too can find your dream job with AMCAT. Just don't give up in the face of adversaries and keep striving for success.
All the best.