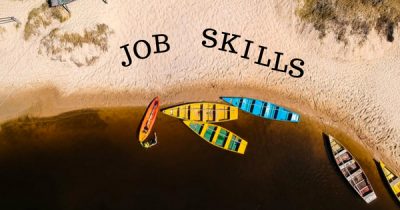 If you are following the latest job trends from up close, you'd know the importance of having relevant job skills. Be it any field of study, companies are more inclined towards candidates with appropriate job skills.
Talking about different fields of education, commerce is arguably the second most popular field of graduation in India; after engineering. The field owes its popularity to the gamut of employment opportunities that crop up after graduation in commerce.
It is an extensive field to make a career in Accountancy, Finance, Management, Economics, Law, Taxation, Banking, Human Resource, and Export-Import; to name a few.
Also, the stream of commerce is continuously evolving and growing and developing which means there is a constant need for students to stay updated with the latest trends in business, finance and, economics.
So, not just academic knowledge, students must also possess the necessary job skills that make them perfect for b.com jobs.
Upon conducting skill assessments, we have realized that there is a huge talent gap between the kind of abilities that students learn in college and what corporates really need.
So, if you're an aspiring commerce graduate with a fancy degree but no job skills, give this one a read.
Essential job skills for commerce graduates
A mere degree is not enough for you to fetch respectable b.com jobs. There is a need for some on-the-job skills that students must master before they make their way into the corporate world.
The right kind of job skills makes you more employable for any corporate organization. As for students, job skills can help you advance your professional career faster than any degree or diploma. Whether it be non-technical skills or technical skills for commerce students, you should always be hands-on and showcase that you know what you are bringing to the table.
Here are some of the most essential job skills required for b.com jobs –
Numeracy skills
In order to have a bright career in a commerce-related field, you must have excellent numeracy skills. You must already know that jobs in fields of finance, data management, taxes and banking do consider your aptitude with numbers while recruitment. You should be able to understand and work with numerical and graphical information, draw conclusions, and explain your findings.
Communication skills
Given the well-paying standards and growth prospects of management jobs, most commerce students opt for a career with such corporate.
Now, working in a multi-national corporate honcho requires you to be a great communicator along with being a good manager.
So, great communication skills qualify as 'must-have' job skills for commerce students. Right from managing clients to internal team to delivering board room presentations; a commerce student must ace all of it.
Problem-solving ability
Almost all employers wish to hire problem solvers for all their b.com job vacancies. The capability to draw out practical, economical, and effective solutions, is expected out of all commerce graduates.
Remember, all products and services that exist today are nothing but solutions to some or the other day-to-day problems of our lives. For instance: Why do we have cars when we can commute through bikes? The car designers dissected the problem of travelling long distances and travelling with family. So, this leads to the innovation of a product that eased long distance and family travels and today we call them cars.
Great problem-solving skills show how well you perform in alternative case scenarios.
Leadership skills
The commerce graduation courses are designed for those who have the potential to become leaders and be part of the team that works towards the same goal.
As a commerce graduate, you must possess excellent team management and leadership job skills because this is what the corporate world is about. The employers want to hire team players who will eventually turn into great team leaders instead of lone wolves.
This is because we are all cog in the wheel, not the wheel itself. The organization needs you and a hundred others like you to operate.
Besides the basics of economics, business, finance and, management that you've learnt in college there are plenty of job skills that should be mastered. Analytical thinking, knowledge of MS Excel, verbal and written communication ability, time management, organizational skills are some more of the job skills that you should continuously hone in order to rise up the corporate ladder.
The AMCAT Job Portal is the Ideal platform to find the most desirable b.com jobs for you. Over 1000 companies of all sizes, from anywhere in the country come looking for fresh B.School talent with some sort of unique job skills.