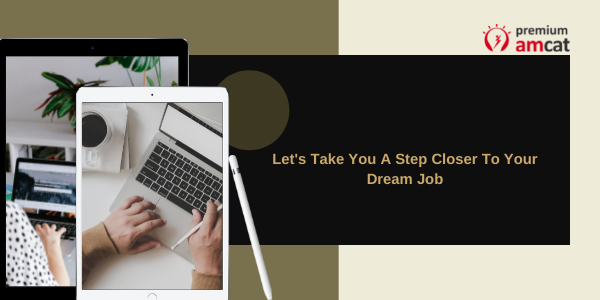 When it comes to jobs and job preparation, the tool – AMCAT Premium – is a one-stop shop. This is a tool that will assist you in performing better in job interviews. Prep AMCAT, Resume Buddy, and Mock-AI are all included in AMCAT Premium, this is a three-in-one job search tool.
However, in order to be considered for the finest possibilities and to begin working in your ideal job, you must achieve good AMCAT score across the board. The remedy to all your job search troubles is a good AMCAT score, an outstanding employment resume, and the greatest interview tips. AMCAT Premium is the name of the cure.
What is AMCAT Premium?
AMCAT Premium is a three-in-one package that includes PrepAMCAT, Resume Buddy, and Mock-AI. All three of these tools are necessary for your job hunt and will help you prepare effectively. All these tools together help you to get closer to your dream job.
PrepAMCAT
PrepAMCAT is the official AMCAT practice test that will help you assess your readiness for the AMCAT exam. While remaining safe at home, you will solve the actual questions from the previous AMCAT exam, assisting you in achieving a high AMCAT score.
You will get to solve past AMCAT questions from several modules and will in turn receive your complete feedback report. It covers all the courses, including specialization, to ensure that you achieve good AMCAT score in your first try.
Resume Buddy
You should begin working on your job resume once you have been shortlisted for the position based on your AMCAT score. Your CV plays a critical role in getting interview invites. As a result, your CV needs to be perfect. So, if you want to build a customized job resume with the appropriate resume template and no grammatical or spelling errors, you'll need a professional guide to assist you which is Resume Buddy.
With its AI-recommended terminology and more than 35 resume templates to pick from, Resume Buddy will assist you in creating a great professional work resume. Furthermore, you will receive artificial intelligence-based keyword and sentence ideas to assist you in making an impression on the reader. You'll also receive a list of potential questions from the recruiter based on your resume.
Mock-AI
Using the most up-to-date machine learning and artificial intelligence technology, Mock-AI assesses your interview skills. After that one needs to answer common and technical interview questions to receive a full feedback report. You'll also receive specific advice and materials to help you improve your interviewing abilities.
By answering real-time interview questions, Mock-AI assists you in properly evaluating your skills. Send your video responses and AMCAT will give back a thorough analysis of your body posture, facial expression, and speech modulation.
Machine learning and algorithms will be used to evaluate your responses. All you have to do is respond to the questions using your webcam and microphone, just like in a genuine job interview. Furthermore, using conferencing tools, you will be able to participate in virtual job interviews.
What are you waiting for? Get AMCAT Premium right now, because all of these abilities are essential to attain a suitable job in a multinational corporation.