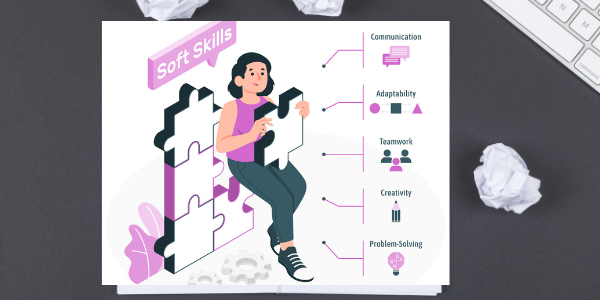 At the time of applying for a job, always keep in mind that the competitor candidates have many, if not all of the skills that you have mentioned in your resume. Always remember that HR skims through a resume for about 5-10 seconds, at first before they make an impression in their head. One out the two things after that either they trash the resume, or they shortlist the resume and take it further in case they find something that they need or that meets the requirement. Hence, showcasing skills in a resume is important at the time of applying for a job since it showcases why would you be a good fit for the position. It also helps them in deciding if they should interview you or not?
This must have left you thinking that what key skills employers will look for in a fresher's resume. Don't worry, we have mentioned below the points for the same so that you can prepare your resume accordingly by keeping these points in mind:
Communication Skills
This is one of the important skills that a fresher must list in their resume, as this can show employers that you can collaborate and work with others efficiently. On the work front, one needs to communicate a lot, not just with your team and manager but also with other team members for collaboration. Do not miss mentioning this skill if you are great at verbal or written communication.
Time Management
When you enter the workplace, right from the beginning you will have to handle multiple projects in your role. Hence, time management is an extremely important skill to showcase on the resume. This skill ensures productivity and an efficient working style. It also helps one in completing the given assignments on time.
Work Ethics
Work ethics are of extreme importance when it comes to listing skills in the resume. Having a strong work ethic means that you do your job to the best of your knowledge and abilities. The list of work ethics includes honesty, integrity, sense of responsibility, etc. Employers tend to look for this trait since this is considered an all-in-one package by them.
Register for AMCAT | India's Leading Fresher's Assessment And Job Site (myamcat.com)
Team Player
Since we live in an era of collaboration and sharing, the success of any corporate activity is usually dependent on team performance. Hence, the more proficient you will be in this skill the easier it will be for you to win the heart of your employer. Always keep one thing in mind you will always be evaluated on your personal, as well as on the basis of the goals of the team as well.
Decision Making
This skill lets an employee decide their next course of action after examining a particular situation. Decision-making strength lets an employee choose between the given options. This skill is important for leaders who may have to make multiple decisions at a given point of time, it also helps employees prioritize their tasks.
Adaptability
If someone has this characteristic means that they can easily adapt to any change in the environment and processes. Hence, adaptability is one important skill to put on a resume for freshers and experienced candidates both.
Other than these skills always remember to go through the skills and keywords mentioned in the job description before giving any interview so that you can be considered the best-suited candidate for the job. Learning has no end, keep on strengthening and working on your skills so that you can add more of them to your resume.
Also, other than the skills to list in a resume, you can check out AMCAT's Resume Buddy to get a customized resume!