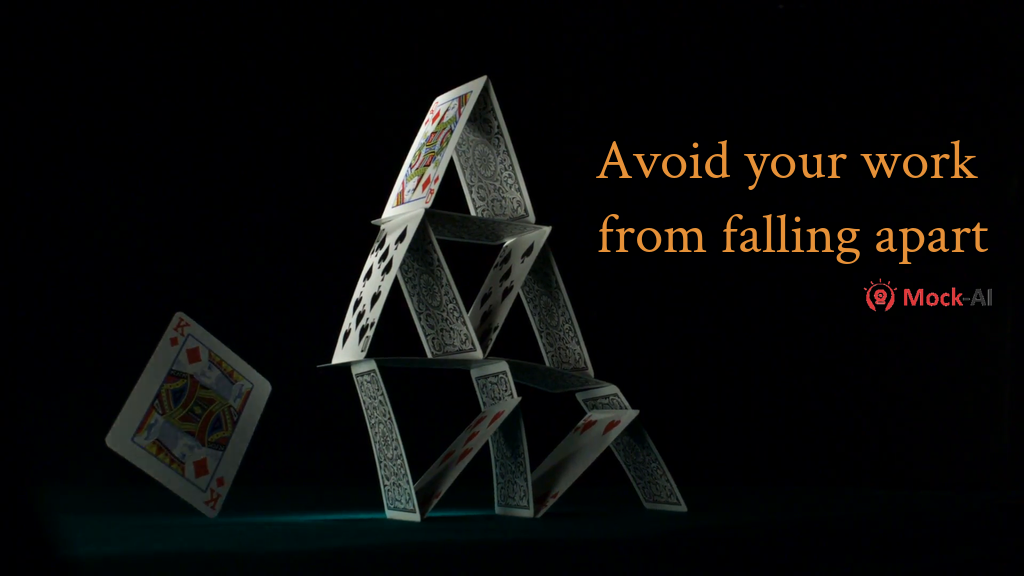 There are many reasons why students duck out from job interviews. Sometimes they aren't fully prepared, other times they are over-confident during the interview.
So how do you make sure that your job interview preparation (or lack of it) is not one of the reasons you lose out on the once-in-a-lifetime job opportunity?
There are certain obvious mistakes that students usually commit during the job interview preparation process which hampers their overall performance. Most of the times they are overlooked but if you spot a pattern you can work towards improving them.
But first, you must successfully identify these common things that destroy your job interview preparation process.
Here is a list of 7 possible things that can destroy your job interview preparation
Not knowing your audience
The first part of your job interview preparation process is getting to know about your interviewer. Start with getting to know about the HR manager followed by your prospective manager. You can learn about them through their LinkedIn profiles, common connection or a friend who works at the same office.
You should know about their role in the company, what makes them special, what are their interests outside work and what kind of attitude would please them better. However, do not go stalker-level overboard.
Do not invade their personal space to an uncomfortable level. This is one of the job interview tips that you must follow all the time.
Preparing only the anticipated
You are one of those well-oiled interviewing machines but there are some things about an interview that might surprise you at the last minute.
You know the job interview preparation drill – Learn about the company, interviewer and your job role thoroughly before the big day.
But the job interview preparation is a lot more than just Googling about the company and most common interview questions.
Go beyond the expected to make an everlasting impression with your knowledge. Be aware of the industry, government policies, foreign policies, competitors and other environmental factors that can have an effect on the company's success.
All stand for nothing if you are unable to answer anything beyond the syllabus.
Preparing the same way
The job interview preparation doesn't end with preparing the answers for anticipated questions. Don't just think about how you'll answer the questions; practice looking in the mirror or with a friend.
Even better, you can set up a mock interview environment at home with Mock AI.  It's the latest innovation by AMCAT which evaluates your interview skills based on the mock interview conducted from the comfort of your home.
This smart tool uses Machine Learning and Artificial Intelligence to provide feedback regarding your voice modulation, body language and, facial expression. This helps improve your overall interview performance for the future. You must never be overconfident about your answers until you've been evaluated by Mock AI.
Trying too hard
It's important to jot down all your major career developments, educational highs and, achievements. But trying to mug up all of it at once can be painful.
As a part of the job interview preparation process prepare an interview cheat sheet with all important points and read through it in the morning.
If you try too hard to not forget anything, you will certainly put your brains under too much pressure. It's okay to prepare well but not okay to turn into a pressure cooker before the interview.
No questions asked
In the job interview preparation process, we try to grasp too much information about the company. However, we forget to ask the right questions about the company.
The interview is a chance for you to assess the environment of the company and analyze if the employer is suitable and compatible with your needs.
Also, job postings barely give you a sense of what is in store for you.
So, do not make a mistake of not compiling a list of questions to be asked during the interview.
Lack of focus
You know what a potential job can bring into your lives. You know best what the upcoming interview means to you. So, don't blow up the chance by not focusing enough during the job interview preparation.
Whether personal or otherwise, whatever may be the situation – do not ever lose your focus. Get some sound sleep because there's nothing like sleep deprivations that will hamper your job interview preparation. Don't show up scatterbrained at the interview.
Preparing for the wrong type of interview
While most job interviews follow the same pattern, there are certain companies that follow special procedures.
You may be busy with job interview preparation for a face-to-face interview, but the recruiters are ready to hand you a question paper for the written exam.
There are common types of interviews like one on one, group, written and behavioral. Don't be afraid to ask your recruiter what kind of interview you will have. This way the interview will be more beneficial to both parties if you are prepared.
If you have the right set of skills for the job role and you're still failing to impress the recruiter, chances are that you could be committing one of the above mistakes.
The key to a successful interview is being as prepared as possible. The right way to go about your job interview preparation process is doing your homework and making sure you plan for the contingency.
Follow all the job interview tips and tricks to create a great first impression.
Also, practice, practice, practice, and practice because there's nothing like re-running the whole anticipated interview scenario in the confines of your home with Mock AI. The tool is a class apart when it comes to aiding your job interview preparation process.
It asks you real interview questions which can be answered through webcam and microphone like a real interview just at your home. The answers are assessed, analyzed and evaluated along with body posture, facial expressions, and voice modulation to provide comprehensive feedback.
This feedback report allows you to identify and work on strong and weak interview skills thereby improving overall performance.
The repeated mock interviews before the actual interview help in building confidence, class, and faith in yourself which impacts the overall performance.
Remember the only thing standing between you and your dream job is impressing the interviewer with your excellent interview skills. So, put your heart and soul in the job interview preparation process.