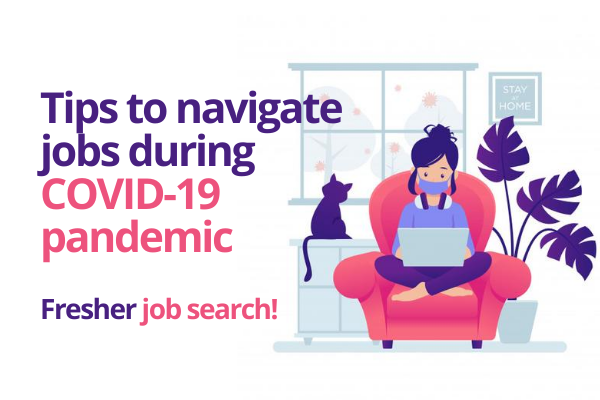 The present time is filled with uncertainty and fear, especially for freshers and 2020 pass-outs. However, some of the sectors are booming and looking out to hire an additional workforce to recruit.
Many of these industries are using assessment tools like AMCAT to shortlist candidates based on skills and job readiness. So, if you are planning to apply to these industries, then you should opt for the AMCAT exam to get exclusive job opportunities.
Looking at the brighter side, there are plenty of fresher jobs for you to apply. All you need to do is strengthen your candidature during the pandemic driven lockdown. That is why to take your hunt to a whole new level,  we have come up with these top guidelines to help your bag fresher jobs during the global pandemic.
Use the lockdown to gain new skills
Just putting a full stop on your job search because of the coronavirus pandemic doesn't make any sense, especially when companies are still recruiting, so if you want your dream job, then start gearing up for it. You should use your time in the lockdown to your advantage to stay ahead of the game. 
Use the AMCAT feedback reports to identify your strengths and weaknesses. This will help you get a clear idea of which skills you need to improve.
Moreover, focus on building your skills by doing relevant online courses and show the potential employer that you have done something constructive during the quarantine. 
Update your job resume
If you want to increase your chances of getting a revert from the hiring manager, then don't send a generic job resume to different job openings. So, make sure you are tweaking your resume as per the job requirement.
Your job resume should be filled with industry keywords to highlight your skills and don't forget to mention certification courses. The recruiter won't spend more than 6 seconds on your resume.
That is why your resume should be both creative and professional. If you are having a hard time creating such as resume, then you can use Resume Buddy. It houses more than 25 resume formats for you to choose from and create the perfect job resume within minutes.
Do Remote Internship Or Freelancing
The recruiter is not only going to assess you based on your theoretical knowledge but also on your practical knowledge.
So, while looking for a full-time job, you should take up a freelance job or remote internships to get the nitty-gritty of your field of work. This will help you build up job skills and increase your chances of getting the job of your dreams.
Network Aggressively
In today's age, social media has become an inherent part of your daily lives. In fact, networking has become a crucial part of your hunt for fresher jobs.
The lockdown would be a good time for you to start making connections with recruiters, peers, professors and alumni. Not just that,  many companies are hiring candidates through employee referrals, so make sure you add people who work in your dream companies.
However, just creating connections won't make the cut. You need to build a rapport with people by talking to them, reading what they share, writing articles/posts and regularly updating your profile.
On one hand, LinkedIn is the best for connecting with professionals all over the world and on the other hand, platforms like Twitter, Facebook, Instagram can help you market yourself to potential recruiters.
Online Interview Process
In order to keep both the employee and the employer safe, the hiring process has been shifted online. Interviews, technical rounds and assessment tests are now conducted online through video conferencing tools.
You should start preparing by giving online mock interviews while staying at home. This will help you make you more comfortable, confident and fluent in the actual online job interview.
Moreover, your interview answers should consist of industry-focused keywords. One of the questions that the interviewer will surely ask is ' What did you do in the lockdown?', so make sure you take extra time to prepare an impeccable answer to this interview question.
Now, these are some of the top tips for you to kickstart your fresher job hunt. Other than these hacks, you should also stay positive and don't be afraid of making mistakes. Use these mistakes as learning lessons to strengthen your candidature for upcoming endeavours.