A hotel management trainee has to work in close association with different departments in a hotel and assist them in their daily routine operations. A trainee is required to understand the overall operations of the hotel while specializing in one or two areas. Hotel management trainees may have to work closely with front desk managers, culinary department, general managers, convention and event planner, housekeeping department, and learn from them.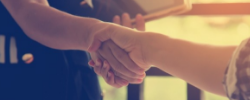 The Job Role and Responsibilities
A hotel management trainee is supposed to acquire a good working knowledge of the hospitality sector with special attention to dealing with customers. The various roles and responsibilities of the individual department are:
Front Office

Registration of guests and assigning rooms
Maintain an inventory of reservation, vacancies and room assignments
Answer enquiries regarding hotel services, provide assistance and respond to guests' complaints

Food & Beverage

Greeting customers, escorting them to seats, taking food and drink orders, and serving food and beverages
Answer questions regarding the hotel services, explaining menu items and specials, and offering personal attentive treatment.
Co-coordinating with team workers to plan events, parties etc.

Housekeeping

Responsible for maintaining the hygiene and appearance of the hotel
Servicing and maintaining the guest rooms and replenishing stock as and when needed.
Providing service items to guest rooms upon requests from the guests

Food Production

Preparation of simple food items like vegetable preparation, salads, cold starters etc.
Work according to established health and safety guidelines. Kept the kitchen area clean and hygienic.
Keep a check on stock and order for replenishments as and when necessary.

Sales

Selling room rights to individuals, corporate.
Competencies and Skills Required
Front Office

Should be able to sell hotel services to the customer
Strong Problem solving and interpersonal skills
Excellent communication skills
Should be able to deal with all types of customers and work under pressure

Food & Beverage

Should be able to sell F&B outlet services to the customer
Have a high service orientation
Excellent communication skills
Be a good team worker
Strong interpersonal skills

Housekeeping

Able to do repetitive jobs with consistency and excellence
Gives high attention to details
Should be a good team worker
Should be responsible, disciplined and organized
Should be honest

Food Production

Should be a good team worker
Should be creative in approach
Can work under pressure
Is organized and adaptable

Sales

Should have strong interpersonal and communication skills
Quick decision making and negotiating skills
Should be persuasive and result oriented
Assessment for the 'Right' Hotel Management Trainee
The following table illustrates how various skills and personality traits map to assessments required for various departments where a Hotel Management Trainee works:
Profile
Competency Required
Competency Mapping to AMCAT – Hospitality
Front Office
Ability to Sell
Problem Solving
Service Orientation
Ability to Handle Pressure
English: High
Logical Ability: Medium
Customer Orientation, Interpersonal Relations: High
Sales Orientation, Self Discipline: Medium
Food & Beverage
Service Excellence
Ability to Manage and co-ordinate
Interpersonal Skills
English: High
Customer Orientation, Managerial Ability: High
Interpersonal Skills, Quality Orientation: Medium to High
Housekeeping
Consistency
Service Excellence
Disciplined, Organized
Good Team player
English: Medium
Attention to Detail: High
Comfort with Repetitive Work, Quality Orientation: High
Ability to handle pressure, Customer Orientation: Medium to Low
Food production
Creative
Quality Excellence
Good team player
Adaptable
Openness to experience: Medium to High
Creativity: High
Quality Orientation: High
Teamwork & co-operation, Ability to handle pressure: Medium to High
Sales
Ability to Sell
Result Oriented
Service Orientation
Ability to Handle Pressure
English: High
Logical, Quant: Medium to High
Sales Orientation, Interpersonal Relations: High
Ability to handle Pressure, Performance Focus: Medium to High
Helpful Trivia
Globally, the hospitality industry has one motto for hiring, "Hire for attitude, train for skill '. Since employees' attitude plays such an important part in the service industry, the personality of the candidate becomes an important criterion for hiring. The scores of personality assessments show high 'validity' in predicting the success of the candidate in the Hospitality industry. The objective criteria consist of assessments in cognitive skills and personality testing. For the Front Office, F&B and Sales profile, our research shows that out of Cognitive skills, English and out of Personality traits, Interpersonal Relations and Customer Orientation show the strongest correlation to the efficiency of Hotel Management trainee. While for Housekeeping profile, Attention to Detail and Comfort with Repetitive work shows a strong correlation. Organizational efficiency can be improved by as much as 25% by using objective and criterion-validated benchmarks on standardized assessments.