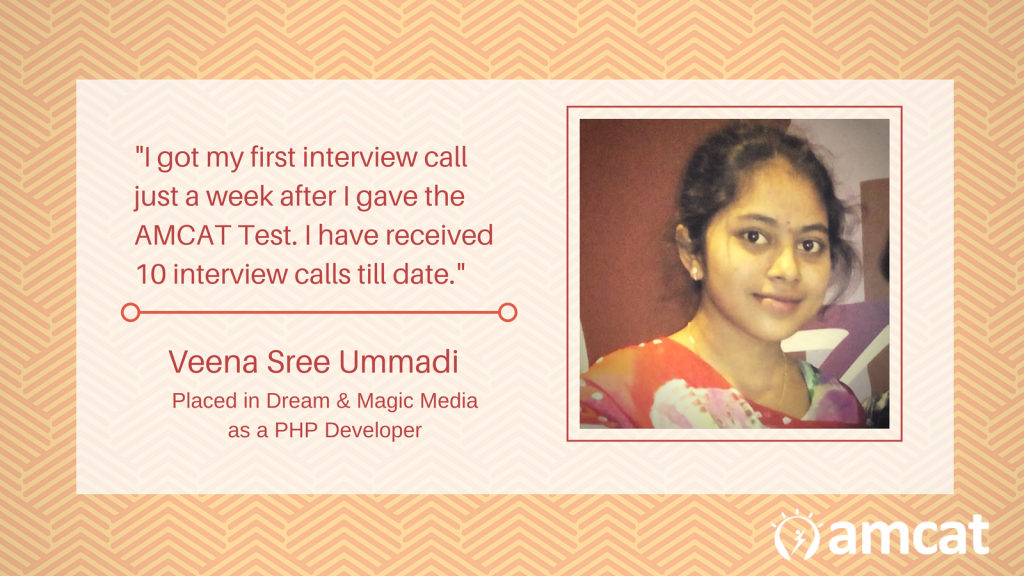 Aspiring for a 'bright spot' in the software domain, Veena Shree is one of the many graduates who relied on the AMCAT Test to get through campus placements. With her AMCAT testimonial as a reference, we investigate how the skill assessment and specifically, a good AMCAT score, helps you land a dream job.
The AMCAT Advantage:
Veena Shree took the AMCAT for a clearly defined purpose. "I took the AMCAT for genuine interview calls based on my AMCAT score." A content traveller, hoping for a career path in software, she had by this time, completed her graduation from Brindavan Institute of Technology and Science and was looking for fresher jobs.
We asked her about her test experience.
"For me, the AMCAT experience was quite awesome."
Having prepared for it earnestly, she was quite clear that she wanted to focus on a good AMCAT score.
"To get a good AMCAT score, you should prepare the fundamentals for every module."
Note: We talk about preparation for the AMCAT, especially at short notice (preparing for an AMCAT in a week), in our recent articles. We also recommend reading the AMCAT Preparation Guide.
Job Interviews and AMCAT
The next step after getting a good AMCAT score? Getting a good interview call, succeeding in it and converting it into a valid opportunity.
"I got my first call 1 week after AMCAT. I have received more than 10 calls."
Veena, how was the interview process for the company?
"I have gone through the job description and the interview process given in the call letter and prepared accordingly. There was a System Test for the interview. I had practised programs for a few days before the interview."
We asked her if she would recommend the AMCAT to others. This is what she said. "Yes. I would recommend giving the AMCAT for opportunities in genuine companies. You do receive plenty of interview calls. And you can improve on your AMCAT score, by taking the test a number of times. This also helps in improving your chances of getting shortlisted for a good company."
In the end, the good score is the essence of her AMCAT mantra. "Prepare well for the AMCAT and get a good score. Attend every interview you can, as this would help you with experience. And perseverance, which will help you in getting a good job."
Thanks Veena, for your candid response. We hope this helps others in deciding for the AMCAT and booking one as soon as possible.