Increased globalization and competition has made supply chain management a very significant and critical subject for any company. SCM is all about getting the right things at the right places at the right time. Seamless movement of goods and services from one end of the supply chain to the other through different stages is essential would determine the efficiency, productivity and profitability of the entire company.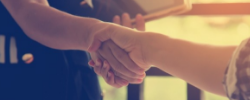 The Job Role and Responsibilities
Supply chain managers have a tremendous impact on the success of an organization. These managers are engaged in every facet of the business process, right from planning and purchasing to distribution and customer service. A supply chain manager can either work in one of the following areas of supply chain, or can be managing all of them :
Planning – Sourcing of raw materials which includes selecting the suppliers, developing the processes, monitoring delivery and pricing.
Production – Producing or manufacturing which includes using quality metrics in the production process, ensuring the product meets customer specifications, monitoring workers' productivity and machines to meets production schedules.
Inventory Management – maintaining inventory database and monitoring inventories periodically.
Purchasing and Receiving – developing schedules for suppliers to deliver raw materials on a regular basis. Verifying shipments from suppliers against invoices, stocking and distributing materials to the production department.
Delivery – Delivery products to customers. This includes logistics arrangement, scheduling shipments for on-time delivery of product.
Customer Service – Resolving issues, getting feedback and ensuring high customer satisfaction.
Competencies and Skills Required
Some of the competencies that recruiters look at while hiring for a Supply Chain Manager are:
Decision Making Skills – Analyzing information and evaluating results to choose the best solution and solve problems.
Analytical Skills – Observing, receiving, and otherwise obtaining information from all relevant sources, analyzing it to arrive at logical conclusions.
Strong Computer skills – Using computers and relevant applications.
Domain Knowledge – a clear understanding of various concepts of SCM.
Communication Skills – Communicating with Supervisors, Peers by telephone, in written form, e-mail, or in person.
Team Building – Developing and working in small and large teams. Resolving conflict, providing motivation.
Negotiation – Negotiating with different vendors, suppliers, logistic providers etc,
Assessment for the 'Right' Supply Chain Manager
It is without a doubt that the supply chain is the backbone for any organization and the performance of the supply chain manager goes a long way in helping organizations control expenses, boost sales, and maximize profits.
The following table illustrates how various skills and domain knowledge map to assessments required for hiring a supply chain manager:
Supply Chain Manager Profile
AMCAT Mapping
Analytical and Decision-Making Skills
Logical Ability- High
Numerical Ability- Mid to High
Conscientiousness- Mid to High
Communication Skills
English- Mid to HIgh
Domain Knowledge
Supply Chain Domain Test- Mid to High
Ability to work under stress
Emotional Stability: Mid to High
Negotiation
Logical Ability- Mid to High
Agreeableness- Mid
Helpful Trivia
Globally companies use assessments to assess candidate's aptitude, attitude and domain knowledge for hiring Supply Chain Manager. Being the backbone of the company, supply chain personnel selection plays a long role in determining the efficiency and success of a company. Research indicates that Logical Ability combined with domain knowledge can be a good predictor of a candidate's success in a Supply Chain Manager role. According to a study carried out by Aspiring Minds- Now SHL, at a large manufacturing company, organizational efficiency can be improved by as much as 25% by using standardized assessment during the selection and recruitment of Supply Chain Manager.