With more and more modern trade stores opening up in the country, the demand for retail associates and managers is on a continuous rise. Retail executives do not require any specific education degree as far as they can communicate and connect with customers and provide courteous and quality service.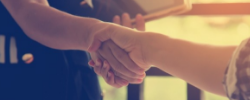 Job Role & Responsibilities
A retail store employee's job role and responsibilities would vary according to his role. Various positions at a retail store can be categorized as:
Retail Associate

Floor Associate

Customer Service- Greet customers and ascertain what each customer wants or needs. Recommend, select, and help locate or obtain merchandise based on customer needs and desires.
Merchandise and Operations Management
Merchandise and Operations Management- Maintain knowledge of current sales and promotions, policies regarding payment and exchanges, and security practices.
Watch for and recognize security risks and thefts, and know how to prevent or handle these situations. Label, arrange and display merchandise to promote sales.
Maintain an Inventory of stock and order replenishment's.

Cashier

Cash Management- Manage and report daily inflow and outflow of cash. Maintain records.
Customer Service- Answer queries and closure of request.

Bank Office

Back office work management. Maintaining records.

Department Manager/ Assistant Department Manager

Customer Management- Providing customer service. Handling grievances and complaints.
Team management- Allocating task to the team. Regular training and team motivation.
Business management- Daily recording, reporting and analyzing. Managing inventory and other day to day issues.
Competencies & Skills Required
Retail Associate -Being a blue collared worker, retail associates often come from humble backgrounds with little educational qualifications and no training or experience. The nature of the job is physically demanding as well as monotonous and so employers look for the trainability of the candidate rather than skill set. Some qualities that an employer will look for in a candidate are:

Good written as well as verbal communication skills in order to interact with the customer as well as handle different merchandise.
Be a team player and have the ability of meeting assigned targets.
Responsive and reliable.
Well organized and maintain neatness and cleanliness.

Department Manager/ Assistant Department Manager- Department managers are generally graduates or MBAs. Past experience in retail, operations and team handling is preferable. The job requires quick thinking and decision making skills, a sound understanding of processes and good team building capability. Some qualities that an employer will look for in a candidate are:

Good communication skills. Ability to communicate effectively with customers and team members.
Good people management skills.
Detail-oriented and analytical skills.
Assessments for the 'Right' Associate/Manager
Profile
Competency Required
Competency Mapping to AMCAT- Retail
Retail Associate

  Floor Associate
Communication skills
Polite and helpful
Energetic
Diligent and systematic
Ability to follow instructions
English Comprehension – Low to Mid
Agreeableness- Mid to High
Extraversion – Mid to High
Conscientiousness- High
Logical Ability – Mid to High
  Cashier
Communication skills
Good mathematical skills
Attention to details
Ability to handle pressure
Customer orientation
English Comprehension- Mid to High
Numerical Ability – Mid to High
Attention to Detail – Mid to High
Emotional Stability – High
Agreeableness- High
  Back End Operations Executive
Analytical skills
Ability to follow instructions
Sincere
Ability to remember
Logical Ability- High
Numerical Ability – Mid
Conscientiousness- Mid to High
Department Manager/ Assistant Department Manager
Communication skills
Decision-making skills
People management
Analytical skills
Detail-oriented
English Language- Mid to High
Behavioural situation-based test
Conscientiousness: Mid to High
Logical Ability- Mid to High
Attention to Detail – Mid
Helpful Trivia
Since attitude and trainability are more important than knowledge or skill set for hiring Retail Sales exceutives, employers all over the world rely on standardized assessments for hiring. The scores of these assessments show high 'validity' in predicting the success of the candidate as a Retail Sales Associate. The objective criteria consist of assessments in cognitive skills and personality inventory. Robert F. Hurley conducted four studies to explore the effect of personality on customer service behaviour among frontline sales personnel in a retail setting and showed that there was consistency in the trait descriptors used to describe superior service providers. He used the Big Five personality model and the results of his studies showed that personality does have a strong and positive influence on customer service and that superior service providers tend to be higher in extroversion and agreeableness (Robert F. Hurley, 19981). Aspiring Minds' (Now SHL) benchmarking study shows that Extraversion and Agreeableness, followed by Conscientiousness and Logical Ability shows the strongest correlation to the efficiency of the Retail Sales Executive. Whereas for Department Managers, the AMCAT- Retail Behavioral Situation based test and English showed the highest correlation with on-job performance. Organizational efficiency can be improved by 22-27% by using objective and criterion-validated benchmarks on standardized assessments.
---
Robert F. Hurley, 1998. "Customer service behaviour in retail settings: A study of the effect of service provider personality. ".Journal of the Academy of Marketing Science, Volume 26, Number 2 (1998)