A Relationship Manager could work in either Retail or Wholesale Banking and is required to help and advise clients. The range and scope of his work would range from helping clients with their account details to giving advice on financial investments. He/she needs to cater to individual clients while trying to generate new business and clients for the bank.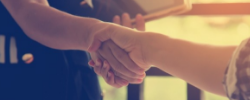 The Job Role and Responsibilities
A retail Relationship Manager would primarily deal with individual retail customers and advice them on various banking and financial products and services offered by the bank. A wholesale Relationship Manager would be catering to corporate clients like SME's or large corporations.
Sometimes a Relationship Manager might also be required to supervise other bank employees who communicate with his/her clients, like loan officers etc. A Relationship Manager is expected to have sound financial knowledge as well as thorough information about his/her company's various offerings in order to identify the need of the customer and advice him accordingly. He/she needs to have an understanding of banking regulations, the latest products and services, specific markets related to the clients he/she is handling.
Competencies and Skills Required
A Relationship Manager is required to interact with customers for the most part of his/her day and so good communication and presentation skills are a prerequisite for the job. The job also requires thorough financial and sector knowledge in order to provide sound and reliable advice to clients. The major skills and competencies that employers look for are:
Excellent communication and listening skills.
Confidence and Presentation skills.
Understanding and interest in financial / banking products and markets.
Ability to analyze and research information.
Ability to explain complex information clearly and simply.
Good sales and negotiation skills
Assessment for the 'Right' Relationship Manager
The following table illustrates how various skills and personality traits map to assessments required for the Relationship Manager role:
Relationship Manager Profile
AMCAT Mapping
Communication Skills
English: High
Logical Ability: Mid to High
Agreeableness: Mid to High
Analytical Skills
Logical Ability: Mid to High
Numerical Ability: Mid
Understanding of Financial / Banking products and services
Banking Service: High
Ability to deal with stress and follow procedures
Emotional Stability: Mid
Conscientiousness: Mid to High
Good Sales and Negotiation Skills
English: Mid to High
Extraversion: High
Emotional Stability: Mid
Helpful Trivia
Globally, standardized assessments have been used for hiring for the Relationship Manager profile. The scores of these assessments show high 'validity' in predicting the success of the candidate as a Relationship Manager in banks and financial institutions. The objective criteria consist of assessments in cognitive skills, domain skills and personality inventory. Assessments in domain skills consist of the Banking Service module. Our research shows that English Comprehension, Logical Ability, Quantitative Ability followed by domain skills shows the strongest correlation to the efficiency of a Relationship Manager. Organizational efficiency can be improved by 32% by using objective and criterion-validated benchmarks on standardized assessments.

Get in touch